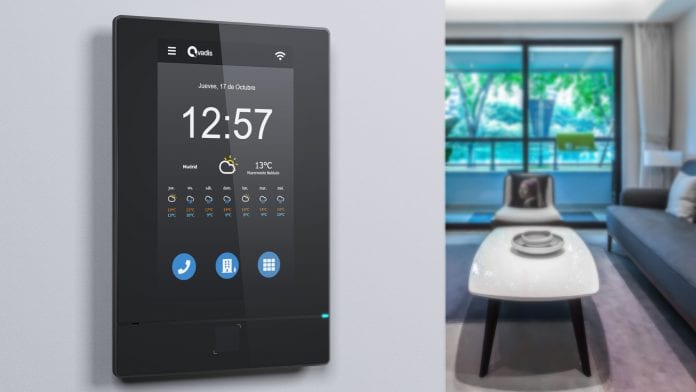 Qvadis CEO Arsenio Vilallonga speaks with HEQ about the benefits of the Qvadis One door entry phone app.
Intercom-based door entry phones have barely evolved since their initial introduction to the market in the 1950s. The installation of these devices is tightly restricted – and, at a prescribed height of 1.65m from the floor, disproportionately exclusionary towards disabled and elderly users, even though housebound and restricted mobility users are more likely to use door phones more often.
The lack of ongoing innovation in this specific field staggered Qvadis CEO Arsenio Vilallonga: "We all use our smartphones every day," he points out. "We use GPS in the car; and we use e-readers instead of carrying tons of books with us; and we store all our music in our phones instead of carrying around a Walkman and a stack of cassettes – all of those things have evolved more or less in parallel. Then there is this one thing in the world which has stayed the same for so long. The only feature which has been added in the last 70 years is video capability; and that doesn't sell much in many cases, because the image is not great."
Vilallonga aims to change this with the Qvadis® One: a novel technological solution which enables users to operate the entry phones to their homes using a mobile or tablet app. HEQ speaks with Vilallonga about the inspiration behind Qvadis, the benefits it offers elderly and disabled users, and the importance of accessibility.
What inspired you to create the Qvadis One?
I had the idea a few years ago while attending a tech fair in Las Vegas. Until then, I had travelled the world working in high tech companies which specialised in security and surveillance, but I decided to leave my former career behind and bet on my idea. Initially I started designing and testing prototypes of my invention at home: I had really missed getting my hands dirty again with real technology during all these years in the corporate world. I began making demos of my invention to potential investors: a tangle of cables and circuits in a tray, with a Raspberry Pi and a touchscreen, all connected to an intercom system and the internet – and it worked great. It was feasible!
Qvadis has developed the first of its products, Qvadis One, which connects the intercom system in the user's house to their mobile phone, but we are already working on additional functions such as video and further integration of other home automation devices. We offer subscription programmes for business and industry, including entry phones for offices and garages; and we provide a 10% discount for any customer over 65 or for anyone with a documented disability. Most of all, we want to make sure that the device is accessible for everyone.
What key benefits does Qvadis technology offer for users? In particular, how can the technology support users who are self-isolating or at risk from COVID-19?
In order to implement a new phone or intercom system in an apartment building, you would normally need to get permission from the owners' or residents' association: everyone would have to come together and agree to make the necessary structural changes to introduce any new technology. There must be a way of doing it so that each individual can make their own decision to upgrade according to their specific needs; and this is where Qvadis comes in. The technology can be installed without having to make any external changes or seek neighbours' permission.
This can be especially beneficial for elderly users, many of whom live in older buildings which are still equipped with analogue entry phones. Qvadis is universally compatible, even with these legacy devices – because they still work; they are robust – and all you have to do is connect the device to your mobile or tablet. Older users may prefer to use a tablet, because they offer the option of larger buttons and more accessibility options for users with impaired vision. Qvadis is operated using an app which can be installed on any Android or iOS device: we have kept the user interface as simple and as accessible as possible so that anyone can use it.
Connecting the house intercom to the mobile phone enables the elderly or people with reduced mobility to speak to anyone who rings at their home intercom and to open the door remotely, just by picking up a call on their mobile phone. Just by answering that call in the same way that you would a normal call, you can speak to the person down at the building entrance, just as if you were using the regular entry phone; and simply by tapping a button on the screen you can open the entrance to the building.
This can really help with infection control during this pandemic, as it restricts human contact while still allowing for clear interaction. The intercom also focuses on voice communications, allowing the user to connect with family and friends through group calls. This can help isolated people to stay in touch with their friends and family, without the need of exposing them to any infection risk.
Additionally, when the user comes home from a walk or from buying the newspaper, they just need to swipe the screen of their mobile to unlock the building entrance and open it without any contact, just by nudging the door.
What can you tell me about the significance of remote door technology to elderly and reduced mobility users? With a growing elderly population, do you believe this technology will become more prevalent?
We simply see this evolution as a must. For years, the entry phone element in the house has been ignored in terms of making it more accessible: even its position on the wall is specified at 1.65m height. Moreover, the limited time you have to answer a ring before the visitor gives up may force vulnerable users to rush dangerously towards the entrance. This situation is getting more and more frequent, as we are constantly receiving parcels or services at home. Remote door technology allows not only the elderly and reduced mobility users to answer and open the door without these risks, but also authorises home care personnel to access their homes without disturbing their patient.
What measures are taken to ensure users' data is secure and avert cyberattacks?
Of course, we take security and data privacy very seriously. Personal data is securely stored in our servers in the cloud. Communications between our devices, mobile apps and our cloud are secured using certificates and the latest encryption technology.
How do you see Qvadis Innova evolving in the future? Do you have other products in the pipeline?
We have prioritised getting a really easy to use and universally compatible product out first, so we could serve the most vulnerable populations who are suffering most during current situation. Moving forward, we plan to create a Qvadis app which can be downloaded onto USB streaming devices such as Amazon's Fire Stick. If a user is watching TV, they will be able to get notifications through their television when someone calls the entry phone of their house; the television will be able to broadcast the audio from the entry phone and the user will be able to speak with the person at the door using the microphone in their streaming device's remote control.
Of course, we have a very ambitious roadmap in mind; although our vision is to never sacrifice product usability by turning it into yet another domotics monster.
Teresa Real de Asúa
Marketing Manager
Qvadis Innova, S.L.
info@qvadis.es
www.qvadis.es
This article is from issue 14 of Health Europa. Click here to get your free subscription today.