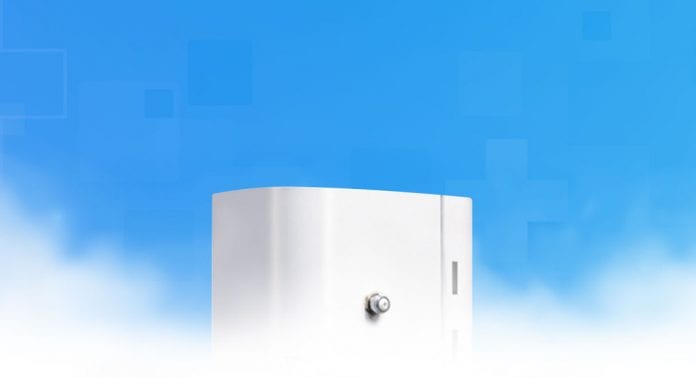 PuriFog offers a safe, innovative solution to protect staff, clients and visitors in business spaces.
As businesses around the world slowly begin to reopen under the shadow of COVID-19, the need to maintain a high standard of hygiene and infection prevention in the workplace has been thrown into sharp relief. In order to retain customers and shore up staff morale, businesses must instil confidence in clients and employees alike that their premises are clean and free of contamination. In the event that a workplace is forced to close due to a positive case of COVID-19, it must be intensively and comprehensively cleaned and disinfected before it can reopen – and it is in the best interests of the business that any post-infection deep clean take place as rapidly and effectively as possible.
As most business spaces contain a number of high-touch surfaces, such as computer keyboards and equipment, door handles, light switches, desks or counters, paperwork and many more, regular disinfection of the whole space is essential to prevent the spread of pathogens. Indoor disinfection can be conducted in a number of ways: one of these is fogging.
What is fogging?
Wet fogging methods often require several operatives to disperse a solution directly from a canister, normally on their back, methodically moving around a room spraying surfaces that they pass: this requires full evacuation and thus disruption to a business. Moreover, delicate or fragile equipment, such as electronics, may need to be removed from the room or area so it will not be harmed by the fog. Wet fogging systems can take hours to complete; then the product must be left undisturbed for several hours afterwards to allow it to dry and settle. Additionally, backpack wet fogging can miss areas due to operative error.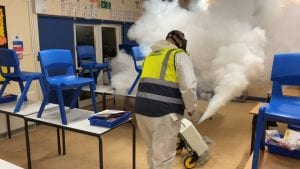 Introducing PuriFog
Purifog dry fogging uses much finer droplets, between one and 1.5 microns in diameter, which rapidly disperse in the air and on surfaces, disinfecting everything they touch. Dry fogging machines have the option of being activated remotely or by a single operative and can be safely used on and around electronics, papers, soft furnishings and clothing with no ill effects. Dry fogging will literally take seconds to administer.
The PuriFog AIR and Purifog Biotect AV method of dispensation and its fluid formulae are unique. The dry fog, consisting of single-micron droplets, reaches all horizontal and vertical surfaces from floor to ceiling, even settling into the gaps between keys on a computer keyboard. PuriFog AIR cleans and sanitises the air within an indoor space in a safe and non-toxic fashion. PuriFog Biotect AV delivers both air and surface disinfection, plus a deep clean. Both units are available in a full range of sizes, to best meet the individual needs of each user.
"There is no limitation to the size of area we can cover with PuriFog," says Matt Robinson, Managing Director at PuriFog. "Our largest machine will cover 4,000 cubic metres in three minutes and within just two hours the complete area will be disinfected. To achieve disinfection of larger areas we just need to multiply the amount of PuriFog machines we use."
PuriFog AIR and PuriFog Biotect AV can be integrated into the sanitisation processes of a multitude of workplaces, including:
Hospitals
GPs' surgeries and dentists' offices
Retail spaces
High-touch commercial spaces such as gyms or tattoo parlours
Churches, temples, and other places of worship
Offices and business spaces
Public transport vehicles
PuriFog units are even safe for use in food production and processing facilities, when deployed in accordance with hazard analysis and critical control point (HACCP) procedures.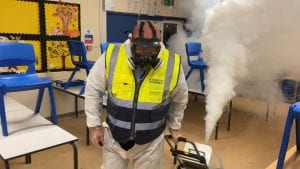 Use cases
PuriFog has already been selected as a space disinfection option by a wide range of organisations aiming to protect their premises, staff and customers.
Hestia
UK-based charity Hestia offers assistance to adults and children in crisis: every year, it provides housing support to nearly 11,000 people affected by domestic abuse, modern slavery or mental health issues. In the first stages of the COVID-19 pandemic in early 2020, Hestia reached out to PuriFog for help in delivering additional cleaning and disinfection across the premises it operates, including high-support accommodation and care homes for vulnerable users.
After learning about the benefits offered by PuriFog, Hestia ordered three PuriFog Pump Pro Plus 250 units to augment its high-standard cleaning processes. The ease of use and protection from infection delivered by the PuriFog units so impressed the charity that it went on to invest in 22 additional units for use across its various sites.
Royal College of Physicians
The Royal College of Physicians had contracted a cleaning firm to conduct the manual cleaning of its office and communal spaces, but found that this was both costly and time-consuming. Instead, the college purchased a PuriFog unit which its staff could use themselves. By bringing its cleaning and disinfection processes in-house, the college was able to take control of its own sanitisation and save around £1,200 per month in cleaning costs.
Worldwide distribution
PuriFog units have now been installed in 84 countries around the world; and the company is expanding its UK base due to customer demand, with offices in Manchester and London to be joined by a new Head Office on Pride Park in Derby. The company can offer a direct service, provide the equipment to end users along with training, or deliver units via a distribution network, depending on the requirements of each customer. PuriFog will be attending the 2021 NHS Infection Prevention and Control Annual Conference, educating UK healthcare providers on how to futureproof their workplace infection prevention and control strategies.
This article is from issue 17 of Health Europa. Click here to get your free subscription today.