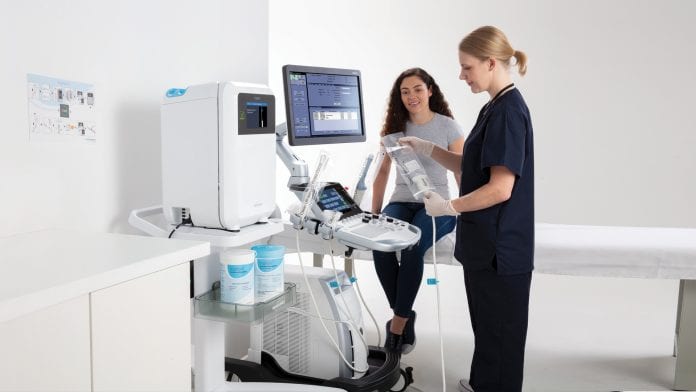 A large population-level study has revealed an unacceptable risk of infection following transvaginal and transrectal ultrasound procedures. Nanosonics is intent on ensuring that vulnerable patients are protected from cross-contamination.
Decontamination of reusable medical devices, including ultrasound probes, is important to prevent infection transmission. Understanding current best practice and recommendations for the decontamination of ultrasound probes is challenging for ultrasound users and infection control professionals.
Ultrasound usage in the United Kingdom has increased steadily in recent years, with diagnostic ultrasound procedures in England rising from 7.7 million in 2013 to 9.6 million in 2018: an increase of over 25%.1
Ultrasound procedures are now performed in various inpatient and outpatient settings by a wide range of health professionals, including sonographers, physicians, nurses, anaesthetists, interventional radiologists, OBGYNs, vascular surgeons, nurse practitioners, and physician assistants. This has increased the use of surface probes to guide procedures such as biopsies, cell retrieval, cannulation, catheterisation, injections, ablations, surgical aspirations, and drainages.
Across these procedures, the probe has the potential to contact various patient sites. including intact skin, non-intact skin, mucous membranes and sterile tissue. This presents a complex challenge, as contact with these various body sites requires differing levels of disinfection or sterilisation between patient uses.2
Failure to adequately clean and disinfect medical devices like ultrasound probes between patients poses a serious risk to patient safety.
When risks become reality
In 2012, a patient in Wales died from a hepatitis B infection which was likely to have been caused by a failure to appropriately decontaminate a transoesophageal echocardiography probe between patients. As a result of this fatality, a Medical Device Alert was issued by the Medicines and Healthcare Products Regulatory Agency (UK) advising users to appropriately decontaminate all types of reusable ultrasound probes.3
Infection outbreaks have also been linked to ancillary ultrasound products such as contaminated ultrasound gel, used in ultrasound-guided procedures. There have been several alerts issued in the past by international regulatory agencies, including the US Centers for Disease Control and Prevention (CDC) and Food and Drug Administration (FDA), Health Canada, and the Australian Therapeutic Goods Administration (TGA) on infection risk with contaminated ultrasound gels used in ultrasound-guided interventional procedures.4-7
Population-level study confirms infection risk from improper disinfection
Patients can be at risk from ultrasound-associated infections when low level disinfection (LLD) is the standard of care. In order to quantify this risk, Scotland's National Health Service undertook a retrospective analysis of microbiological and prescription data through linked national health databases. Patient records were examined in the 30-day period following semi-invasive ultrasound probe procedures. The study analysed almost one million patient journeys that occurred during a six-year period from 2010 to 2016.8
Of the 982,911 patients followed, 330,500 were gynaecological patients; and 60,698 of these gynaecological patients had undergone a transvaginal (TV) ultrasound procedure. These patients were found to be at a 41% greater risk of infection and a 26% greater risk of needing an antibiotic prescription in the 30 days following their transvaginal ultrasound procedure when compared to gynaecological patients who had not undergone a transvaginal ultrasound. During the study period, 90.5% of facilities reported that they were performing low level disinfection for transvaginal ultrasound probes.
These patients were at a greater risk of infection due to inadequate reprocessing and the study concluded that: 'Failure to comply with [HLD] will continue to result in an unacceptable risk of harm to patients.'
Correct reprocessing is key
The diverse use of ultrasound probes is now prompting a renewed focus on correct probe reprocessing to ensure patient safety. To ensure best practice standards, decontamination experts and ultrasound users need to work together to reduce the risk of infection that is associated with using ultrasound probes.
The UK and European guidelines require ultrasound probes which come into contact with mucous membranes and non-intact or broken skin to be high level disinfected.9-19 In particular, automated and validated processes for ultrasound reprocessing are preferred.10,11,15 This is supported by a study relating to manual disinfection methods, which found that only 1.4% of reprocessing systems were fully compliant when using manual methods, compared to 75.4% when using semi-automated disinfection methods.20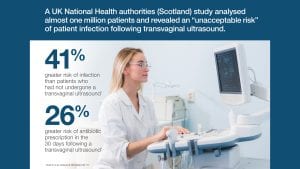 European guidelines and the Spaulding classification
Many European guideline recommendations (see 'Selected European guidelines and recommendations' on the next page) are an adaptation of the Spaulding classification, a widely adopted disinfection framework for classifying medical devices based on the degree of infection transmission risk.2
Critical devices are those which come into contact with sterile tissue or blood. Probes in this category should generally be cleaned and sterilised. Where sterilisation is not possible, high-level disinfection is acceptable with the use of a sterile cover for ultrasound probes.9,12-14
Semi-critical devices contact intact mucous membranes and do not ordinarily penetrate sterile tissue. Ultrasound probes scanning over non-intact skin are also considered semi-critical. Semi-critical ultrasound probes include endocavitary probes, which should be used with a sheath or cover in addition to being high level disinfected.2,12
Non-critical devices only contact intact skin.2 This category also includes contact surfaces that are not intended for patient contact in health settings. These devices and surfaces should be cleaned and low level disinfected.9
It is important to note the difference between cleaning and low-level disinfection. Cleaning is the removal of soil and visible material until the item is macroscopically clean. Low-level disinfection is the elimination of most bacteria, some fungi and some viruses.
The Spaulding classification system must be applied before a procedure commences so that information about what tissues or body sites may be contacted is taken into account. This ensures that a correctly disinfected or sterilised ultrasound probe can be selected for use to maximise patient safety.
Probe covers are not a substitute for proper disinfection
A final and important point for consideration is the use of probe covers. Whilst many ultrasound users and sonographers believe that their transvaginal ultrasound patients are protected from infection risk by using barrier shields and/or condoms, research has shown that up to 13% of condoms fail and up to 5% of commercial covers fail.21 Probe covers may have microscopic tears or breakages which can allow microorganisms to pass through.
Ultrasound users should work with their decontamination colleagues to understand the current UK and European guidelines for reprocessing ultrasound probes. There are patient risks associated with ultrasound usage when proper disinfection procedures are not followed, as well as from ancillary products such as contaminated ultrasound gel.
European guidelines are based on the Spaulding classification which is a risk-based framework for disinfection of all medical devices, including ultrasound probes, dependent on patient contact site. Patients are at risk from ultrasound probe associated infections when disinfection or sterilisation practices are inadequate.
While the increased use of ultrasound has brought many benefits for patients, effective education and disinfection protocols are required to minimise the risk of infection.
Selected European guidelines and recommendations
Europe – ECMUS 20179
'All internal transducers (e.g. vaginal, rectal, transoesophageal transducers) … and intra-operative probes undergo cleaning followed by HLD before use in a new patient.'
Germany – KRINKO/BfArM 201217
'Semi-critical ultrasound probes contact mucous membranes and pathologically altered skin such as wounds, infected skin and rashes and should undergo bactericidal, mycobacterial, fungicidal and high-level virucidal disinfection … The disinfectants used in the final disinfection of semi-critical medical devices must demonstrably be bactericidal (including mycobacteria), fungicidal and virucidal.'
England – SCoR/BMUS 201713
'Semi-critical probes contact mucous membranes and non-invasive probes contacting non-intact/broken skin should be high level disinfected either manually or with Automated systems even if a sheath is used.'
France – Ministère des Solidarités et de la Santé 201915
'All endocavitary ultrasound probes must undergo intermediate level disinfection (bactericidal, mycobactericidal, fungicidal and virucidal – equivalent to HLD elsewhere) even if a sheath is used.'
trophon: the processing standard for ultrasound probe high level disinfection
The trophon system is recognised as the world's leading automated high level disinfection solution for transvaginal, transrectal and surface probes. With over 22,500 units operating worldwide, approximately 75,000 people each day are protected from the risk of cross-contamination with trophon.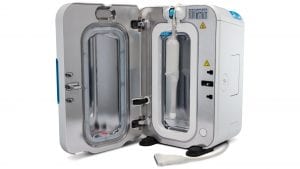 trophon: safe and easy to use
Point of care ultrasound has become a cornerstone in the treatment and diagnosis of patients in the emergency department, intensive care, and obstetrics and gynaecology in both hospitals and private clinics. As a fully enclosed system, trophon can be placed at the point of care to maximise patient throughput and cost effectiveness.
Why trophon is so effective: sonicated hydrogen peroxide
The trophon system uses proprietary hydrogen peroxide disinfectant that is sonically activated to create an ultrafine mist.
Free radicals in the mist have superoxidative properties enabling the disinfectant to act quickly and destroy pathogens. These fine mist particles are so small that they reach crevices, grooves and imperfections on the probe surface.
The probe compatible solution
Having a high level disinfection system that is validated for use on their ultrasound probes is an important consideration for healthcare providers. Nanosonics works collaboratively with probe manufacturers to carry out extensive probe compatibility testing. More than 1,000 surface and intracavity probes from all major and many specialist probe manufacturers are approved for use with trophon.
Reduces risk
trophon delivers protection for patients, without exposing staff and the environment to toxic and dangerous chemicals. After disinfection, residual hydrogen peroxide is removed from trophon's decontamination chamber and passed through destructors where it is broken down primarily into environmentally friendly water and oxygen.
Improves clinical workflow efficiency
The streamlined setup process can be customised to clinic workflows and offers extensive probe compatibility, with more than 1,000 probes approved for use with trophon.
Increases compliance
User experience is enhanced and simplified, delivering automated high level disinfection at the press of a button.
Ronan Wright (Nanosonics) on infection prevention
Infection prevention and control professionals have a proud history of challenging conventions and improving outcomes through original research and innovation. Nanosonics employs the same pioneering spirit and commitment to transforming the way infection prevention practices are understood and conducted.
Growing recognition of the risk of cross-contamination and the adoption of Nanosonics' trophon technology has required rapid growth of our European team. With the recent addition of clinical specialists, field and support staff in France, Germany and the UK, and a fast growing network of distributors all over Europe, we are well positioned to support clinicians and facilities in their pursuit of improved patient outcomes.
Ronan Wright
Regional President EMEA
Nanosonics
+353 85 237 8873
r.wright@nanosonics.com
www.nanosonics.eu/country
References
1 NHS England, NHS Improvement. Diagnostic Imaging Dataset Annual Statistical Release 2018/19. 2019.
2 Spaulding EH. Chemical disinfection of medical and surgical materials. In: Lawrence C, Block SS, editor. Disinfection, sterilization, and preservation. Philadelphia (PA): Lea & Febiger; 1968. p. 517-31.
3 Medicines and Healthcare products Regulatory Agency (MHRA). Medical Device Alert. Reusable transoesophageal echocardiography, transvaginal and transrectal ultrasound probes (transducers) Document: MDA/2012/037. 2012.
4 Centers for Disease Control and Prevention (CDC). Pseudomonas aeruginosa Respiratory Tract Infections Associated with Contaminated Ultrasound Gel Used for Transesophageal Echocardiography. 2012.
5 Health Canada. Risk of serious infection from Ultrasound and Medical Gels – Notice to hospitals. RA-17000860. 2004.
6 Food and Drug Administration (FDA). UPDATE on Bacteria Found in Other-Sonic Generic Ultrasound Transmission Gel Poses Risk of Infection: FDA Safety Communication. 2012.
7 Therapeutic Goods Administration (TGA). Meditech Ultrasound Gel: safety Advisory – Risk of Bacterial Contamination. Safety Information – Alerts. 2017.
8 Scott D, et al. Risk of infection following semi-invasive ultrasound procedures in Scotland, 2010 to 2016: A retrospective cohort study using linked national datasets. Ultrasound. 2018;26(3):168-77.
9 Kollmann C, Salvesen K. Best Practice recommendations for cleaning and disinfection of ultrasound transducers whilst maintaining transducer integrity. European Committee for Medical Ultrasound Safety (ECMUS). 2017.
10 Health Service Executive (HSE) Quality Improvement Division. HSE Guidance for Decontamination of Semi‐critical Ultrasound Probes; Semi‐invasive and Noninvasive Ultrasound Probes. Document: QPSD-GL-028-1. 2017.
11 Health Protection Scotland (HPS), Health Facitlities Scotland (HFS), National Services Scotland (NHS). NHSScotland Guidance for Decontamination of Semi-Critical Ultrasound Probes; Semi-invasive and Non-invasive Ultrasound Probes. 2016.
12 Nyhsen CM, Brady A, D'Onofrio M, Sidhu P, Humphreys H, Nicolau C, et al. Infection prevention and control in ultrasound – best practice recommendations from the European Society of Radiology Ultrasound Working Group. Insights Imaging. 2017;8(6):523-35.
13 Society and College of Radiographers (SCoR), British Medical Ultrasound Society (BMUS). Guidelines for Professional Ultrasound Practice. 2019.
14 Abramowicz JS, et al. Ultrasound Med Biol. 2017;43(5):1076-9.
15 Ministère des Solidarités et de la Santé. Proposition technique du groupe de travail national. Prevention du risque infectieux associe aux actes d'echographie endocavitaire. 2019. p. 28.
16 Werkgroep Infectie Preventie. Reiniging, desinfectie en sterilisatie van medische hulpmiddelen voor hergebruik niet-kritisch, semi-kritisch of kritisch gebruik. 2017. p. 56.
17 Kommission für Krankenhaushygiene und Infektionsprävention (KRINKO), and Bundesinstitut für Arzneimittel und Medizinprodukte (BfArM),. Anforderungen an die Hygiene bei der Aufbereitung von Medizinprodukten. Bundesgesundheitsblatt – Gesundheitsforschung – Gesundheitsschutz2012. p. 66.
18 Direzione Sanitaria AUSL Pescara. Linee Guida per la "Corretta gestione di Procedure Assistenziali e Igienico-Sanitarie in Setting di Cura Ospedalieri e Territoriali". 2009. p. 88.
19 Hoge Gezondheidsraad.Aanbevelingen inzake de infectiepreventie en het beheer van warmtegevoelige endocavitaire endoscopen en medische hulpmiddelen: Actualisatie en uitbreiding van de vorige aanbevelingen HGR 8355 – 2010. Bruxelles: CSS; 2019. Advies nr. 9446.
20 Ofstead CL, et al. Gastroenterol Nurs. 2010;33(4):304-11.
21 Basseal JM, et al. Ultrasound Obstet Gynecol. 2019;52 (Suppl. 1):138-93.
This article is from issue 14 of Health Europa. Click here to get your free subscription today.