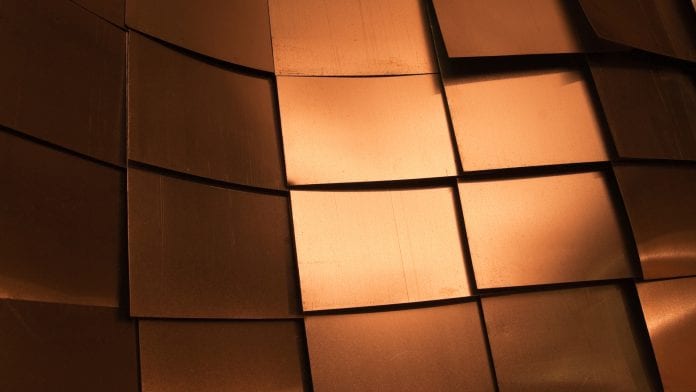 Antimicrobial resistance is a growing issue across the globe, and one company is addressing its burden on healthcare through the innovative use of copper.
The World Health Organization has declared antimicrobial resistance as one of the biggest threats to human health, with drug-resistant diseases potentially killing up to 10 million each year by 2050. This is resulting in mounting cost pressures on healthcare systems, the private sector, and governments. Copper, one of the most recyclable materials available, is a potentially potent natural remedy which could reduce hospital acquired infections without the use of antibiotics and its associated risks of antibiotic resistance.
Copper Clothing, which specialises in designing copper-infused antimicrobial products, has carried out three clinical trials in conjunction with the NHS to test the efficacy of copper-infused products as a solution to antimicrobial resistance.
Speaking to Health Europa's Digital Editor Stephanie Price, Copper Clothing CEO, Rory Donnelly, discusses its clinical trials with the NHS, the impact of COVID-19 on antimicrobial resistance, and the unravelling of "nature's biggest gift."
Exploring the efficacy of copper
Copper has been used in medicine for thousands of years. In the Hippocratic Collection, copper is recommended for the treatment of leg ulcers associated with varicose veins, and according to the European Copper Alliance, Hippocrates treated open wounds and skin irritations with copper. The Copper Clothing NHS clinical trials explored the efficacy of the use of copper in C-sections, in stockings, and copper clothing compared to a common silver plaster, with further lab trials exploring its efficacy against MRSA, Staph infections and K. pneumoniae, as well as comparing its use to antimicrobial products that use silver and honey.
Donnelly said: "Copper Clothing has been researching and developing highly innovative means of infusing the power of copper into everyday products since 2012. The biggest barrier we still face today is a lack of trust and belief in new, genuine, transformational innovations. This is because they are so rare to find.
"The opportunity to partner with the NHS to independently test three copper-infused products, in three separate clinical trials, presented us with the opportunity to validate the credibility and need for such a technology, that has been used throughout history as a natural anti-microbial. Our main goal was to showcase the capability to reduce infection rates in areas identified by the clinicians leading the study as areas of utmost importance. These were areas experiencing the highest rates of infections, leading to higher costs of treating infections, which could have been prevented in the first place."
The double-blind randomised controlled trial on Caesarean Section wounds carried out with the NHS demonstrated a significant 38.7% reduction of overall Surgical Site Infection (SSI) rate and an 80.3% reduction of organ/space SSI with the use of a copper impregnated wound dressing. Sepsis is a major cause of maternal morbidity, therefore the introduction of copper impregnated materials into obstetrics and gynaecology could have a significant impact on the reduction of infections.
Copper is used throughout the beauty industry for its ability to promote the production of collagen and elastin for softer, healthier skin. One of the Copper Clothing clinical trials involving compression stockings, which are the primary treatment for lipodermatosclerosis (secondary to chronic venous disease), demonstrated the beneficial effect of copper on this condition, with a reduction in the surface area of lipodermatosclerosis.
"A copper sock study carried out by a competitor at the same dermatology centre, involving 60 healthy volunteers showed that 30% more elastin was found in the skin of their feet after wearing copper socks for just 30 days, compared to the control group. This study was peer reviewed and journalised," added Donnelly.
"All three randomised controlled trials involved approximately 1,000 patients. These highlighted that copper is completely safe and there were no adverse reactions to using the copper-infused products. Furthermore, it concluded a statistically significant outcome highlighting the role copper could play in vastly improving the quality of patient care whilst reducing the cost burden of an infection to both the patient and healthcare provider."
Copper and antimicrobial resistance
The current COVID-19 pandemic is causing growing concern around antimicrobial resistance, as patients with severe cases of the virus are being treated with a variety of antivirals, antibiotics, and antifungals, highlighting the need for alternative solutions.
"Copper can play an integral role in society, which is becoming increasingly understood because of the current COVID-19 pandemic. The thought that a simple virus can cause so many deaths, create so much fear and shut down economies globally highlights how sensitive and vulnerable we really are to nature. Our goal is to infuse our technology naturally into everyday products to allow its users to benefit from the power of copper," said Donnelly.
"The main property which we were able to validate, not only in the clinical trials but also through a vast amount of in-vitro laboratory testing, was the effectiveness of copper ions infused in materials against bacteria, fungi, and viruses on contact. Our research has not only highlighted the efficacy against the traditional methods of treatments in a clinical setting, but it has shown the stark difference in effectiveness when head to head using an independent laboratory against some of the leading anti-microbial dressings such as silver, honey, and iodine being sold globally today.
"In a recent study at a world-renowned Dermatology Centre in the UK, we were able to independently validate in human trials that our copper plasters performed 90% better than a globally leading silver plaster brand."
Copper is an essential trace element found in all living organisms. It has the ability to induce vascular endothelia growth factor (VEGF) which stimulates angiogenesis. Angiogenesis plays a pivotal role through the promotion of new blood capillaries to help fresh oxygenated blood and nutrients to the wound site and therefore help heal the wound faster.
"Our patented technology harnesses the power of copper ions through oligodynamic action, more commonly known as the oligodynamic effect. This is the ability of small amounts of certain metals to exert a lethal effect on pathogenic cells. Some metals are more effective than others. We have identified copper to be the most potent and cost-effective due to its reputation for being one of the best conductors of electricity," said Donnelly.
"The copper ions cause a 'schizophrenic' reaction which electrostatically ruptures and destroys the outer cell membrane of any pathogenic microbe it comes into contact with. By puncturing the outer cell membrane of a bacteria or virus, the copper ions are then able to destroy the RNA or DNA to prevent the cell from replicating. This is extremely important to understand as, without the RNA or DNA, the pathogenic microbe can no longer replicate and therefore become resistant to copper."
Hospital Acquired Infections, also known as a nosocomial infection, are bacterial, fungal, or viral infections that are acquired in a hospital, nursing home, rehabilitation facility, outpatient clinic, or other healthcare clinical settings. A UK government report has shown adults who contract HAIs stay in hospital 2.5 times longer than patients who do not get infected. They are also likely to incur hospital costs which are up to 3 times greater than unaffected patients, estimated to cost the NHS approximately £1bn a year.
Donnelly said: "We made a 'breakthrough' back in 2012 when Professor Bill Keevil, University of Southampton, carried out in-vitro testing on our patented copper and bamboo fabric, highlighting that the copper ions kill MRSA on contact. The initial kill rate for the first 30-40 minutes of contact on the copper nylon fabric was actually faster than on 100% copper metal.  Since then our engineering of fabrics has greatly improved the destruction rate.
A further independent in-vitro laboratory test we conducted highlighted that our Copper fabric technology killed 99.99999% of MRSA. Other independent copper clothing peer-reviewed studies have also shown the effectiveness of copper against HIV to show the extent of the credibility of this new wave of technology."
Taking the next steps
The copper impregnated dressings could offer an effective and natural solution to common health problems and could provide an opportunity for saving both healthcare costs and lives. Copper Clothing's ambition now is to build the technology to be cost effective enough to replace conventional wound dressing – which would make copper a first line of treatment to prevent infections.
"The implications of the results showcase the route to providing a higher quality of care outcome for patients and highlight large potential cost and environmental savings for healthcare bodies and governments across the world. In its simplest form this can be seen by the cost of silver per ounce versus the cost of copper per ounce," said Donnelly.
"The cost-saving is not just limited to the price of our technology. It reduces the ongoing costs associated with treating infections, starting with reducing patient bed days and the impact of relying on antibiotics to tackle further issues that could have been prevented by using the most effective treatment in the first place. We are tackling the problem head on and are excited with the pipeline of technology across sectors we are making huge progress on.
"Our key focus now is to continue the work we are doing in the medical sector. We understand the importance of regulations and accreditations in this industry specifically to ensure products are safe to use. We are currently undergoing FDA and CE approvals. We believe that by reinforcing credibility, we will build confidence to work across other sectors.
"As a result of the success from the initial three NHS clinical trials, we have been invited back to facilitate a further three clinical trials involving up to 3,000 participants expected to begin at the end of 2020. Only through collaboration with other organisations and global partners will we be able to realise the full potential of this material in improving lives. We are ultimately unravelling nature's biggest gift.  The anti-microbial power of copper should be realised all around the world in an affordable and cost-effective manner. The ambition is that one day, this will help to prevent the issues we see today caused by the coronavirus."