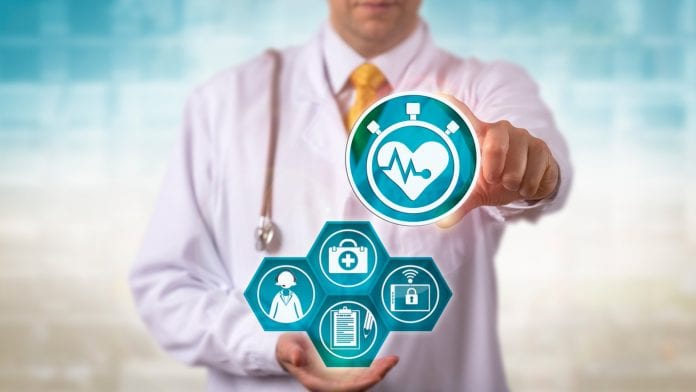 Remote monitoring of blood pressure can offer personalised support and can result in better hypertension management than face-to-face consultations according to a new study.
A new study led by University of Oxford, Bristol University, and Southampton University researchers has shown that, for participants managing their blood pressure at home, mean systolic blood pressure was significantly lower after 12 months compared with those managed exclusively in the clinic, giving a mean difference of -3.4mm Hg between groups. Those who were self-monitoring at home were also more likely to have their treatment adjusted by their healthcare professional.
The Home and Online Management and Evaluation of Blood Pressure (HOME BP) randomised controlled trial, funded by the National Institute for Health Research, evaluated the combination of regular self-monitoring at home with a web-based tool.
The study has been published in the British Medical Journal.
Remote monitoring
Today in the UK, more than 30% of adults have raised blood pressure, also known as hypertension, which is a major risk factor for cardiovascular disease internationally. Due to the current COVID-19 pandemic, many patients are unable to receive  face-to-face consultations, having to have virtual consultations instead.
HOME BP trial lead, Professor Richard McManus, a GP and Professor of Primary Care at the University of Oxford's Nuffield Department of Primary Care Health Sciences, said: "We already know from research that when patients self-monitor and manage their blood pressure they typically have better control of their hypertension. Yet these systems often rely on relatively expensive technology, complex instructions and/or time-consuming training. We combined self-monitoring with an easy-to-use and inexpensive digital tool that provides feedback to the patient and their clinician and aims to support healthy behaviours. Our trial found this can lead to lower blood pressure at low additional cost compared to usual, face-to-face care.
"At a time when many people are unfortunately unable to visit their GP in person, this digital and remote approach could provide a simple way for GPs to effectively manage hypertension in many members of their community, reducing their need to visit the practice for regular check-ups."
Professor Lucy Yardley, from the School of Psychological Science at the University of Bristol and the School of Psychology at the University of Southampton, added: "Our findings are especially important now that the coronavirus pandemic has made it urgent and vital to be able to offer remote, high-quality care to patients with high blood pressure. The HOME BP trial was developed with extensive feedback from people with high blood pressure and primary care staff to ensure that patients and clinicians found it helpful and trustworthy."
Cost-savings
The tool enabled GPs to adjust drug treatment based on regular blood pressure readings, and the HOME BP system also offered evidence-based tips on diet and weight-loss, exercise, salt and alcohol reduction. The researchers say that current efforts to encourage people to self-monitor could reap real dividends for both the NHS and people with high blood pressure.
The researchers also found that for participants aged 67 or over the reduction in blood pressure compared with usual care was found to be less pronounced than in those aged under 67. This was unexpected and at odds with similar research in this area, and the researchers say that further work is needed to understand whether this is a real effect.