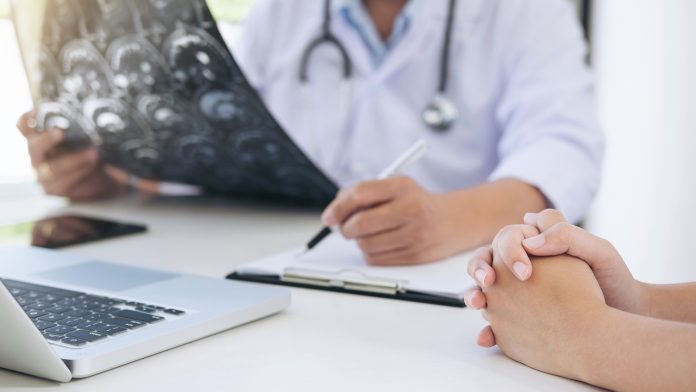 University College London (UCL) researchers have developed a precision therapy for bile duct cancer that extends patients' lives. 
Bile duct cancer is cancer that's found anywhere in the bile ducts. The bile ducts are small tubes that connect different organs and are part of the digestive system. The seriousness of the disease depends on where it is in the bile ducts, how big it is if it has spread and your general health. 
A new personalised cancer treatment has been developed by researchers at UCL and University College London Hospitals NHS Trust (UCLH) which has the ability to radically improve the outlook for some patients with bile duct cancer.  
The study was published in the New England Journal of Medicine.  
Conducting a phase II open-label clinical trial
The Phase II open label clinical trial – the European arm of which was led by UCL researchers – found that patients who were otherwise facing end-of-life care survived for up to two years when treated with the drug futibatinib.  
Furthermore, in September last year, data from the FOENIX-CCA2 trial led to the US Food and Drug Administration (FDA) to approve futibatinib for certain adults that meet a criteria, but the UK's National Institute for Clinical Evidence has not considered the drug yet. 
Futibatinib targets a particular genetic alteration, called FGFR2 fusion, which is found in around 14% of bile duct cancers. Of all patients diagnosed with bile duct cancer in the UK, only approximately 300 will have this genetic alteration. There are currently very few treatment options for bile duct cancer and survival rates are low.  
The treatment reduced bile duct cancer tumours by over 40%
The international trial recruited 103 patients with bile duct cancer who had undergone at least one chemotherapy treatment, but whose cancer had become resistant. The patients' cancer tumours had been genetically analysed (molecularly profiled) to check that they had an alteration in a particular group of genes, known as fibroblast growth factor receptors (FGFR).  The drug, futibatinib, is known as an FGFR-2 inhibitor, as it targets this genetic alteration.  
The researchers found that when the participants were treated with the drug, it reduced the overall tumour by over 40%, compared to 25% with chemotherapy. The drug also produced modest side effects compared to chemotherapy. 
Moreover, the patients on the treatment survived for up to two years, even though they had advanced cancer and had sometimes experienced up to five other treatments before entering the trial.  
European lead and senior author on the paper, Professor John Bridgewater (UCL Cancer Institute and University College London Hospitals NHS Foundation Trust) said: "These results turn treatment for this group of patients on its head. Instead of treating them with the blunderbuss that is chemotherapy, which attacks healthy cells alongside the cancer, we can offer a personalised treatment that just targets a specific alteration within cancer. 
"The benefits that patients saw in the trial were remarkable. It's important that patients with bile duct cancer get their cancer tested to find out if they have this abnormality. We can't afford to miss one of these alterations: the difference they could make to treatment outcomes is dramatic." 
Recommended Related Articles