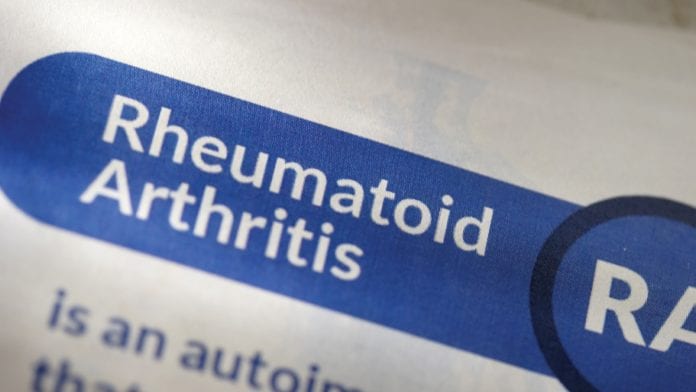 What do we know about rheumatoid arthritis medication? What are the recommended first-line treatment for this debilitating disease? Read more as Health Europa investigates.
Rheumatoid arthritis is a chronic autoimmune disease in which the immune system mistakenly attacks the lining of the joints, leading to inflammation and symptoms such as swelling, stiffness, pain and fatigue. Health Europa explores the currently recommended first-line treatment regarding rheumatoid arthritis medication and reflects on recent research into possible alternatives.
Rheumatoid arthritis
Despite extensive research, exactly what triggers this immune response is not yet known. There are, however, a number of possible risk factors which could increase someone's likelihood of getting the disease, including:
Sex (women are more likely to develop rheumatoid arthritis than men)
Genetics (evidence suggests that rheumatoid arthritis may run in families)
Smoking (smoking has been shown in some studies to not only increase the risk of rheumatoid arthritis developing but also worsen its symptoms).
According to the World Health Organization (WHO), rheumatoid arthritis most commonly occurs during the 'most productive years of adulthood, between the ages of 20 and 40', and within ten years of onset, 'at least 50% of patients in developed countries are unable to hold down a full-time job'. The US-based Rheumatoid Arthritis Support Network estimates that as much as 1% of the global population could be affected by rheumatoid arthritis.
Rheumatoid arthritis medication: what is methotrexate?
Rheumatoid arthritis is commonly treated with a combination of disease-modifying anti-rheumatic drugs (DMARDs), which help to suppress an over-active immune system. Among them is methotrexate, which was initially introduced as an anticancer treatment and works by altering the underlying disease process in order to reduce or prevent joint damage and related disability.
Methotrexate, which can also be used to treat such conditions as Crohn's disease and psoriasis, is widely considered the gold standard in rheumatoid arthritis medication and can be taken orally or administered via an injection.
Doses typically start low at ~7.5mg per week and rise to 25mg per week if necessary. A long-term treatment, it can take up to three to 12 weeks for patients who are prescribed the drug to begin feeling the benefits.
Methotrexate is generally well tolerated, but, like any medication, it carries a risk of side effects, among them:
Hair loss
Loss of appetite
Nausea and vomiting
Diarrhoea
Headaches
Mouth ulcers or a sore mouth
Shortness of breath
Unexplained bruising or bleeding
Rashes.
Methotrexate can also have an impact on a patient's blood, liver and lungs; as such, patients require regular blood checks throughout the entire period of taking the drug, as well as a chest X-ray prior to beginning treatment. They will also be prescribed folic acid supplements in order to mitigate any side effects they might experience.
Alternative rheumatoid arthritis medication
Many patients respond well to methotrexate, but for those who don't, other DMARDs such as leflunomide or sulfasalazine might be advised – sometimes in combination with methotrexate – or a biological treatment such as etanercept or tocilizumab – again in combination with methotrexate or another DMARD.
In August, an international team of researchers led by Charité – Universitätsmedizin Berlin, Germany, completed testing of an alternative from of Rheumatoid arthritis medication called upadacitinib, a selective inhibitor of Janus kinase 1 that has been shown to be effective in patients with moderate to severe forms of the disease who have demonstrated an inadequate response to conventional synthetic DMARDs, including methotrexate.1
In a randomised, double-blind, placebo-controlled Phase III trial, the results of which were reported in The Lancet, patients treated with upadacitinib enjoyed significant improvements in joint swelling compared to patients treated with a placebo, as well as less pain and improvements in joint function.
"Our results prove that JAK inhibitors represent an effective treatment alternative in patients with long-term conditions who do not respond adequately to conventional drugs, and in those for whom biologics are not a good treatment option," said Charité's Professor Dr Gerd-Rüdiger Burmester, who conducted the study.
"JAK inhibitors could help these patients achieve a quick response to treatment, allowing them to gain control over their illness."
As a next step, biopharmaceutical company AbbVie – which sponsored the clinical trial – is looking to submit the trial results to regulatory authorities in Europe and the US for review.
Methotrexate dosing errors
In April, the European Medicines Agency (EMA) announced that it had started a review of the risk of dosing errors with medicines containing methotrexate. Patients with inflammatory diseases like rheumatoid arthritis should take methotrexate once a week; however, when taken as a treatment for some types of cancer, the dose is higher and more frequent. According to the EMA: 'Mistakes have led to some patients incorrectly receiving a dose every day instead of every week. As a result, patients have received too much of the medicine, with serious consequences in some cases.'
The EMA added that despite a series of measures being in place to reduce the likelihood of mistakes like these happening, including visual reminders on medicine packs, a 'recent assessment found that serious adverse events related to overdose, including fatalities, are still occurring'. This led to the Spanish Agency of Medicines and Health Products (AEMPS) asking the EMA to further investigate the reasons behind such dosing errors and identify measures to stop them.
As a next step, the EMA's Pharmacovigilance Risk Assessment Committee (PRAC) – the main EMA body responsible for assessing and monitoring the safety of human medicines – will look over the available evidence and make a recommendation as to whether further action is necessary in order to reduce the risk of doing errors.
References
Gerd R Burmester et al. Safety and efficacy of upadacitinib in patients with rheumatoid arthritis and inadequate response to conventional synthetic disease-modifying anti-rheumatic drugs (SELECT-NEXT): a randomised, double-blind, placebo-controlled phase 3 trial. The Lancet, 2018; 391 (10139): 2503 www.thelancet.com/journals/lancet/article/PIIS0140-6736(18)31115-2/fulltext
This article will appear in issue 7 of Health Europa Quarterly, which will be published in November 2018.