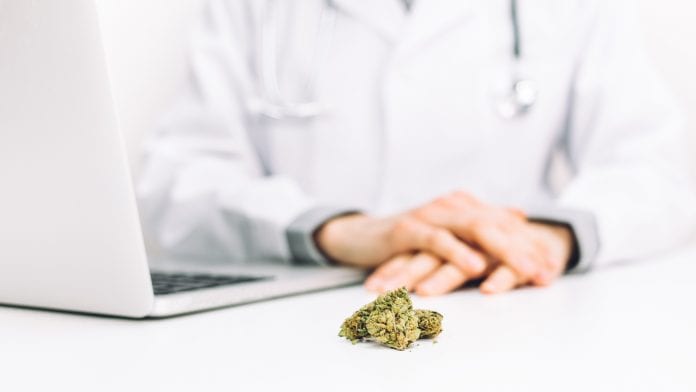 A new 'roadmap for doctors' has been published to help doctors in the UK become medical cannabis prescribers.
Today the Medical Cannabis Clinicians Society has published an independent step-by-step guide for doctors who want to become medical cannabis prescribers to help their patients living with chronic health conditions.
The Society's expert committee brought together information from the Government, the NHS, NICE, Royal Colleges, licensed producers of medical cannabis products and training providers into one place for the first time, giving doctors a clear and rational route to prescribe.
Increased access for patients
Since medical cannabis was made legal in November 2018, the number of prescriptions for the treatment have remained extremely low as clinicians struggle to understand government regulations and various guidelines issued by numerous bodies. Only around 50 people have benefitted from medical cannabis prescriptions, mostly in the private sector, since then.
Chair of the Medical Cannabis Clinicians Society, Professor Mike Barnes said: "Despite the fact medical cannabis was made legal in 2018, it remains all but impossible to access for the majority of patients. Doctors have been seriously let down by their clinical leaders who have repeatedly failed to acknowledge the breadth and depth of global research which demonstrates that medical cannabis treatments can make enormous improvements to people's quality of life. They have failed to give doctors clear answers about how they can help their patients with this now legal treatment option.
"With this information, we're giving clinicians a roadmap to prescribe medical cannabis privately to patients. As a Society, we remain dedicated to contributing to the UK's evidence base by working with groups including Drug Science, as we continue to press for medical cannabis treatments to be made available to the hundreds of thousands of NHS patients who could benefit from it."
Vice Chair of the Medical Cannabis Clinicians Society, Dr Dani Gordon said: "Clinicians and patients contact us looking for clarity about what is and is not permitted when it comes to prescribing this treatment option for patients.
"As an independent society of doctors, our members support each other by sharing prescribing experiences, reviewing and disseminating information published by the NHS, private organisations and Government to provide an unbiased overview that will help clinicians to help patients who could benefit so enormously – people living with chronic pain, PTSD, side effects from chemotherapy treatment, neurological disorders and so many more very serious health conditions."
Official guidance for doctors
In February, the Medical Cannabis Clinicians Society will re-issue its own official guidance – Recommendations and Guidance on Medical Cannabis under Prescription – to support this prescribing information published today.
This will be launched in conjunction with a series of roadshows with charity Drug Science, taking place in UK cities including Birmingham and Liverpool. The CPD accredited events are open to clinicians and those interested in understanding more about medical cannabis treatments, the history and evidence – including Drug Science's Project Twenty21 – as well as hearing from medical cannabis patients about their own experience with the treatment.
The guide is available here.