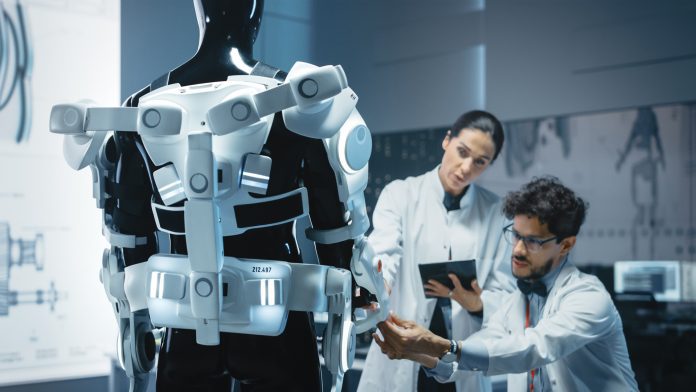 A new trial performed in Japan has analysed the potential of employing robot therapy to help chronic stroke patients recover from the condition, finding that it may significantly advance current treatments.
Traditional rehabilitation strategies for stroke patients involve stretching and exercise routines that are designed to reconstitute the patient's lost strength and mobility. However, the benefits of these rehabilitation methods are not long-lasting, and many health systems do not have specialised programmes for continuing treatment for chronic stroke patients, leading researchers to experiment with a radical alternative, robot therapy.
A new study from Osaka Metropolitan University suggests that although continuing traditional therapy is beneficial for chronic stroke patients, robot therapy is comparably effective but also has a range of additional benefits, such as being cost-effective and only requiring minimal therapeutic staff guidance. Robot therapy administers repetitive exercise to a patient while holding their affected limbs, senses force feedback from the individual and carries out analysis in real-time.
Current treatment limitations for chronic stroke patients
Hemiplegia is one of the most prominent side effects of a stroke and is characterised by partial paralysis that occurs on either the left or right side of the body. The condition is especially debilitating if it affects the patient's arm or hand, consequently preventing them from performing daily tasks.
Current treatments involve therapist-led strength and conditioning programmes to build muscle strength and optimise joint mobility. However, recovery is a challenging process. Patients rarely recover full functionality due to the benefits of rehabilitation gradually diminishing over time, leading to symptoms that persist in chronic stroke patients for more than 180 days following the initial stroke.
Robot therapy
To explore the potential of robot therapy, the team recruited 129 stroke patients who met screening criteria for arm and hand paralysis and consented to join the study, which was performed across 25 clinics and hospitals in Japan. The researchers conducted a randomised controlled trial, dividing patients with equally severe strokes into three groups. Each group was assigned to three one-hour sessions of therapy each week for a duration of ten weeks, with the treatment starting six months following the patient's stroke.
The control group received minutes of self-training and 20 -minutes of therapist-led occupational therapy that targeted performing correct movement, joint mobility, stretching and daily activities.
The robot therapy group started with 20 minutes of standard occupational therapy with a therapist. They then experienced 40 minutes of rehabilitation with a ReoGo-J upper-limb rehabilitation device, an armchair that supports a patient's arm, senses their movement, provides feedback, and matches difficulty to the individual's impairment.
The final group did movement therapy, combining 40 minutes of robot-assisted self-training and 20 minutes of constraint induced movement therapy in which they conducted therapist-led exercises such as hand shaping, task practice, and then performed these movements in real-life situations.
Study results
Interestingly, the chronic paralysis patients displayed improvement from the training despite being in the chronic stage of stroke. Moreover, the robot therapy group rated the same as the control group that did therapist-led exercises in measurements of daily tasks.
The team identified that the most effective strategy was combining robot therapy with therapist-led standardised occupational training. This illustrates that treatment should be continued for chronic stroke hemiplegia patients and that robot therapy may be more impactful than traditional therapy alone for stroke recovery.
The most notable difference was demonstrated in a group of patients who did robot therapy who displayed significant improvements in the shoulder, elbow, and forearm use, areas where the ReoGo-J upper-limb rehabilitation device programme focused.
Professor Takebeyashi concluded: "Receiving rehabilitation therapy using robots has been established in the chronic phase following a stroke. It can lead to improvement of the paralysed hand and increased functionality in daily life compared to current therapeutic approaches. I still want to continue exploring more ways to restore hand movement, as much as possible, to improve chronic stroke patients' health and quality of life."