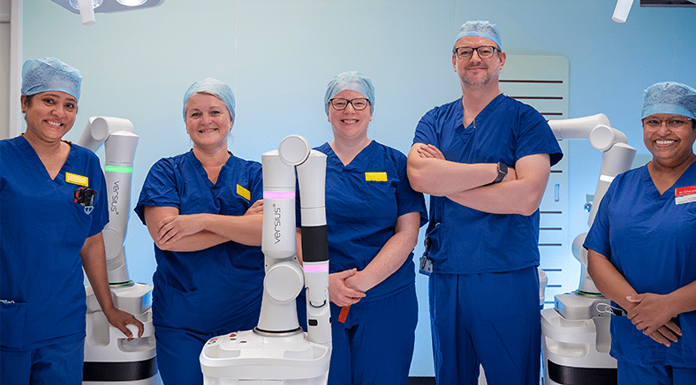 An NHS hospital in Gloucestershire has adopted new robotic technology to make minimally invasive surgery more readily available to patients.
Gloucestershire Royal Hospital, part of Gloucestershire Hospitals NHS Foundation Trust which runs Gloucestershire Royal and Cheltenham General Hospitals, is utilising the 'Versius' robotics technology developed by global surgical robotics specialist CMR Surgical. The technology is initially being used for upper gastrointestinal (GI) procedures and will become a multi-speciality programme once surgeons across colorectal surgery are trained on the system.
Surgical success
The upper GI programme has already proven to be successful as surgeons were able to perform the UK's first nissen fundoplication – a laparoscopic procedure performed for patients with gastroesophageal reflux disease – as well as a hiatus hernia repair with Versius.
Simon Higgs, Consultant General and Upper GI Surgeon at Gloucestershire Royal Hospital, said: "It was important for us to bring in Versius to the hospital so that patients having both routine surgeries like cholecystectomies, as well as more complex procedures, could benefit from the precision and accuracy that robotic surgery brings. Upper GI is an extremely busy department and adopting Versius signifies a new era for the specialty, as many more patients will receive minimal access surgery and be treated with this high-quality technology."
Mark Vipond, General Surgeon at Gloucestershire Royal Hospital, added: "Versius brings multiple benefits for the Trust and we are delighted to be working with CMR Surgical on this programme. One of the key reasons Versius was so appealing to us was the small, modular design, meaning that it can easily be transported to different departments so that it is being utilised as much as possible, bringing maximum value to the hospital and its patients. We're looking forward to building on the fantastic start within upper GI and seeing additional specialties across the hospital benefit from the system."
Versius is now established as a valuable surgical tool in a number of hospitals across Europe, India, Australia, and the Middle East, where it is helping surgeons perform a wide range of procedures.
Mark Slack, Chief Medical Officer at CMR Surgical, said: "It is great to be able to introduce Versius to the Gloucestershire Royal Hospital. In designing Versius, our goal was to provide a versatile and cost-effective surgical robotic system that could transform the field of minimal access surgery – allowing more patients to benefit than currently do. This multi-specialty programme with Gloucestershire Royal will do exactly that and we're delighted to be partnering with them on this exciting new era for the hospital."
Recommended Related Articles