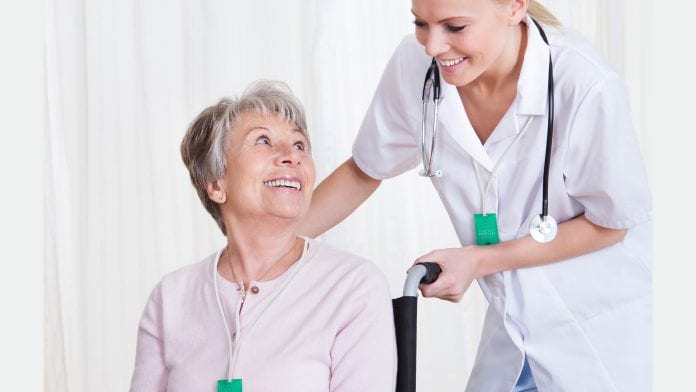 New Australian card-to-card technology safeguards at-risk essential service facilities from COVID-19 by automating initial contact tracing protocols.
As essential services such as health and aged care facilities across the UK navigate additional COVID-19 restrictions, and contact tracers race to identify close contacts, a simple 'wearable card' is emerging as a workplace game-changer. Contact Harald is the new Australian-developed card-to-card contact tracing technology designed specifically to automate contact tracing protocols for at-risk workplaces.
While masks and head-to-toe personal protective equipment (PPE) can help slow the spread of COVID-19, Contact Harald can speed up the process of contact tracing.
Rapid identification and isolation of potential contacts can stop the spread of COVID-19;
RMIT-Cisco's Health Transformation Lab helps fast-track local contact tracing technology; and
Contact Harald has been designed to take the 'manual' element out of manual contact tracing.
Contact Harald
Contact Harald is a wearable, standalone card-to-card-based contact tracing system which uses low energy Bluetooth technology. Not restricted by mobile technology, the card-to-card system is ideally placed to assist contact tracers in reducing the time between potential exposure, being tested and self-isolating.
Developed by Safedome, the Australian technology – which has been fast-tracked through the RMIT Cisco Health Transformation Lab in Melbourne, Australia – is now rolling out globally and is being used in health and aged care facilities across the Asia-Pacific region. Contact Harald is also being used in construction, food manufacturing, distribution centres, film and TV production in Australia and the US.
The technology was developed by Matt Denton, an ex-Apple designer who co-founded Safedome, a fintech company which has been using proven track and trace Bluetooth technology in the banking and travel industries for more than seven years.
Health technology experts see automated contact tracing systems as a potential 'game-changer' for sectors such as aged care, which needs to balance ensuring the safety of residents alongside the need to enable the movement of visitors and staff within facilities.
Vishaal Kishore, Professor of Innovation and Public Policy at RMIT University and Director of RMIT's Cisco Health Transformation Lab (HTL) in Melbourne, believes that Contact Harald technology has the potential to expedite the contact tracing process. He says: "This kind of technology can provide facilities with an added 'line of defence' to help manage the risks of becoming a COVID hotspot."
Professor Kishore's team at the Health Transformation Lab has assisted Contact Harald with the commercialisation of the technology since mid-2019. The team accelerated their efforts in early 2020, once the potential impact of COVID-19 became apparent.
The data collected proved that Contact Harald's simple Bluetooth-enabled card system offered an effective, fast contact tracing and isolation solution that delivered excellent results in the healthcare environments for which it was designed.
Safeguarding businesses
With the UK teetering on a second-wave and widespread Tier 3 restrictions, 'doing nothing' is not an option. Workplace-specific solutions are coming into focus; and UK local leaders can show the way: about 80% of Australia's new infections since mid-May were "being driven by transmission in workplaces, including private-sector aged care," Victorian Premier Daniel Andrews acknowledged.
Safedome's Director of Health and Product, Elissa Reid, said the Contact Harald technology platform was helping workplaces safeguard their businesses and staff and speed up contact tracing as needed, to keep people safe and their businesses operating.
She said testing delays could be assisted by faster tech-based contact tracing. Contact Harald's main benefit is the inherent speed at which initial alerts can reach potential contacts, facilitating reduced time to implement essential testing and advise self-isolation.
"These simple Bluetooth-enabled cards – backed by a user-friendly human-designed interface – offer an effective, fast contact tracing and isolation solution that will help contain the virus," said Reid. "Using Contact Harald, the aged care sector will have access to a sector specific best practice model that can be adopted to help stem the worrying and ever-rising number of cases that we are currently seeing across Victoria."
Designed for closed environments like aged care facilities, prisons and food processing plants, the contact tracing system records and logs card-to-card interactions within a defined facility. It records when people wearing a Contact Harald card have been in close proximity to each other within set time limits. If an individual – such as a staff member, resident, inmate, cross-facility allied health professional, visitor or tradesperson – becomes unwell, a button is pressed on the card to upload the stored interactions records. Contact Harald uses the stored interactions records to run a contact tracing event. This is where all people with recorded close contacts with the unwell person will immediately receive alerts and health management advice by SMS and email. This allows the facility to enact outbreak management procedures to swiftly contain further spread.
Why speed is important in contact tracing
'Tracing' is one the key four pillars of Australia's COVID-19 Containment Process, as identified by the Department of Health (press conference 23 July 2020)
Modelling published in The Lancet identifies key factors for a contact tracing strategy to be successful, with minimising testing delays having the largest impact on reducing onward transmissions of COVID-19. However, a recognised limitation was mobile app use coverage. Contact Harald does not use a mobile phone app to collect data
Harvard Business Review notes that adjunct tools for contact tracing may work best if deployed in highly focused, contained, related communities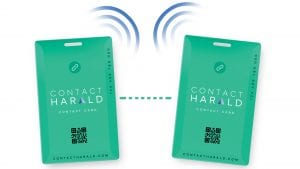 Elissa Reid
Director, Health & Product
Contact Harald
elissa.reid@contactharald.com
www.contactharald.com
This article is from issue 15 of Health Europa. Click here to get your free subscription today.