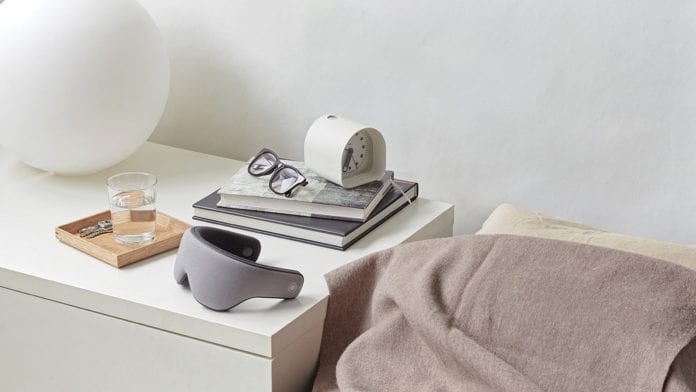 Sana Health introduces its neuromodulation device, which is easing pain, improving sleep, and could save many lives.
IN 1992, the founder of Sana Health, Richard Hanbury, was in a major jeep accident which severed his spinal cord and resulted in pain so severe his life expectancy was estimated at just five years. He chose to invent something in order to stay alive and thereby created a neuromodulation device that read his EEG signals and converted them to a light and sound stimulation unit. This device successfully put him into restorative sleep and permanently resolved his chronic pain – thus saving his life.
Significant medical need
130 million Americans have sleep problems, 68 million of whom suffer with severe insomnia and the toughest sleepers are the 30 million with PTSD or chronic pain. This is a particularly acute problem among those whose sleep is disturbed by irregular sleep patterns or exacerbated by extreme stress, chronic pain or injury (concussions, traumatic brain injury (TBI), or sub-concussive events).
In addition, 100 million Americans are in pain, and opioids are very effective but plagued with issues of abuse and diversion.
The existing therapies all have serious issues: drugs, Ambien, etc. (side effects, risks, limited effectiveness); cognitive behavioural therapy (time, compliance, expense); and devices (not clinically proven, not Food and Drug Administration (FDA) approved, low effect) – all resulting in no real solutions.
The Sana Mask is comprised of a mask with earbuds. The device is worn over the eyes (earbuds in ears) when the user is ready for bed and pulses specific algorithms of light and sound to effect neuromodulation, which is tailored to each individual by a skin-contact heart rate variability (HRV) sensor built into the forehead area that measures HRV throughout its use. The HRV information allows the system to determine when a patient becomes more relaxed and thus adjusts the algorithm to ensure that the patient remains in, or transitions to, the next phase of therapeutic stimulus.
This feedback loop therefore treats each patient according to their state of relaxation, efficiently placing them in a progressively more relaxed state, resulting in sleep and analgesia. The device can be used temporarily when relaxing and falling asleep or, with the use of the headband, be worn throughout the night.
The Sana device has been successfully used in the sports, military and medical arenas, including by the Virgin Global Challenger, Solar Impulse, Royal Marines, the US Air Force and the US Navy. It has been trialled with the University of California, San Francisco (UCSF) Department of Psychiatry in the US, the Ministry of Defence, Special Air Services, Special Boat Services, McLaren F1 team, and many others in the UK.
Over 1,300 individual user tests have culminated in a device that anyone can use to put themselves to sleep, anywhere. Sana is focusing on primary insomnia, then its hardest core cases of shift work, pain and PTSD-induced insomnia in order to help those in greatest need first. Over 60 subjects were tested in user studies in the fourth quarter of 2017 (including Special Operations Command (SOCOM) and the San Jose Sharks (NHL ice hockey team)), and a clinical study, which commenced in January 2018, was already approved by a local institutional review board (IRB) as a non-significant risk device.
The 2017 user study collected preference data, subjective relaxation and pain data based on validated scales, as well as objective HRV data, and demonstrated the following for the 60 subjects (table below).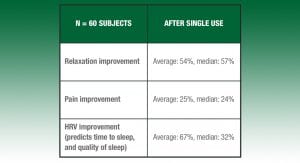 Commercial and regulatory strategy
Sana is seeking an FDA classification as a non-significant risk device. A pre-submission (pre-IDE) meeting took place with the FDA in late February 2018. A 510k regulatory submission plan is proposed, due to predicates on the market. The software is also deemed to have a minimal level of concern based on FDA guidance, thus making its submission straightforward.
Although Sana could immediately go to market with the current device as a consumer health and wellness product, Sana is following a medical device pathway in order to differentiate itself from any general consumer product. Sana's will be the first FDA-approved sleep treatment mask that decreases time to sleep whilst increasing its quality.
Future markets
During the many years of research to reach this point, Sana Health has also gathered anecdotal data to support applications in:
Chronic pain
Concussion, TBI and stroke recovery
Treatment of PTSD
Health and wellness – relaxation and meditation
Sports and military performance such as marksmanship, speed driving, endurance, and fine motor control.
Please reach out to Sana Health by email with any questions you may have. Sana Health is currently looking for investors and research partners. For enquiries about buying the device, please add yourself to the newsletter at www.sana.io.
Richard Hanbury, CEO
Sana Health Ltd.
+1 415 630 0467
Richard@sana.io
www.sana.io
This article will appear in issue 7 of Health Europa Quarterly, which will be published in November 2018.