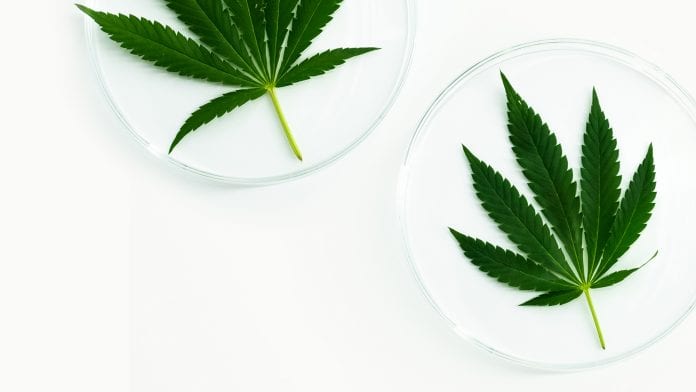 Joined by renowned industry leaders and medical experts, Sanity Group is on the brink of innovation and equipped to shape the European cannabis industry.
Sanity Group believes that everybody deserves to live a healthy life. After decades of scientific negligence of the cannabis plant, more and more research is proving what people already knew thousands of years ago: that cannabis can have a positive impact on peoples' lives.
Therefore, it is the company's purpose to develop innovative cannabinoid-based pharmaceuticals and wellbeing products and make them widely accessible. In order to utilise the full potential of cannabis, Sanity Group is investing in fundamental research of the plant and its active ingredients and focusing on specific areas of application. Equipped with this knowledge, they educate healthcare professionals, patients and consumers and support them in living a healthier life.
In 2017, legalisation of medical cannabis in Germany allowed physicians to prescribe medicinal cannabis for an extensive range of illnesses (over 60) including migraines and ADHD. The European Union's cannabis market is forecasted to be worth a behemoth €100bn by 2028 and Germany's early reform in legislation has primed it to become a leading power in the industry for years to come.
Scientific discovery has affirmed the use of cannabinoids for alleviating symptoms of chronic pain, spasticity, nausea linked to cancer treatments and sleeping disorders amongst a wealth of other medical conditions. As healthcare professionals continue to realise this utility, cannabis-based medicines will in turn gradually be integrated into the medical care of patients and contribute to improving their quality of life.
To facilitate this, Sanity Group has already established itself at the forefront of innovations. Just recently, a USD $20m (~€18m) Seed Funding Round was secured, making Sanity Group a promising newcomer company in the cannabis sector. A significant portion of the funding will be invested into enabling vital research into the active ingredients of cannabis and their applications in order to educate healthcare professionals, patients and consumers.
Sanity Group's capitalisation of the European market (Germany being one of the largest with 60,000 patients) was achieved through high-grade developments of cannabinoid-based pharmaceuticals and well-being products catering to the varying needs and regulatory requirements of Europe's highly specific and localised markets. On a mission to become and remain the first point of call in Europe, Sanity Group teamed up with leading investors in the healthcare and food industries including HV Holzbrinck Ventures, Cherry Ventures, Atlantic Food Labs and Karan Wadhera from Casa Verde Capital.
The team
Sanity Group's team comprises of experts ranging from the fields of science to operational excellence, ensuring both the scientific components of the company are as well understood and explored as the business side that comes with big scale ventures. The multidisciplinary team consists of revered campaigners and pioneers in favour of destigmatising cannabis and pursuing its medicinal value to society. It is led by the Founders and Managing Directors Finn Hänsel and Fabian Friede.
Since 2002, Hänsel has played a politically active role in overturning the laws around cannabis in Germany. In late 2018, his passion for products, brands, technologies and consumer goods manifested into Sanity Group after previously having succeeded in founding five of his own companies including THE ICONIC, an online retail market leader in Australia and New Zealand.
Finn has had over 4 years of experience as the Managing Director of Movinga and also spent 4 years with The Boston Consulting Group (focus on consumer goods, digitalisation and health). He has contributed to sectors including industrial goods, telecommunications, media and private equity, and has managed projects in countries spanning Australia, USA, South Africa and Europe.
Friede drives the medical wholesale and development of finished products and medical devices at Sanity Group and is enthusiastic about creating value for patients. Having experienced the positive effects of cannabis within his family and friends, he has long been an advocate for continued research of the plant's benefits to society. Friede has 9 years of experience in growing companies and managing international teams including Rocket Internet and Locafox. Formerly, Fabian had successfully started three of his own companies, each showcasing a strong passion and understanding in developing and marketing products.
Sanity's mission
A strong focus is also placed on developing a board of professionals that would close the gap between the industry, science and politics and uninformed stigmas often associated with cannabis. An esteemed advisory board encompasses this vision, with a number of pharmaceutical scholars and scientific professors closely overlooking and advising on all operations. One of these academics includes Professor Dr Müller-Vahl who has been researching and supporting the advantages of cannabis for more than 20 years.
Strongly orientated by regulatory developments and trends in countries around Europe, and maintaining a strong focus on Germany, Sanity Group has developed and managed two divergent companies. The first being Sanatio Pharma, a cannabis-based pharmaceutical company serving German pharmacies. Pending the unfolding of Europe's regulatory approach, the company progressively aims to supply pharmacies in central Europe and later most other European countries.
The second brand, VAAY, is a range of well-being products tailored to specific target groups, ranging from students to sport and business professionals which are usually aware of and open to the positive effects of CBD during stressful times. Recently launched in Germany, the range is already planning expansion into other European countries in the
near future.
Equipped with first-hand knowledge of the cannabis plant, Sanity Group has been educating and redefining the way healthcare professionals, patients and consumers think about cannabis. They have created a sturdy infrastructure to make their cannabis-based pharmaceuticals and wellbeing products readily and widely accessible, thus enabling people to live a better life.
Sanatio Pharma
Sanatio Pharma, the dynamic company that utilises cannabis research to import and distribute medical cannabis.
The shift in regulations regarding medicinal cannabis in 2017 opened up an industry characterised by a lack of education and supply. Acknowledging these issues, medicinal cannabis distributor Sanatio Pharma began serving German pharmacies with various strains of cannabis in a multitude of THC and CBD formulations, giving patients an early access to the health benefits of the plant. Working exclusively with first-grade suppliers and complying with European Good Practice (EU-GxP) guidelines, the company prides itself on maintaining the highest quality of products from the outset.
Managing Director Friede explains "as doctors and patients become more educated about the effectiveness of cannabis-based medications and the stigma turns for the better, demand for the plant will continue to increase immensely. There are thousands of patients suffering from serious conditions such as epilepsy, cancer, multiple sclerosis (MS) and chronic pain, many of which could benefit from cannabis-based medicines in alleviating their symptoms."
The medical industry is indeed rapidly evolving, with 2500 kg of medicinal cannabis imported into Germany in the first half of 2019. This is the same amount as 2018's total imports and more than double the amount of 2017's imports. Early emergence into the market coupled with timely support and supply have already positioned Sanatio Pharma to become the trusted partner of a growing number of pharmacies in Germany.
To optimise how cannabis is integrated into pharmaceutical products, the team has established close collaborations with healthcare professionals that have been early adopters of cannabis-based therapies. Moreover, the board plans to implement the first professorial chair for cannabis in a German University with one of the most major pioneers in the scientific cannabis industry.
By facilitating ground-breaking research and clinical trials involving THC and CBD, Sanatio Pharma – www.sanatio.com – has maintained its competitive edge over the industry. Furthermore, investigations into new hardware and technologies have been conducted and are set to radically further a still nascent industry.
VAAY
Using the highest quality cannabinoids, terpenes and adaptogens, www.vaay.com is giving people their inner balance back.
VAAY products promote wellbeing by re-instilling people's inner balance, mindfulness and clarity. In our modern times, VAAY believes that CBD will play a vital role supporting people in coping with their daily stress.
Different combinations of cannabinoids, terpenes and adaptogens are used in each of their specially-tailored formulas available in a range of products. These include nutritional capsules, oils, supplements, topical creams and tinctures. Additionally, VAAY has derived 3 key functional formulas:
• Sport: promoting post-exercise recovery;
• Night: enhancing sleep; and
• Day: increasing focus and concentration.
A diverse team comprising of medical doctors, pharmacists, food developers, biologists and phytotherapists is highly focused on constantly improving formulations, specifically through researching the synergistic effects between cannabinoids (excluding THC), adaptogens, terpenes and other active ingredients.
Managing Director of VAAY Hänsel postulated that: "As more people are educated and the benefits of cannabis becomes common knowledge, hemp and CBD will be seen as the caffeine of the 21st Century. People will adopt it into their everyday lives akin to the role coffee has played since the 17th Century." However, until cannabis-based products are widely adopted, forward-thinking and health-conscious consumers are the focal group of the company.
Presently, an e-commerce platform directly serving customers has been established in order to educate people first hand on how cannabis-based products can positively support the function of their bodies. In the future, VAAY plans to integrate their well-being products offline into retail stores in Germany and later across Europe.
Fabian Friede
Founder & Managing Director
Sanity Group GMBH
+49 30 88789424
info@sanitygroup.com
sanitygroup.com
This article appeared in the first issue of Medical Cannabis Network which was out in January. Click here to subscribe.