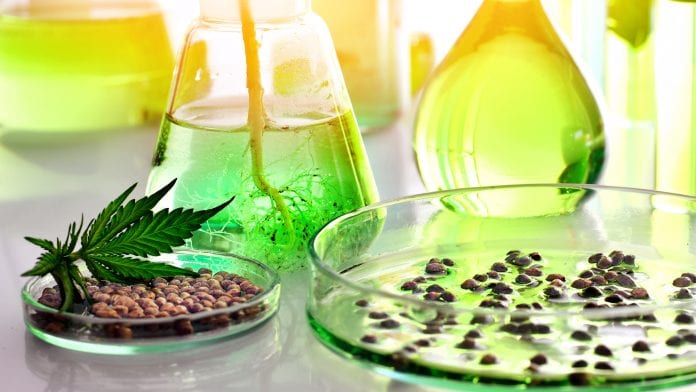 Seed to Science is Europe's number one choice for import and export of CBD isolate, distillates, and product lines between Europe, Canada, USA, Africa, and Latin America.
Seed To Science is a specialist consultancy that connects their clients from seeds, hemp-biomass, extraction, and manufacturing facilities globally with contract manufacturers, cosmetic companies, laboratories, and food and beverage firms, with over 15,000 kg of products brokered per month.
Firstly – tailored solutions. Seed to Science works with individual clients and their specific needs, whether it be EU GMP, EU sourced, specific strains, or international standardised facilities, the client defines the requirements, and Seed To Science utilises our global network to either source an existing product or sets up the longer term process for that specific product the client needs.
For example, a client wanting a specific strain can work with Seed to Science to source seeds, grow, deliver to an extraction facility, extract, manufacture, and ship back to the client. In addition, Seed to Science has access to an ongoing inventory of products from seeds, biomass, distillates, CBD oils and isolates.
Secondly, enhancing and financing projects. Seed To Science Ltd also focusses on incubating and investing into companies, and co-ordinating investment directly, on behalf of funds, or as part of mergers and acquisitions for clients.
The founding partners both come from a financing, strategic planning and operational start up consulting backgrounds and found that their skill sets dove tailed into the experience gap of many new businesses whose focus was on cultivation, research and product design rather than business planning, fund raising and operational implementation.
Seed To Science grows the business partners and clients in alignment with full-value chain from seed, to grow, to sale, and even technology tracking to the end client and efficacy of the product through partnerships with firms like client Global Cannabis Application Corp. (CSE Symbol: APP).
What are the benefits from operating in different continents and how can those benefits help in the European market?
International reach
Seed to Science is directly represented in Canada, Europe and South Africa and has affiliate relationships in Hong Kong and Australasia. Clients identify with STS two clear benefits of working internationally.
Cross border insight
First is the benefit of the transfer of knowledge, skills and experience. Seed To Science has experts globally from seed, cultivation, manufacturing, marketing, sales, licensing, funding, and research and development. Preparing bankable business models, and executing those plans is the key to Seed To Science's success.
Would you like to know what the market is thinking before anyone else? The gap in the market you should be focussing your investments into, and the real cost of the product?
Two years is almost a lifetime in this marketplace, which is both dynamic and volatile, nobody really has a clear picture of underlying capacity and supply – or more importantly demand – today let alone accurately predicting what's coming down the line in 6-12 months.
Even if many talk about the take up of Big Pharma or consumer products, nobody can predict when multinational decisions will be taken that currently put their global brands at risk. Therefore, in a young industry, experience gained in a more mature environment is invaluable when transposed to a relatively nascent one and offers a huge competitive advantage.
Legislative evolution
The other is an understanding of the evolution of the legislative perception and environment. Europe is still non-uniform in its approach to all aspects of the Cannabis industry from non-THC hemp to recreational cannabis, and legislative and public opinion still lag behind North America.
However that US and especially Canadian experience, helps business focus upon where to invest, what to invest in, which business model to follow in the short and long term and to build in flexibility to their strategic planning in readiness for the next round of liberalisation as governments understand the potential of the sector.
As such Seed to Science has analysed the EU market from an investment perspective and are looking to open dialogue on governmental policy with ways to allay their fears and solve compliance issues with liberalisation.
How has Seed to Science been successful to date?
Our success has come from various avenues, we have successfully helped to raise seed finance for grow and extraction projects within Europe (Sequoya Cannabis) and Africa. Within 2020, Seed to Science expects to have at least ten projects within Southern Africa and 11 facilities across Europe. We have successfully worked on a number of wholesale and importation transactions into both Europe and South Africa where we are also developing the African Farmers Initiative which we are hoping will revolutionise the land redistribution initiative in South Africa and reignite a dormant industry.
What are the biggest challenges for European operators?
Legal ambiguity
The biggest challenges come back to dealing with an unclear, ambiguous and non-uniform legal environment. Most countries recognise potential but struggle with deep rooted misperceptions and fractured public opinions, lobby groups are weak and policy makers meek, typically hedging their bets, allowing hemp cultivation and processing for export, which keeps them in the game while kicking the important issue down the line.
As a result, in Europe it depends on what you grow or do, where you do it, importing under licence and distribution around the free trade zone. The approach at Seed to Science is one of partnership, building relationships with licensed entities and high quality processors, implementing uniform standards, traceability and compliance.
The other major challenge revolves around expectations and certain impending economic realities. Many projects, with little or no infrastructure have over inflated pre money valuations based upon perceived super profits which will be steadily eroded as the industry shakes out and settles down.
What are your expectations for the coming 5 years?
Falling prices
It is Seed to Sciences´ opinion that in the near future raw material and finished product prices will continue to decline albeit with volatility born out of periodic mismatches of supply and demand. We believe multinational majors in mainstream pharma, wellness, cosmetics, food and beverage industries are researching, watching and waiting. They will try out or purchase CBD focussed labels before risking their global brands but the big roll out of CBD will occur within five years and it will be a closing of the general perception gap along with a clearer legislative environmental that drives their decision making.
Industry rebirth
While CBD is driving the rebirth of Cannabis, falling Isolate and distillate prices will eventually lead to a regeneration of the whole hemp industry, an expansion of fabrics, biodegradable plastics, filling materials etc., while efficient high yield growers and producers will be best placed to thrive in the evolving eco-space.
Technology and traceability
As such businesses in the Cannabis sector need to remain flexible and focussed upon bridging the perception gap and build a solution into their business model. Strand origin, traceability, guarantees of agricultural standards and quality processing, through to data relating to the effect on users and patients, will all underpin brand and enterprise values.
Domestic supply chain
Finally the cross hoping of products solely destined for export markets will be eradicated by a clearer and homogenised legal environment, evolving into local farmers supplying local customers and efficient farmers dominating cultivation, hemp will be grown where hemp grows best and business that understand the needs of their new customers will thrive, and this is where we see future investment opportunities.
'Cannabis 1.0' was the growing operations, 'Cannabis 2.0' was the manufacturing all the way to a very high-quality CBD isolate or oil – 'Cannabis 3.0' is the investment into 'hub' projects that track from the seed to client purchase and feedback, back through the value chain to ensure new and more effective products.
What opportunities is Seed to Science focussed on?
Seed to science is actively involved and looking to finance local growing and extraction projects in newly liberated markets such as South Africa, Colombia and Southern Europe where growing conditions are ideal and there is a discernible local wholesale customer base. We are examining projects that look beyond CBD production but build in product to market elements, especially vertical distribution channels and retail or hemp industry regeneration. We have partnered with data driven business and are looking to expand the usability of their technology for not only information gathering and prescription diagnostic sharing but also for brand enhancement and regulator and industry compliance.
The Seed to Science philosophy
Our philosophy has always been about partnerships and vision, leveraging networks and resources towards symbiotic relationships and the improvement and credibility of the industry as a whole. We are your partner for investment, entry and expansion within Europe, Africa, and the USA for CBD products and manufacturing.
Also, you can look forward into the new year of the opening of CBD and GMP exchanges
powered by Seed to Science Ltd such as cannabisisolatesexchange.com and cannabiscbdisolate.com.
Alex Martin
Seed To Science Ltd
CEO
+34645168000
Alex@seedtoscience.co.uk
seedtoscience.com
This article appeared in the first issue of Medical Cannabis Network which was out in January. Click here to subscribe.