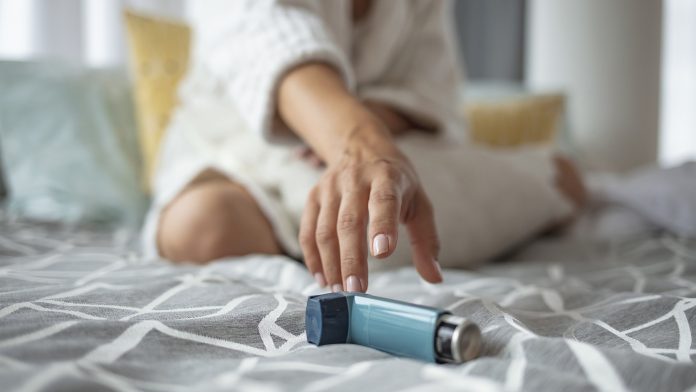 New research by the Queen Mary University of London has found that adults with asthma experienced a doubled risk of a severe asthma attack after COVID restrictions were relaxed.
Asthma attacks kill three people in the UK each day. Key signs of an attack include, worsening symptoms, too breathless to speak, peak flow score being lower than normal, and the reliever inhaler is not helping. It is important to seek immediate medical attention. Asthma affects over five million people in the UK and more than 300 million globally.
the UK, COVID restrictions include wearing a mask, limiting contact with people outside your household and only leaving the house for essential trips. New data has illuminated a link between severe asthma attacks and COVID restrictions lifting.
The findings are published in Thorax and presented at the British Thoracic Society meeting.
The lack of COVID restrictions and asthma attacks
When restrictions were lifted in England, fewer people took protective measures such as wearing masks and mixed socially more often. This led to a higher risk of COVID, acute respiratory infections, and subsequently, severe asthma attacks.
The study, led by researchers from the Queen Mary University of London, is the first to compare the influence of COVID versus other respiratory infections on the risk of worsened asthma. It is also one of the few studies that analysed the impact of lifted restrictions on people with asthma.
More people experienced attacks following the pandemic
The researchers analysed data from 2,312 UK adults with asthma, who participated in Queen Mary's COVIDENCE UK study between November 2020 and April 2022. Details surrounding face mask use, social mixing, and asthma symptoms were collected in monthly questionnaires.
In April 2021, restrictions on social mixing and the need for face coverings started to lift. In the previous month, 1.7% of participants reported having a severe asthma attack; however, in January 2022, this figure more than doubled, going up to 3.7%.
Professor Adrian Martineau, the lead author of the research and Clinical Professor of Respiratory Infection and Immunity at the Queen Mary University of London, said: "This research shows that relaxation of Covid-19 restrictions coincided with an increased risk of severe asthma attacks. Our study was observational, so it can't prove cause and effect. But our findings do raise the possibility that certain elements of the public health measures introduced during the pandemic – such as wearing facemasks – could help in reducing respiratory illnesses moving forward".
Dr Florence Tydeman, the first author of the paper, added: "It is also reassuring to see that Covid-19 was not significantly more likely to trigger asthma attacks than other respiratory infections in our study participants."
Recommended Related Articles