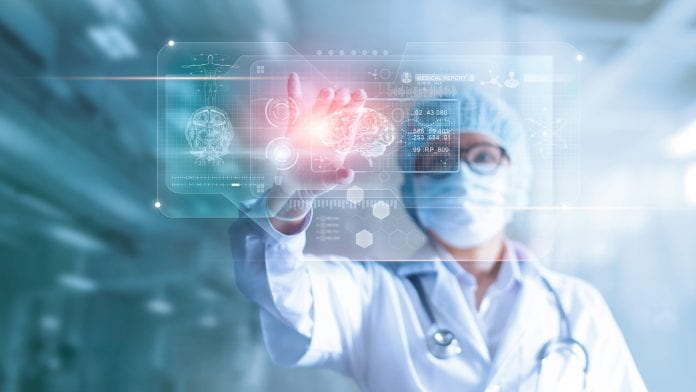 Healthcare systems are complex – demanding solutions to streamline operations and reduce care costs.
Intelligent imaging technologies, digital health technology and connected interventional solutions enable fast and accurate diagnosis, informed decision making along the entire patient journey and next generation treatment delivery – ultimately aiming to deliver better outcomes while increasing efficiency.
When speaking about digital transformation it is important to note the the three driving forces behind it.
Growing demand-supply gap
The population over 65 years is expected to grow by 48% while a shortage of ~122,000 physicians is predicted by 2032 – a situation calling for operational decision support (1).
Healthcare systems on a global scale are complex systems, with high regional adaptation and limited capacities for international standardisation.
This demands solutions that help to enable the reduction of complexity and streamlining operations management. It is a fact that global inefficiencies in healthcare systems call for the strict execution of performance excellence strategies.
Recent studies show, that a fifth of healthcare spending is wasted, at least in 35 Organisation for Economic Cooperation and Development (OECD) countries. Achieving operational excellence is based on accessible transparency of data and results, a connected environment for healthcare providers and their staff, as well as intelligent healthcare devices in a secure environment.
Enabling this kind of transparency, being able to make data-driven and better-informed decisions, connecting information and intelligence will ultimately build an intelligent healthcare enterprise.
Teamplay Insights helps to maximise insights to an institution's operational data of the radiology department with the goal to help providers improve operations, pursue individual goals and to tackle sophisticated questions.
Cognitive load of physicians
Clinicians have to shift through more than 50,000 data points to find key information where only ~60 of them are crucial patient information that is needed for effective care – a situation requiring clinical decision support (2).
Data-based clinical decision support is predicted to have substantial impact on value-based care. The Center for Medicare & Medicaid Services (CMS) is increasing its emphasis on the use of clinical decision support (CDS) tools, recognising its role in reducing care costs and improving care quality.
Clinicians who have already adopted CDS systems tend to agree they can help significantly.
Read more about imaging technologies here: Driving Quality with Imaging CDS: The Right Exam for the Right Reason.
In many countries, the number of radiology examinations is skyrocketing, while the number of radiologists and imaging specialists is not keeping up with the trend.
The result is a dramatically increased workload for radiologists. Providing multi-modality decision support through imaging technologies could help in the automation of routine workflows with repetitive tasks and high case volumes.
Consumerism in healthcare
70% of patients are communicating with their healthcare provider via text or video, in lieu of seeing them in person – a situation that should be supported by digital enabled shared decision support (3).
Smart care platforms allowing integration, monitoring, and data exchange between a set of home care applications and services. They provide value in the form of:
• Monitoring of health variables and context data; and
• Information sharing among professional and informal care providers as well as care receivers.
In conclusion facilitating an integrated approach for more informed decision-making across the entire patient journey calls for:
• Solutions that help to decide on how to optimise clinical operations by streamlining operations management;
• Solutions that help to support diagnostic and therapeutic decision-making and to reduce unwarranted variations; and
• Solutions that offer new ways of connecting care teams and patients to improve your patients' experience
(1) The Complexities of Physician Supply and Demand: Projections from 2017 to 2032, Association of American Medical CollegesWashington, D.C., 2019
(2) How Mayo Clinic Is Combating Information Overload, Vitaly Herasevich, Brian Pickering, Ognjen Gajic, 2018
(3) Consumerism is Driving Telehealth Growth, and It's Here to Stay, Apr 12, 2016
Jörg Aumüller
Digital Health
Siemens Healthineers