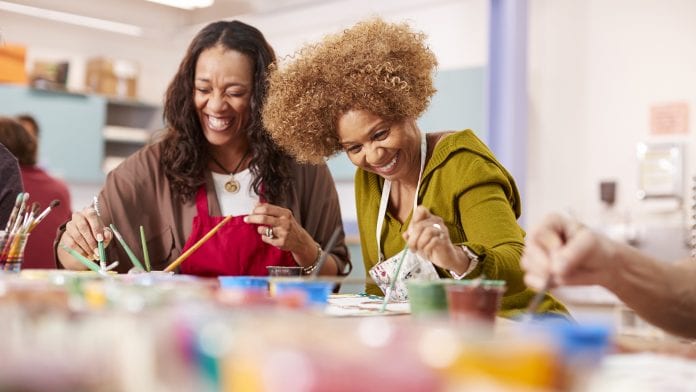 NHS Property Services (NHSPS) has announced the transformation of social prescribing sites across England.
To mark Social Prescribing Day, the 21 sites have been developed to support the NHS to deliver the goals of the NHS Long Term Plan, which pledges to refer at least 900,000 people to social prescribing services by 2021/24. These services include a range of local, non-clinical activities that support health and wellbeing, such as gardening, cooking, and art classes.
In November 2020, NHSPS and The King's Fund published the Social Prescribing and NHS Facilities report which revealed how the NHS can carry out small changes to make better use of its estate to better support the health and wellbeing of local communities.
The sites provide several different services including mental health services, baby banks, sensory rooms, and gardens, and community allotment and kitchen spaces for local charities.
Transforming community sites
To deliver these sites, NHSPS worked alongside NHS stakeholders, construction, and local organisations to redesign vacant space, improving the look, feel and capabilities which will enable excellent patient care.
One transformation has included refurbishments to support the development of an onsite kitchen within Axminster Community Hospital for use by the local charity, Project FOOD which runs cooking classes, meals on wheels, and re-enablement services
There has been a full redevelopment of a unit to create six counselling rooms for mental health charity, The Listening Place within Hunter Street Medical Centre in North London, and conversion of space in the South East to create a community café and charity shop has also been undertaken, which will provide mental health services, domestic abuse support, a school food larder, and financial support. Additionally, outside space at Offerton Learning Disability Resource Centre, Stockport, has been transformed into a multi-use garden, including growing beds, a sensory garden, an outdoor gym, and an outdoor meeting space.
Alison Davies, Head of Corporate Social Responsibility at NHSPS, said: "As a result of the COVID-19 pandemic, the needs of people across England have changed. Many people are experiencing extreme isolation and loneliness, with a significant increase in mental health issues among the population. Delivering on the NHS' social prescribing goal couldn't be more important as we move into a post-lockdown society, and I am proud of our teams who have ensured we can provide a variety of additional services to our communities.
"We look forward to working in close partnership with our partners and communities, to ensure we can continue to transform NHS facilities that better support the public's health and wellbeing through social prescribing."
"NHS Property Services has been such a positive partner; we are now open seven days a week in Hunter Street and our visitors and volunteers have told us what a calm and welcoming place our third floor is for them," said Laura Fach, New Site PM at The Listening Place.
"With this new location at Hunter Street, NHSPS allowed us to almost double our capacity for face-to-face appointments. We are very grateful to everyone who has helped make this happen."