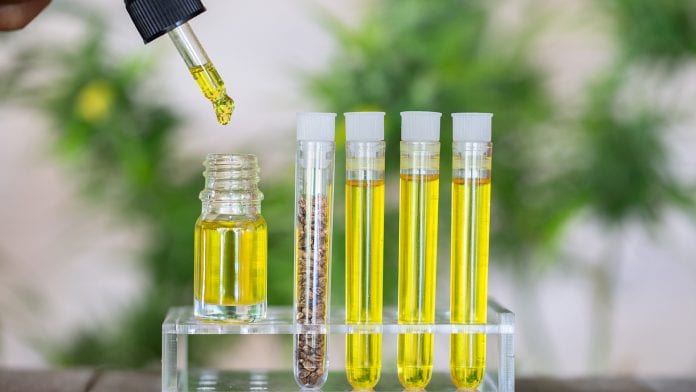 Spektrum Technologies eliminates the need for new facility construction and building retrofitting by housing large scale extraction equipment in transportable, regulatory compliant units.
Spektrum Cannabis Technologies loves a good challenge and excels at making the complex simple for its clients.
Anyone who works with cannabis knows that it is a very complex plant. Extracting CBD and THC from cannabis and hemp is even more complex — from the various regulatory considerations to the intricacies of the plant components to the highly flammable solvents used for extraction and cleaning.
With the overarching goal of simplifying extraction and processing to helping more people by bringing better quality products to market, the Spektrum team tackled multiple challenges to fit industrial scale cannabis extraction and processing equipment into modules that also comply fully with regional and national regulations. Extracting 'inside the box' eliminates time consuming and capital-intensive constructions of facilities or building retrofits.
Seriously skilled Spektrum specialists
"I've been working in the industry for over 20 years now, providing clients with controlled production and extraction facilities," says Dan Gustafik, founder of Geocoris, based in Oregon, USA. "However, Spektrum's modular units are ingenious. It improves the quality and access to CBD on so many levels at a fraction of the price. We have been looking for years for a truly plug and play packaged solution: this system provides the fastest time to market for any project and this containerised system has everything integrated and automated."
Ease for the end user
Ensuring ease of use represented a million-part puzzle for Spektrum's 'A-Team' of seriously skilled professionals. They like puzzles, though; and the Spektrum crew, consisting of a PhD chemist, design, process controls, mechanical and electrical engineers, can draw on their expertise in developing solutions for mega- to startup-sized companies in the cannabis and pharmaceutical industries.
To ensure Spektrum modules meet all regulatory compliance, Spektrum Technologies partnered with Dan Gustafik and the Geocoris team, which has completed over 160 cannabis and hemp cultivation and processing facilities across North America.
Scaling up to full spectrum
The real challenge for Spektrum Technologies was scaling the nearly perfected lab-scale methods in these processes up to production-scale, going from a few milligrams per hour to tens of kilograms per hour or more.
The production size scale is pretty ambitious: shipping containers housing a complete turnkey extraction system that meets Class 1, Division 1 (C1D1) or 2 (D2) requirements for making full spectrum oil, including the tanks, extractors, a super chilled multi-stage filter system, falling film evaporators, sensors; and software for full automation, security, and remote monitoring.
The Spektrum FSO Module is designed to produce a full spectrum oil which includes cannabidiol (CBD), terpenes, and other components which have shown early signs of medicinal benefits for many people.
The Spektrum line of cannabis processing technologies brings together every necessary component for full production in C1D1 or D2-rated containers, eliminating the need for new facility constructions or costly retrofits.
Put a bow on It
Spektrum is a fully contained module with all the hardware and software to convert the plant material into CBD and THC oil. Very little maintenance is needed other than changing filters; and very little interaction other than loading and unloading the bagged cannabis material are necessary. The containerised units also speed delivery and ramp up to full production.
The Spektrum FSO Module includes:
Processing capability of up to 110lb of biomass per hour;
Built in security designed to meet regulatory standards;
Full automation with tablet-based operator interface for remote visibility and control;
Cold ethanol extraction: 1.1 gallons per lb of biomass;
Greater than 95% ethanol recovery;
Clean-in-place operation;
Post-extraction processing, including winterisation;
20-minute cycle time;
Proprietary multi-step filtration for clean, pure oil;
Customisable oil decarboxylation;
Nitrogen blanket for safety and prevention of cannabinoid decomposition;
Optional current good manufacturing practice (cGMP) compliance; and
Easy scale-up and/or relocation options.
Timing is critical
Whether one uses a butane, carbon dioxide or ethanol extraction process, calibrating the pressure, temperatures, and timing can be really tricky. Spektrum Technologies chose to use cold ethanol extraction in the FSO Module because it is both most economical in the long run and safe and fast for large scale extraction. This module produces full spectrum extracts and the closed loop system of the FSO Module safeguards against solvent leaks or fire hazards.
Full compliance is critical to the design. There is no need to retrofit a building and permits will be easier to source considering the solvent is outside the container. The module even comes with a built-in live footage security system, which most states require on the premises.
Utility module: so you don't have to
The Spektrum FSO Module can be augmented with a Utility Module designed to efficiently support FSO production. The Utility Module includes:
A cooling tower to reduce energy costs;
Hot and cold heat transfer systems;
Gas or electric power options;
-30°F chiller to drive cold ethanol extraction and winterisation; and
Ethanol vapour condensation during recovery to increase savings.
Additionally, Spektrum's Distillate and Isolate modules are available for use in conjunction with your FSO Module to convert the full spectrum oil into more purified and concentrated forms making it easier to produce a variety of end user products.
"When you step back and look at these modules, the sleekness and simplicity is kind of breathtaking, especially when you know the full complexity of everything that goes into them," says Gustafik. "We're really proud to have consulted on this product line of high volume, state of the art THC and CBD separation technologies that comply with state and federal regulations. It's all terribly exciting stuff, honestly."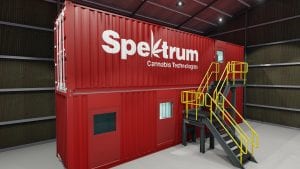 About Spektrum Cannabis Technologies
Spektrum Cannabis Technologies brings innovative solutions to large scale hemp producers and their partners. Spektrum turnkey systems are expertly designed, engineered, and fabricated in the US to meet regulatory guidelines for extraction, distillation, and crystallisation of CBD.
To learn more about Spektrum, please visit https://www.spektrum.net.
Spektrum Cannabis Technologies
+1 (888) 307 0499
info@spektrum.net
www.spektrum.net
This article will appear in the second issue of Medical Cannabis Network which is out in April. Click here to get your free subscription today.