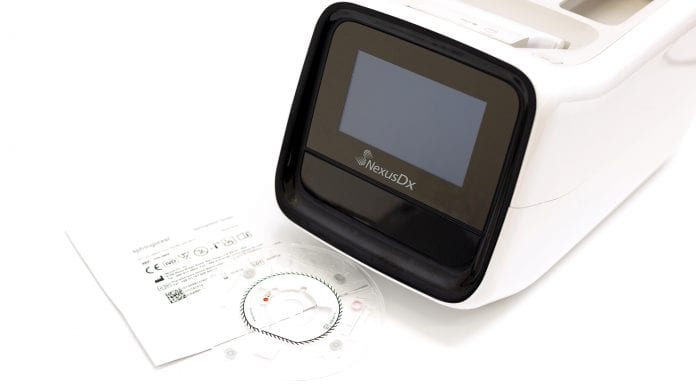 sphingotec GmbH is set to launch first-in-class blood biomarker point-of-care tests that allow early diagnosis and monitoring of disorders caused by acute kidney dysfunction and endothelial malfunction.
Until recently, there was no way in clinical routine to either timely monitor or prevent the impaired fluid balance caused by leaky blood vessels or disturbed renal glomerular filtration rate (GFR), which has been linked to diagnostically underserved human diseases such as congestive heart failure, septic shock, or acute kidney injury (AKI). sphingotec develops innovative biomarkers for such diseases, diagnosing, predicting and monitoring medical conditions, essentially supporting prevention strategies.
Addressing unmet medical needs
A growing body of clinical data and scientific publications provides evidence that high plasma levels of bioactive adrenomedullin (bio-ADM®) indicate a dysregulated barrier function of the endothelium and that plasma levels of enkephalin allow timely monitoring of actual kidney function through the enkephalin surrogate marker penKid®.
sphingotec's proprietary novel acute biomarker blood tests sphingotest® bio-ADM and sphingotest penKid address unmet medical needs at intensive care units (ICUs) and emergency departments (EDs). A broad panel of marketed acute blood biomarkers, including sphingotest bio-ADM and sphingotest penKid immunoassays, will be rolled out on sphingotec's fully automated IB 10 point-of-care (POC) platform to ICUs and EDs starting from next year.
POC testing of bio-ADM and penKid allows timely on-site diagnosis and monitoring of congestion in acute heart failure (AHF), AKI, and risk of shock in sepsis within 20 minutes from blood drawing. POC blood biomarker testing provides timely therapy decision support to physicians in ICUs and EDs suitable to improve outcomes in acute settings.
First-in-class biomarkers
bio-ADM is a marker of endothelial integrity that indicates when blood vessels become leaky. bio-ADM is the bio-active (amidated) form of peptide hormone adrenomedullin that regulates vascular barrier function. Clinical data from more than 20,000 patients demonstrate that vascular barrier function is critical in a range of medically underserved conditions, i.e. congestion in AHF.
About 80% of patients with AHF are at risk of developing oedema because their microvasculature becomes leaky due to venous hypertension. Physicians in ICUs and EDs try to prevent the worst case – deadly lung oedemas – by administration of loop diuretics, which can reduce hypertension/congestion by increasing water excretion.
In clinical tests in patients with congestion in heart failure, bio-ADM was the first biomarker capable of diagnosing and monitoring residual congestion1 in patients who did not sufficiently respond to loop diuretics. To date, physicians have no means to identify this patient group at discharge, resulting in high re-hospitalisation and post-discharge mortality rates in AHF. In the five-year BIOSTAT study, which compared bio-ADM with 150 other biomarkers, bio-ADM had the best predictive power relating to the probability of re-hospitalisation due to congestion, residual congestion and mortality due to congestion.
The CE-marked blood immunoassay serves an unmet medical need, which causes an annual cost of $31bn (~€26bn) for healthcare systems. Up to 30% of patients with congestion in AHF do not respond sufficiently to loop diuretics. Heart failure affects 26 million patients per year globally.
sphingotec's kidney function biomarker penKid has been shown in clinical tests on more than 30,000 patients to diagnose and monitor AKI.2-4 penKid (pro-enkephalin) is independent from comorbidities and inflammation and changes dynamically with the actual kidney function. These features are a prerequisite for a kidney biomarker in critically ill patients who normally have comorbidities, inflammation and quickly changing medical status. Other kidney markers do not fulfil these criteria and thus have a limited utility in critically ill patients who urgently need timely monitoring of kidney function. penKid provides timely information about the changing kidney function and is a surrogate for the true GFR in critically ill patients. sphingotest penKid has been shown to be non-inferior to the gold standard in vivo measurement of true GFR. These features enable physicians to diagnose and closely monitor worsening and improving kidney function.
Biomarker-assisted diuretics therapy in patients with congestive heart failure/cardio-renal syndrome, by simultaneous measurement of bio-ADM and penKid, is aimed at lowering
re-hospitalisation and mortality rates. Bio-ADM and penKid will aid to navigate the patients between the cliffs of these fatal conditions.
bio-ADM is also a first-in class-biomarker that predicts circulatory shock in critically ill sepsis patients as endothelial dysfunction leads to circulatory shock5,6 – another condition with a high unmet medical need. Each year, eight million people die from sepsis, 700,000 of whom die by AKI. Sepsis causes $24bn in direct annual costs for the US healthcare system alone.
The bio-ADM level has been shown to allow diagnosis of risk-patients 48 hours before blood pressure breakdown in sepsis patients, giving physicians decision support for an appropriate treatment choice well in advance. Septic shock may lead to life-threatening organ dysfunction whereof the kidney is usually the first organ to fail. penKid hereby aids in early diagnosis and monitoring of AKI.
IB 10 POC testing platform
The IB 10 POC testing platform was acquired in May 2018 by sphingotec through an acquisition of Samsung subsidiary Nexus Dx Inc. Already more than 1,000 ICUs, EDs, smaller hospitals and larger practices in Europe and the Middle East are using the platform on a regular basis, with more than 100,000 tests being performed per year. Assets from a €20m growth capital financing sphingotec closed in the third quarter of 2018 will be used to roll out certain acute biomarker POC tests on the IB10 POC testing platform.
The easy-to-handle IB10 POC testing platform can run three lateral flow immunoassays at a time from whole blood samples without the need of any sample preparation. Through a rotating microfluidic assay disc, plasma is separated from whole blood and ready for testing of plasma biomarkers such as cardio-diagnostic markers Troponin I, D-Dimer and NT-proBNP.
Benefits for ICUs and EDs
sphingotec's fully automatic IB10 POC testing platform and innovative biomarkers provide certain advantages to ICUs and EDs:
Plasma POC blood testing does not require any error-prone sample preparation
Plasma POC blood testing is available on site
Plasma POC blood testing takes only 20 minutes with minimal hands-on time
Plasma POC blood testing requires just 500µl of whole blood
Innovative biomarker POC tests that allow early diagnosis and medical intervention of risk patients in ICUs and EDs.
About sphingotec GmbH
sphingotec GmbH is a private company, founded in 2002 by Dr Andreas Bergmann, the former co-founder and CSO of BRAHMS GmbH, which was taken over in a $470m deal in 2009 by Thermo Fisher Scientific.
sphingotec's plan is to introduce a complete solution for the hospital acute POC market in AKI, AHF and sepsis diagnosis and monitoring through a growing distributor network starting in Central Europe.
References
Kremeret al. (2018) Bio-adrenomedullin as a potential quick, reliable, and objective marker of congestion in heart failure
Beunders et al. (2017) Proenkephalin (PENK) as a Novel Biomarker for Kidney Function
Siong Chan et al. (2018) Proenkephalin in Heart Failure
Ng et al. (2017) Proenkephalin, Renal Dysfunction, and Prognosis in Patients With Acute Heart Failure
Caironi et al. (2017) Circulating Biologically Active Adrenomedullin (bio-ADM) Predicts Hemodynamic Support Requirement and Mortality During Sepsis
Geven et. al. (2018) Vascular Effects of Adrenomedullin and the Anti-Adrenomedullin Antibody Adrecizumab in Sepsis
sphingotec GmbH
+ 49 (0)3302 205 650
info@sphingotec.de
www.sphingotec.com
This article will appear in issue 7 of Health Europa Quarterly, which will be published in November 2018.