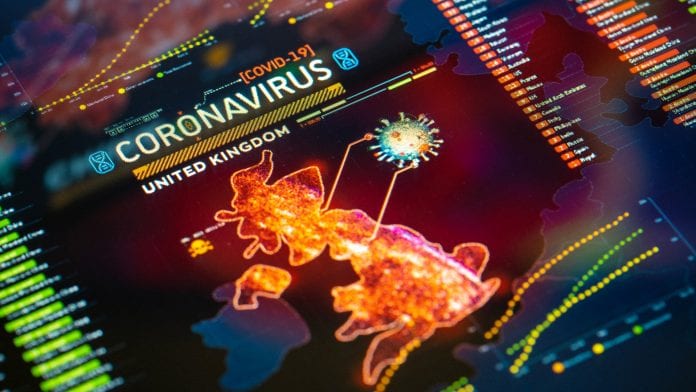 New data has revealed the speed and scale at which the new COVID-19 variant is spreading across the UK.
Scientists at the Alderley Edge Lighthouse Lab in Cheshire, operated by Medicines Discovery Catapult (MDC) and launched last April, have identified the new variant in the lab's PCR test and have used this science to track the spread of the new COVID-19 variant across England and Wales.
Working with ThermoFisher, the Wellcome Sanger Institute, and PHE teams, the Lighthouse Lab network first noted data trends in November.
Data trends
The lab's Thermo Fisher PCR test measures three genetic markers of SARS-CoV-2, and the scientists have shown that the new variant exhibits 'S-gene dropout', meaning that one of the markers – the S-gene – fails to amplify, but the other two genetic markers (ORF1ab and N) are found, which confirms a positive COVID result.
The data shows the rise and geographical distribution of these S-gene target dropout cases from 1 to 21 December 2020, demonstrating rapidly increasing numbers of cases of the new variant across London, Southeast, parts of the Northwest and Southwest regions, and the West Midlands.
Areas with the highest incidence in the study correlate with areas now reporting high levels of hospitalisation, with correspondingly heightened burdens on local NHS teams.
Professor Chris Molloy, CEO of MDC and founding director of the Lighthouse Lab network, believes the study demonstrates the quality of the science that underpins what is the largest diagnostics project in UK history.
He said: "Today's high-quality data from the MDC Lighthouse team shows the excellence of its science at a national scale.  The Lighthouses are high-powered beacons into the darkness of this disease, combining industrial scientific rigour and close coordination with NHS and PHE in the service of the nation."
Dr Mark Wigglesworth, Site Director at the Alderley Park Lighthouse Lab and senior author of the report, added: "Although the speed of the spread is shocking, we're working really closely with the government to share our scientific discoveries and advancements, which in-turn informs decision making across the devolved nations, so that we can be in the best position to beat the virus.
"While a new national lockdown is not what anyone would have wanted, our scientists' work in discovering the spread of the new variant will be pivotal in informing government policy, protecting the NHS and saving lives."