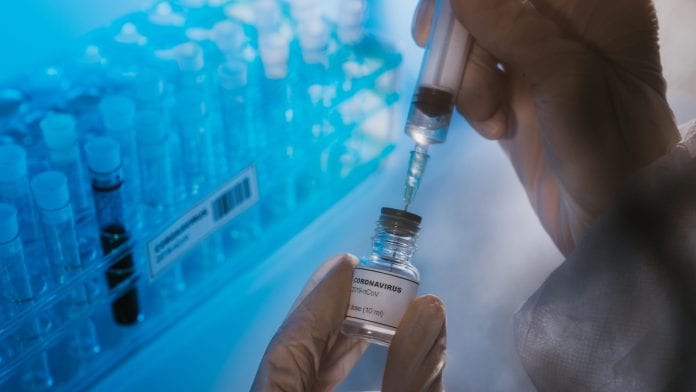 Researchers carrying out pre-clinical testing of a COVID-19 vaccine programme have discovered a high antibody response, lasting over 18 weeks.
Biotechnology company Defence Therapeutics Inc specialises in the development of ADCs and therapeutics for cancer and infectious diseases. The organisation has recently announced its first lead candidate in its COVID-19 vaccine programme, AccuVAC-PT001.
Defence's ACCUMTM platform opens a new biotherapeutic modality by ensuring effective and distinct protein (antigen) processing by specialised antigen presenting cells (dendritic cells), consequently resulting in enhanced immune responses. This is demonstrated by the long lasting and potent immune response induced with its AccuVAC-PT001 protein-based vaccine candidate against the SARS-CoV-2 Wuhan strain (additional studies targeting other COVID variants are underway). The observations highlight how the ACCUM platform can be applied to any infectious disease antigen as a means to dramatically boost its processing by dendritic cells and effectively stimulate immunity.
High antibody response
When tested in immunocompetent mice at an academic laboratory, Defence's AccuVAC-PT001 generated a very high antibody titer with a response lasting more than 18 weeks post-vaccination. The research study for publication is currently in progress and is expected to be released in Q4 of 2021. The observations from the study are a breakthrough finding for Defence, as most humoral responses induced by current vaccination strategies or natural infections start declining exponentially in less than eight weeks. Additional studies completed at a private clinical research organisation further demonstrate active blocking of human cell infection by the virus when subjected to AccuVAC-PT001-induced antibodies.
Sébastien Plouffe, Chief Executive Officer of Defence, said: "Defence's focus is to advance our pipeline as we continuously progress towards clinical validation. Defence's ability to leverage its distinct platform, ACCUM, creates both novel and potentially unprecedented therapeutics response targeting multiple illnesses."
Further clinical studies
In addition to completing standard toxicology studies to ensure safety of the vaccine, AccuVAC-PT001 is currently being tested on larger non-rodent animals to validate its potency and immunogenicity. The results of this study will determine the progress towards further clinical studies.
"I am pleased with the continued progress and development of our pipeline. The potential of our ACCUM technology positions Defence to deliver solutions to the current or future infectious diseases," added Plouffe.
Recommended Related Articles