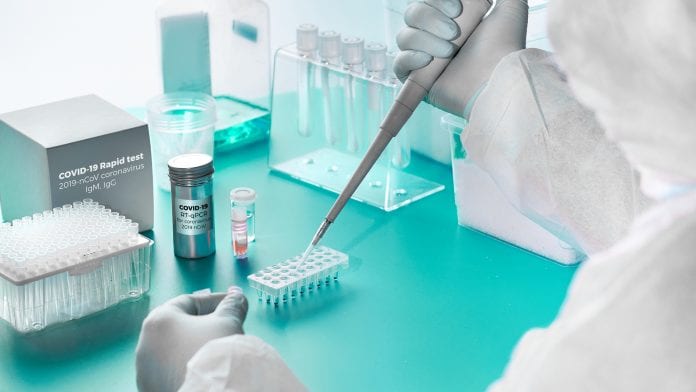 New data has been published revealing a portion of the population in England had antibodies against the novel coronavirus.
The home surveillance study undertaken by Imperial College London and Ipsos MORI tested over 154,000 participants for COVID-19 antibodies. It found 13.9% of the participants had antibodies from either the COVID-19 infection itself or from receiving a COVID-19 vaccination.
The study captures participants who have received a COVID-19 vaccine and gathers insight into how different groups feel about vaccines. A total of 17,000 participants had received at least one dose of a COVID-19 vaccine, with 91% of people across all ages testing positive for antibodies after two doses of the Pfizer vaccine.
Antibodies
The report shows that antibody prevalence in unvaccinated people remains highest in London (16.9%), and in people of black (22.1%) and Asian (20%) ethnicities, and those aged 18 to 24 (14.5%). It also shows that 87.9% of people over 80 years old tested positive for antibodies after two doses of the Pfizer/BioNTech vaccine, rising to 95.5% for those under the age of 60, and 100% in those aged under 30.
Health and Social Care Secretary Matt Hancock said: "These findings shed more light on rates of antibodies across the UK and among different groups, as we continue to strengthen our understanding of COVID-19. It is fantastic to see over 90% of people surveyed would accept or had already accepted a vaccine, as we continue to expand the roll-out.
"I urge anyone who has been invited for a vaccine to book an appointment. And while we are seeing rates of the virus gradually decline it is important we all hold our resolve and follow the rules as we deliver on our cautious but irreversible approach to easing lockdown."
Immunity
The Joint Committee on Vaccination and Immunisation (JCVI) has also noted that in Pfizer's clinical trial, protection against coronavirus was very high (89%) between 14 and 21 days after vaccination, despite very low levels of antibodies measured at the same time. This suggests that early antibody response does not correlate with clinical protection.
Antibodies are just one component of the body's immune response produced by COVID-19 infection or vaccination. Vaccines also induce T-cell related protection, independent of antibody production. T-cell responses may vary significantly between vaccines and may be particularly important in influencing the duration of protection. The report does not provide insight on other elements of immune responses following vaccination, such as the presence of T-cells, and does not assess vaccine effectiveness, including whether a vaccine prevents severe disease, hospitalisation, or death.
Currently, there is still not enough information to say how protected a person may be from COVID-19 based on a positive antibody test result, and it does not mean they are immune.