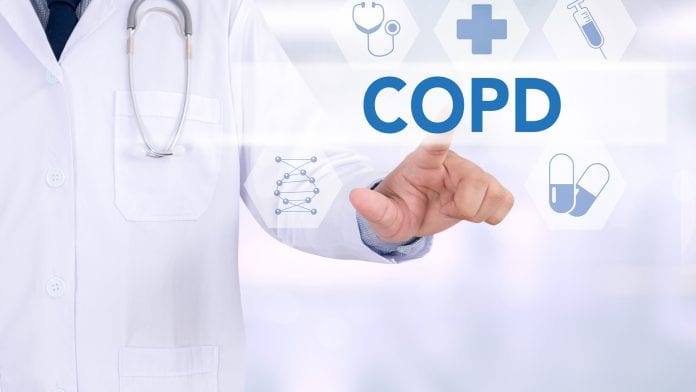 Results from a Phase III trial have shown how a triple-combination therapy reduces the rate of moderate or severe COPD exacerbations.
The results from the positive Phase III ETHOS trial showed how AstraZeneca's triple-combination therapy – PT010 (budesonide/glycopyrronium/formoterol fumarate) – demonstrated a statistically significant reduction in the rate of moderate or severe exacerbations compared with two dual-combination therapies in patients with moderate to very severe chronic obstructive pulmonary disease (COPD).
It is estimated that three million people in the UK live with COPD and the UK has the 12th highest recorded deaths from COPD in the world and third highest in Europe.
The results were published in the New England Journal of Medicine and were presented at the American Thoracic Society virtual Scientific Symposium, Clinical Trial Results in Pulmonary Medicine. AstraZeneca continues to review these data with health authorities.
Randomised, double blind study
The randomised, double blind, multi-centre, parallel-group study assessed the efficacy and safety of PT010 relative to PT003 (glycopyrronium/formoterol fumarate) and PT009 (budesonide/formoterol fumarate) on COPD exacerbations over 52-weeks in people with moderate to very severe COPD. The dual-combination therapies used as comparators in the trial represent recommended therapeutic classes for the treatment of COPD in appropriate patients.
Professor Dave Singh, University of Manchester, Medical Director, Medicines Evaluation Unit said: "COPD is a progressive disease where exacerbations can be fatal for many of the millions of people who suffer with this condition. The results from the phase III ETHOS trial clearly demonstrate that PT010 can reduce the rate of exacerbations and could potentially transform treatment goals in COPD."
The trial met its primary endpoint demonstrating that PT010 reduced the rate of moderate or severe COPD exacerbations by 24% compared with PT003.
PT010 achieved a 13% reduction in moderate or severe COPD exacerbations compared with PT009, and in a secondary endpoint, PT010 showed a 46% reduction in the risk of all-cause mortality compared with PT003. The safety and tolerability of PT010 were consistent with the known profiles of the dual comparators. The most frequently reported adverse events overall were nasopharyngitis (10.5%), COPD (10.4%), and upper respiratory tract infection (5.6%). The incidence of confirmed pneumonia was 4.2% with PT010, 2.3% with PT003 and 4.5% with PT009.
Dr Alexander de Giorgio-Miller, Vice President, Medical & Scientific Affairs, AstraZeneca UK said: "Chronic obstructive pulmonary disease affects almost 1.2 million people in the United Kingdom and is a leading cause of morbidity and mortality. For patients suffering from COPD, exacerbations can be devastating events – even a single exacerbation can lead to a permanent loss of lung function. Results from ETHOS show the benefit of PT010 in reducing the rate of exacerbations compared with dual-combination therapies in symptomatic patients with a history of exacerbations."
PT010 is not licensed in Europe and is under regulatory review.