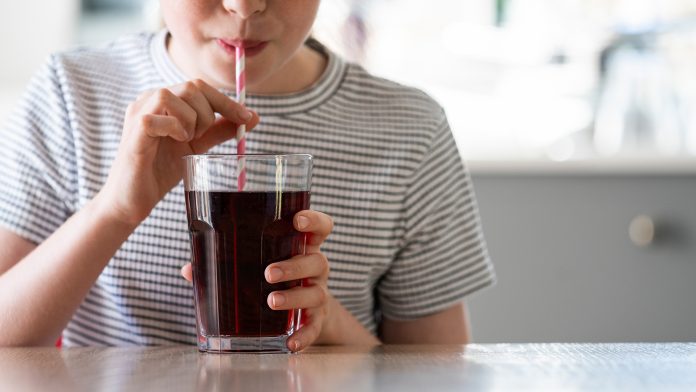 The introduction of a sugar tax on soft drinks in England has led to a decline in the number of cases of obesity in older primary school children.
Researchers from the University of Cambridge have suggested that around 5,000 cases of obesity per year may have been prevented by the sugar tax in year six girls alone. The researchers considered current trends in obesity as they examined the impact of the sugar tax on children aged ten to 11 years old. However, the researchers found no significant association between the sugar tax and levels of obesity in year six boys or younger children.
In England, one in ten reception-age children (four to five years old) are obese, and one in five children in year six (ten to 11 years) are obese. Obese children are more likely to experience serious health problems such as high blood pressure, type 2 diabetes and depression in childhood and in later life.
Sugar consumption in the UK is high
Young people in the UK consume significantly more added sugar than is recommended by government guidelines. Late adolescents in the UK typically consume 70g of added sugar per day, which is more than twice the recommended amount of 30g. A large percentage of this comes from sugar-sweetened drinks. Children from deprived households are more likely to be at risk of obesity and are more likely to be heavy consumers of sugar-sweetened drinks.
In April 2018, the UK government introduced a two-tier sugar tax on soft drinks in an attempt to protect children from excessive sugar consumption and reduce childhood obesity. The industry levy targeted manufacturers of the drinks to incentivise them to reduce the sugar content of their products.
Researchers from the Medical Research Council (MRC) Epidemiology Unit at the University of Cambridge examined changes in the levels of obesity in children in England in reception year and year six between 2014 and 2020. The researchers analysed previous trends in obesity levels and compared changes in levels of obesity 19 months after the sugar tax was introduced.
The sugar tax has had positive results
The team found that the tax led to an 8% relative reduction in obesity levels in year six girls, equating to 5,234 cases of obesity per year in this group. Reductions in obesity were the most significant in girls whose schools were in deprived areas. Those living in the most deprived areas saw a 9% reduction in child obesity. Conversely, there was no overall change in obesity prevalence in year six boys.
"We urgently need to find ways to tackle the increasing numbers of children living with obesity, otherwise we risk our children growing up to face significant health problems. That was one reason why the UK's soft drinks industry levy was introduced, and the evidence so far is promising. We've shown for the first time that it is likely to have helped prevent thousands of children each year from becoming obese," said Dr Nina Rogers from the MRC Epidemiology Unit at Cambridge.
"It is not a straightforward picture, though, as it was mainly older girls who benefited. But the fact that we saw the biggest difference among girls from areas of high deprivation is important and is a step towards reducing the health inequalities they face," she continued.
According to the researchers, there are several reasons why the sugar tax did not lead to changes in obesity levels in younger children. Very young children consume fewer sugar-sweetened drinks, so the levy would have had a smaller effect. Similarly, fruit juices were not included in the levy and contribute similar amounts of sugar in young children's diets as sugar-sweetened drinks.
The researchers are unsure as to why the sugar tax affects obesity differently in girls and boys, especially as boys are higher consumers of sugar-sweetened beverages. The researchers have suggested that the impact of advertising may explain these results. Several studies have found that boys are exposed to more food advertising content than girls, both through higher levels of TV viewing and in how adverts are delivered.
Physical activity is often used to promote junk food and boys are more likely to believe that energy-dense junk foods depicted will improve physical performance. Therefore, boys are more likely to opt for energy-dense and nutrient-poor products.
Recommended Related Articles