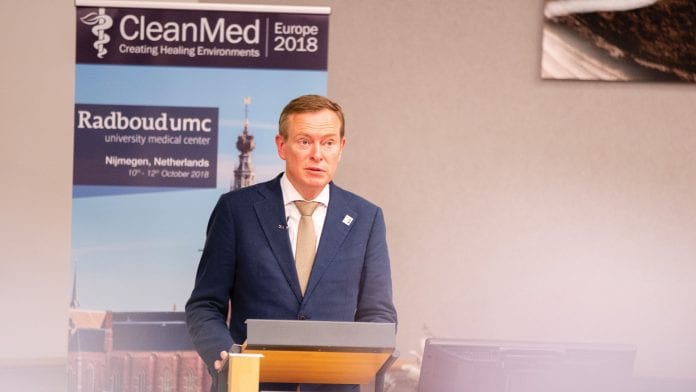 Speaking at CleanMed Europe 2018, the Dutch Minister for Medical Care and Sport, Bruno Bruins, set out the Netherlands' efforts to achieve sustainable healthcare.
In October, doctors, sustainability managers, pharma companies and more came together at CleanMed Europe 2018 to discuss how best to address the environmental impact of the healthcare sector on a local, regional and global level. The three-day event, which took place in Nijmegen, the Netherlands, this year's European Green Capital, was organised by Radboud University Medical Center and Health Care Without Harm (HCWH) Europe, an international coalition of NGOs, hospitals, local authorities and other actors committed to delivering more sustainable healthcare. Health Europa attended as media partner.
Inspiring presentations focused on everything from sustainable procurement and climate-smart healthcare to pharmaceutical pollution and environmentally friendly building materials. A particular highlight came on day one, when the Dutch Minister for Medical Care and Sport, Bruno Bruins, took to the floor to share how the Netherlands is moving towards more sustainable healthcare and launch the Green Deal 2.0.
We need an "ark of ambition" to tackle climate change
Bruins began his speech by recalling the words of Patricia Espinosa, the executive secretary of the United Nations Framework Convention on Climate Change, who in July called for, not a physical ark, but an "ark of ambition" in order to make the "fundamental, transformative changes" needed to address climate change.
"I am certain that she is right," the minister said. "In striving for a more sustainable world, no mountain should be too high for us."
Inspired by the Paris Climate Agreement, the Dutch Government has set the ambitious target of halving the Netherland's carbon emissions by 2030 – a goal which carries "extra weight" for Bruins given that "pollution is a major cause of disease, premature birth and early mortality worldwide".
The minister pointed to the suit he had on as proof of his own personal commitment to tackling climate change and environmental degradation, noting that it had been produced using recycled textile waste.
"My outfit shows that a healthy mix of environmental awareness, innovation and international co-operation can create something extra special and that a sustainable approach can have real impact," he said.
The Netherlands is already delivering results
The minister then turned his attention to the role of the Dutch Government more widely in greening healthcare in the Netherlands, beginning by setting out the measures that have already been taken to reduce the environmental harm caused by hospitals and care institutions.
"Environmental awareness is like throwing a stone in a pond: the impact causes ripples that fan out across the entire pond. In the same way, awareness is spread of the need for a greener healthcare system. In the Netherlands, it all started with a small, pioneering group of care institutions. Five years ago, they joined forces to strive for environmentally sustainable practices in healthcare. First they found regional allies for their initiatives and then they created a ripple effect across the country."
Bruins explained that his predecessor had sat down with Dutch care institutions, energy companies and others to set "sustainability goals and binding agreements aimed at raising awareness and improving regional links".
Since then, he continued, hospitals and care institutions have made great strides – progress which has already resulted in "outstanding, practical innovations".
He continued: "In partnership with Philips and Siemens, global frontrunners in sustainability, several hospitals are using refurbished medical equipment and MRI scanners have become more energy efficient. That is good news for the planet."
The minister also highlighted an initiative from the conference host, Radboud University Medical Center, which saw the hospital work with patients to design FoodforCare, a new nutritional concept that offers meals according to the patient's needs and wishes, as well as different menus for different medical conditions.
"Patients can choose up to six small meals a day, so there is much less food waste," Bruins explained. "The programme saves costs and also contributes to patients' recovery – a more than positive side effect in my opinion."
It isn't just Dutch hospitals that have taken strides towards more sustainable healthcare. Those in disabled care and nursing homes, for example, are also promoting solutions for better waste recycling and smarter energy use.
Sustainable healthcare demands that we make tough choices
Despite these positive steps, and despite broad agreement that "more sustainable healthcare is better for everyone," the minister acknowledged that "everybody who is involved in sustainable healthcare knows we are not there yet, not by a long shot."
He added: "Too often sustainability depends on the individual efforts of enthusiastic project managers. It hasn't been … taken up by senior management, and they're the ones who decide on the priorities, on funding."
Fragmentation is another danger. Sustainability is a broad concept and can be interpreted in many different ways. While this can be positive – because it inspires creative and varied responses – it can also make decisions more difficult.
"It's important to make choices," Bruins acknowledged. "You can't do everything. You have to commit. The ark of ambition calls for a focused, sector-wide strategy and for much broader co-operation."
It is for this reason that the minister joined forces with sector organisations, NGOs, companies, global authorities, financial institutions, and others to negotiate the Green Deal 2.0, which he would go on to sign after the conference.
The Green Deal 2.0 is committed to removing the barriers to sustainable economic growth and innovation in the Netherlands, and will see care institutions "take the lead in making healthcare greener", with other parties actively supporting their efforts. Bruins explained that it will address four key areas:
Lowering carbon emissions
Promoting circular business operations
Reducing pharmaceutical residues in water
Fostering healthy communities.
UMC Utrecht is proof that co-operation works
The minister pointed to an initiative of the nephrology unit at University Medical Center (UMC) Utrecht as evidence of "how effective a strategy of broad co-operation" like the Green Deal 2.0 can be.
"The doctors there are working to make kidney dialysis greener. Dialysis uses 120 litres of water per patient, and all this water needs to be heated to body temperature. It also produces a lot of waste that goes straight into the water, and patients need to come to the hospital for dialysis several times a week.
"The doctors in Utrecht decided that this needed to change. They systematically reviewed the entire care pathway to see where improvements could be made… Could home care nurses and GPs help patients receive dialysis at home in the evening or at night? Where was the equipment manufactured? Under what conditions? How was the medicine packaged and shipped? How could they prevent harmful substances being drained along with wastewater?
"These questions… resulted in a new care pathway, with less pollution, lower costs and more comfort for patients. But this way of working also demands co-operation with a wide range of partners, like the Dutch College of GPs [and] suppliers of dialysis machines and medications. The UMC consultants also decided to ask their European colleagues to work with them on this issue. Agreements have now been made with four international companies about sustainable machines and packaging. This project contributes to more sustainable healthcare and is good for the hospital's image as a state-of-the-art facility."
Achieving healthcare without harm must be a joint effort
Drawing his presentation to a close, Bruins made a direct appeal to the audience to join forces to generate momentum to address healthcare pollution, reminding them that this cause extends beyond just the Netherlands.
"18 institutions from different countries have joined forces in the international Health Care Without Harm project," the minister said. "When this has been fully implemented they will collectively serve over 23 million patients per year at facilities that use 3.3 billion kilowatt hours of renewable energy – in the end this will reduce the aggregate annual carbon emissions of these institutions by more than one million metric tons, which is the equivalent of taking 200,000 cars off the road."
This commitment is proof of what can be achieved when countries and institutions come together, and is no doubt a positive contribution towards building that much-needed "ark of ambition" to tackle climate change. But despite this example – and the initiatives of the Dutch Government – what was clear above all else in Bruins' presentation was that much more effort will be needed – from actors in all countries – if sustainable healthcare is to be truly realised.
This article will appear in issue 7 of Health Europa Quarterly, which will be published in November 2018.