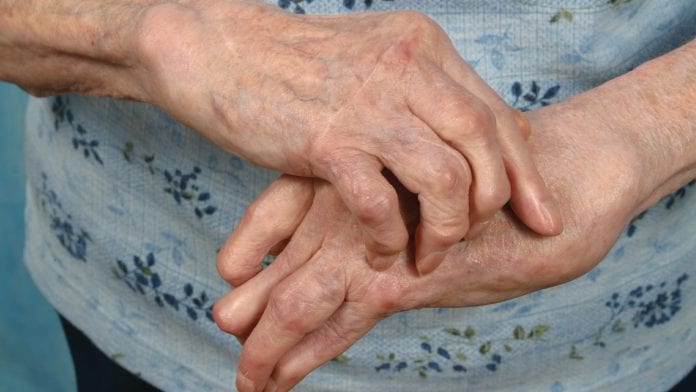 ROS Therapeutics APS has developed a targeted methotrexate prodrug to mitigate the side effects experienced by many rheumatoid arthritis patients.
Danish start-up company ROS Therapeutics is developing a targeted methotrexate prodrug to mitigate the toxicity which today discontinues first-line methotrexate treatment for many patients with rheumatoid arthritis (RA). Furthermore, reduced toxicity is expected to permit higher doses, leading to improved efficacy.
CEO of ROS Therapeutics Hanne Damgaard Jensen was part of the panel in a discussion of patient engagement at Nordic Life Science Days (NLS Days) in Stockholm on 10-12 September 2018.
ROS Therapeutics
ROS Therapeutics ApS is a Danish start-up company with a primary focus on the treatment of RA. RA is a long-term autoimmune disorder primarily affecting the joints, characterised by chronic destructive synovitis associated with progressive disability, increased cardiovascular morbidity and mortality as well as significant socioeconomic costs. Several studies have estimated the incidence of RA in defined populations ranging from 0.5% to 1% of the adult population with a higher prevalence in women than in men (1.06% versus 0.61%).1
A spin-out from the Technical University of Denmark
During the past five years, the Technical University of Denmark's (DTU) Professor Mads Hartvig Clausen has headed a group of researchers working on developing and testing new prodrugs. ROS Therapeutics was founded as a spin-out company from DTU in April 2018 and has acquired the rights to commercial development of a number of those new prodrugs, including prodrugs to aminopterin and methotrexate (MTX). The company's first drug candidate, presently in preclinical development, is an MTX prodrug.
Targeted methotrexate in RA
MTX was approved by the Food and Drug Administration (FDA) for the treatment of RA in 1988, and low dose MTX (10-25mg/week) is still the cornerstone of RA treatment.2 Despite years of research, the cause of RA is not fully uncovered, and the treatment of RA can still be improved, both in terms of clinical outcome and side effects of treatment.
Methotrexate was originally developed for the treatment of leukaemia. Despite several unpleasant side effects, it remains the predominant first-line treatment for chronic rheumatoid arthritis and is used for a lifetime. Even as second- to fourth-line RA treatment, it is used more frequently than any other medicine, but then in combination with other synthetic or biological DMARDs (disease-modifying antirheumatic drugs).
There are patients whose RA is not well controlled with methotrexate but who cannot tolerate the doses required for better control, and in some cases MTX treatment must be discontinued due to side effects. The most frequent side effect is nausea – to some extent accompanied by vomiting. Nausea and vomiting causes approximately 15-30% of the patients to discontinue MTX treatment within a period of 1-5 years. Furthermore, patients are required to follow lifelong monitoring of liver and kidney toxicity, which negatively affects their quality of life.
"It is a great incentive to develop a next-generation MTX with the aim of helping a lot of people suffering from side effects of a chronic treatment," Damgaard Jensen and Hartvig Clausen agree. In addition to the mentioned side effects limiting the dose and tolerated duration of treatment, incidental overdosing of MTX causes fatal toxicity, leading to an estimated six deaths each year in Denmark alone. A similar overdose with the next-generation targeted methotrexate should not have the same consequences, as it is expected to be activated exclusively in inflamed tissue and to not have the same general toxic effects as MTX used today.
Vision
Much development in smaller start-up biotech companies is focused on the treatment of rare diseases with the consequence of often sky-high costs per treated patient at the time of commercialisation. In contrast, ROS Therapeutics has a focus on the many rather than the few and on providing a safe and effective drug with reduced economic burden to society compared to other new treatments. As RA is a common disease, reaching out for patient involvement in the drug development phase is not so typical. Doctors usually serve as a proxy for patient voices.
However, the doctor may not see the side effects in the same way patients do. That is why the patient voice matters. We need to learn more about how patients balance effectiveness and side effects. Therefore, we want to reach out to patients when we approach the clinical phase.
Prodrugs and targeted methotrexate
Over the last ten years, 12% of new chemical entities approved by the FDA have been prodrugs.3 Out of the 100 best-selling drugs (recorded in 2009), 15 were prodrugs.4
Prodrugs are traditionally designed to improve absorption, distribution, metabolism and excretion (ADME) properties of the active substance. ROS Therapeutics' prodrug has a quite different approach. This is a targeted methotrexate, containing a trigger unit, which blocks active transport of the molecule across the cell membrane. The intact prodrug is stable and inactive, while upon exposure to reactive oxygen species (ROS), the molecule is cleaved to release methotrexate while the ROS trigger unit is degraded into minor components.
This targets the exposure of the active drug component (MTX) to inflamed tissues, i.e. the synovial membrane of rheumatoid arthritis where the level of ROS is significantly elevated.
In the context of RA, ROS, for example H202, produced by phagocytes and neutrophils, play important physiological roles in the priming of the immune system.5,6 Evidence from several studies support the fact that oxidative stress is implicated in the pathogenesis of inflammation.7 Notably, chronic oxidative stress in synovial T lymphocytes is not due to exposure to environmentally free radicals but is due to endogenous ROS. In RA, oxidative stress has been described as an important mechanism underlying destructive, proliferative synovitis. In RA, inflamed tissue is characterised by a high concentration of ROS compared to healthy tissue (10–100 μM versus 0.001–0.7 μM).8
Targeting the drug to inflamed tissue is expected to limit the known toxicity associated with MTX treatment. The prodrugs have been tested against MTX in mice and rats (rat data not published) in a model of rheumatoid arthritis (CIA; Collagen Induced Arthritis). Data from the studies demonstrate that the side effects are significantly reduced compared to a corresponding dose of methotrexate. While reducing side effects, the studies show a therapeutic effect at the level of MTX. Thus, a first in vivo proof of principle has been established, and a lead candidate for further development has been identified.
The team
ROS Therapeutics has a small group of internal consultants with long experience in Danish pharma and biotech companies. This group works with outsourcing of the production of drug, preclinical in vivo and in vitro testing along with development of analysis methods and formulation of the drug product. The collaboration partners are specialised companies with many years of industry experience.
It takes production
A small start-up company like ROS Therapeutics does not have its own facilities for production. Production of the active drug substance is carried out by the Danish company NCK with more than 60 years of experience. NCK is a well-renowned, well-equipped, state-of-the-art synthesis laboratory used for process development and small-scale, lab-grade and GMP manufacture.
ROS Therapeutics now has enough lab-grade drug substance from NCK to start the next study in rats, where a range of doses as well as a longer treatment period will be tested to get a better understanding of the pharmacology and side effects compared to MTX and get closer to an optimal therapeutic dose level. Further down the line comes a series of pharmacokinetics and toxicology studies to provide a better understanding of the targeted MTX prodrug and how it differs from MTX, in terms of both efficacy and safety. According to plans, clinical trials can start in 2020.
Redoxis – high-quality preclinical testing specialised in inflammation
Testing in the animal model of rheumatoid arthritis takes place at Redoxis in Lund, Sweden, which is a CRO with core competence and experience in preclinical models for autoimmune and inflammatory conditions. Dr Malin Hultqvist Hopkins, CEO since 2016 and member of the board at Redoxis, holds a PhD in medical inflammation research from Lund University (Sweden) and was between 2009 and 2016 the CSO of Redoxis and director of CRO services.
Medical expertise
In addition to the external production and preclinical testing, ROS Therapeutics collaborates with external advisors, including MD, PhD Lars Kristensen, CSO of the Parker Institute in Copenhagen. Kristensen's current research activities are focused around efficacy and tolerability of anti-TNF treatment and other second-generation biologicals in chronic arthritis. Kristensen has ongoing research collaborations with the Karolinska Institute and Sahlgrenska University in Sweden and Diakonhjemmet in Oslo and is an associate professor at the Department of Rheumatology, Lund University.
"Targeted MTX is an exciting concept. I think it is wise to choose RA as the first indication, particularly because MTX is so well established in this disease, there are good animal models, and the regulatory guidelines allow for early testing in patients who are naïve to treatment with DMARDs. Testing in patients who have discontinued MTX due to side effects could also be considered.
Furthermore, combination treatment with anti-TNF products could be a good opportunity, particularly, because the combination of MTX with Humira has shown far better treatment effect than each drug alone. The company should strive to start clinical trials as soon as possible. There are new great drugs entering the market, and the competition is fierce. Another indication to pursue with ROS Therapeutics' targeted MTX could be Crohn's disease where MTX is under-explored with only few clinical trials conducted," says Kristensen.
The board
The chairman of the board at ROS Therapeutics is Ulrik Spork, who is also chairman of Dansk Vækstkapital, a DKK 3bn (~€0.4bn) fund-of-funds structure, securing venture and growth capital from Danish pension funds for promising growth companies based in Denmark. In addition, Spork is currently active as chairman, board member and independent advisor to assist a handful of promising life science companies with projects within his areas of expertise.
Anker Lundemose is CEO of MISSION Therapeutics. He has extensive experience from business and corporate development as well as R&D in several key therapeutic areas, including oncology, diabetes and anti-infectives. He has comprehensive international experience and a large network and has been responsible for successful mergers and acquisitions within biotech, venture investments and licensing. His background includes biotech start-ups, large biotech and big pharma, as well as an initial career in academia.
The two founders, Hartvig Clausen and Jon Bondebjerg, are members of the board and have a wealth of experience in academia and pharma and biotech companies.
Funding
ROS Therapeutics was founded in April 2018 and in July 2018 the company entered a licensing agreement with DTU on IP rights to the technology. ROS Therapeutics is responsible for the development of the drug candidate. Before the agreement between DTU and ROS Therapeutics was concluded, DTU Center for Nanomedicine & Theranostics received support from Independent Research Fund Denmark (approximately DKK 2.5m) to develop a next-generation MTX.
The Danish Rheumatism Association (Gigtforeningen, a national Danish NGO with 80,000 members supporting research in rheumatic diseases) has supported DTU with funding (DKK 150,000) for a study in dogs. In addition, DTU has supported the project on a regular basis, including DKK 1m for the testing in the CIA animal model described above (PoC funds) and a PhD fellowship.
After being founded, ROS Therapeutics raised DKK 10m in a first round among private investors to cover the first year's development activities. The company has entered a project in collaboration with Innovationsfonden (Innovation Fund Denmark): 'ROS Therapeutics – production and analysis of active ingredient'. Innovation Fund Denmark supports the project with approximately DKK 500,000.
The future
We at ROS Therapeutics do not expect to develop this new drug all the way through to launch. We expect to raise another DKK 75m in one or two rounds to be able to take targeted methotrexate to clinical proof of concept. When we have shown clinical proof of concept, ideally, big pharma should take over and take the product the rest of the way through regulatory approval and on to the market.
It will take a company with more financial and marketing muscle to finish development and position the drug in the right place in the market of rheumatoid arthritis. Already, we are starting to look for investors/partners who are seeking an investment opportunity and a drug to treat RA that has the potential to revolutionise the present treatment paradigm.
Fatal overdosing of MTX
Toxicity caused by overdose of MTX has been a problem for decades and is estimated to be the cause of six deaths each year in Denmark alone. In addition, each year another ten patients in Denmark are hospitalised for longer periods of time or need lifesaving treatment.
The overdoses are due to incidental daily intake of the dose of MTX intended for once-weekly administration. A similar overdose with the next-generation targeted MTX should not have the same consequences, as it is expected to be activated exclusively in inflamed tissue (due to increased ROS activity) and thus would not have the same general toxic effects as the MTX used today.
ROS Therapeutics
Was founded in April 2018
Is a spin-out from the Technical University of Denmark
Has acquired the rights to commercial development of a number of new prodrugs, including the company's first drug candidate, an MTX prodrug
Has raised DKK 10m in a first round after founding to cover the first year's development activities
Has entered collaboration projects with the Danish Rheumatism Association and Innovation Fund Denmark
Is driven by the business idea of providing improved therapy where there is an unmet need for patients suffering from a chronic disease
Wants to reach the many rather than the few
Wants to provide safe and effective therapy with less economic burden to society
Wants to engage patients and their organisations.
References
Helmick et al. Estimates of the prevalence of arthritis and other rheumatic conditions in the United States. Arthritis Rheum, 2008, 58 (1) 15–25, DOI 10.1002/art.23177
Weinblatt. Methotrexate in rheumatoid arthritis: A quarter century of development. Trans Am Clin Climatol Assoc, 2013, 124:16-25
Huttunen et al. Prodrugs—from Serendipity to Rational Design. Pharmacol Rev, 2011, 63 (3) 750–771, DOI: 10.1124/pr.110.003459
Rautio et al. The expanding role of prodrugs in contemporary drug design and development, Nat Rev Drug Discov, 2018, doi:10.1038/nrd.2018.46
Hitchon et al. Oxidation in rheumatoid arthritis, Arthritis Res Ther 2004, 6:265-278, DOI 10.1186/ar1447
Wittmann et al. Hydrogen Peroxide in Inflammation: Messenger, Guide, and Assassin. Adv Hematol, 2012, Article ID 541471, https://www.hindawi.com/journals/
ah/2012/541471/
Biswas. Does the interdependence between oxidative stress and inflammation explain the antioxidant paradox? Oxid Med Cell Longev, 2016, Volume 2016, Article ID 5698931, DOI 10.1155/2016/5698931
Antunes et al. Estimation of H2O2 gradients across biomembranes. FEBS Letters 475 (2000) 121-126
Hanne-Damgaard Jensen
CEO & Founder
ROS Therapeutics ApS
hdj@rostherapeutics.com
www.rostherapeutics.com
This article will appear in issue 7 of Health Europa Quarterly, which will be published in November 2018.