TENAK is a market-leading, expert manufacturer of innovative cold chain storage solutions for laboratory and medical settings.
Founded in 2002, privately owned Danish company TENAK embarked on a mission to redefine cold chain storage solutions, one of the most essential aspects of the medical industry. As a result, not only do TENAK pioneer the most innovative cold chain products, but its company ethos is also centred around consumer experience. At TENAK, customer convenience is paramount; that's why every detail from product design and homepage navigation to logistical practices is optimised for usability and efficiency.
Now, nearly two decades into its mission, the company is a globally established producer of racks and boxes for ultra-low temperature storage and a full-range supplier of the most extensive and competitive products on the global market.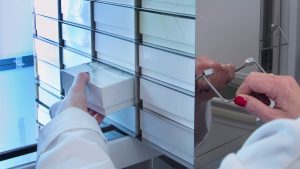 Cold chain expertise
The cold chain technology sector has seen rapid growth in recent years, most notably due to the devastating impacts of the COVID-19 pandemic and the immense strain placed on the medical industry to devise solutions to combat the disease.
Robust cold chain products are paramount for transporting and storing vaccines and medications for treating a plethora of conditions. Finding the correct equipment that is suitable for a variety of low-temperature freezers is a common obstacle in the industry. However, with TENAK, all of these challenges are easily solved, as their 20 years of experience means they have considerable knowledge of all freezers on the world market. Due to this, their cryo storage racks and boxes are designed to fit an extensive line of ULT and LN2 freezers.
Customer convenience
For consumers to be confident in the compatibility of the company's racks and boxes, Tenak has developed the TENAK Reference Guide. The guide is the largest and most comprehensive freezer database globally, providing an online tool to configure the inventory to a range of low-temperature laboratory freezers. The Reference Guide is able to convert most of all the freezer brands from the global market into storage products from TENAK.
In addition, the company also offers a usability chart for their products, enabling buyers to determine the ideal product for their requirements. The chart allows people to compare the entire TENAK range, showing how the product scores for frequency of use, ergonomics, long-term storage, and durability.
If you need low cost and simple design or prefer comfort and ergonomically correct working conditions, TENAK has a storage solution for you. As a leading manufacturer of laboratory products for ultra low-temperature storage, TENAK believes design, functionality, and quality are of the highest importance.
Areas of cold chain expertise
The most extensive and competitive product range of storage systems for cold chain supply
More than 20 years of experience in manufacturing racks and boxes for ULT temperature and cryo storage
Knowledge of all freezer brands and models available on the world market
The TENAK Reference Guide is the only complete online rack configurator
All products are manufactured by Tenak in Denmark
TENAK have invested in cutting edge production technology in order to manufacture the most unique and competitive racks on the market
Recommended Related Articles