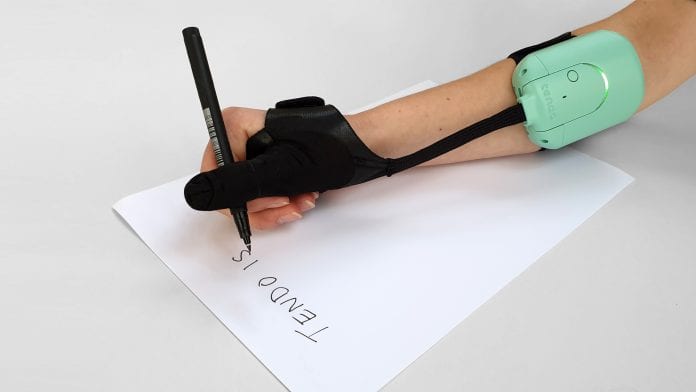 Tendo AB has adapted space technology to create its exoskeleton that meets the urgent needs of paralysed patients with reduced hand function.
Today, Tendo AB is a young company developing soft and minimalistic exoskeletons for people with disabilities in their hands due to a spinal cord injury. However, the first version created of the concept was not made for people with a spinal cord injury – it was not even made for people on earth. The initial concept, which developed to become the starting point of the company Tendo, was created during a research course undertaken by founder Sofie Woge in collaboration with NASA in Houston; and was made to be used in space.
During the course Woge realised that, while astronauts exercise a lot in space to stay healthy, they do so with very little focus on their hands, grip strength and fine motor skills; all of which are vital for them to be able to perform their duties. Her solution was a glove which offers resistance in all movements, so that the muscles in the astronauts' hands could stay activated despite the lack of gravity. The product could also offer support when needed on space walks, for example, or – in the future – landing on Mars. Woge has close acquaintances with rheumatism; so to her, the connection between the effects suffered by astronauts and by those who lose their grip strength due to illness, old age or injury was abundantly clear. She decided to continue her work after her graduation from Lund University; and so Tendo was born.
For the first year, Woge worked mainly alone with occasional support from friends at a student incubator called VentureLab in Lund, Sweden. She then brought in a team offering great competencies within mechanical engineering and robotic control, consisting of Robin Gustafsson and Pontus Renmarker. The team moved to Odense in Denmark to gain support from one of the greatest robotic clusters in the world, Odense Robotics. Within six months, the team had its first prototype up and running and Joe Sarawut Kopfer joined the company. Their combined competences made an excellent team with knowledge within industrial design, entrepreneurship, mechanical design and robotics.
Developing Tendo robotics
Since then, Tendo has grown and the technology has been refined into a slim, motorised wearable robotic exoskeleton – an active orthosis – which assists the user to grip, hold and release objects; thereby regaining their gripping abilities and by extension their independence. The product has a patented actuator system consisting of artificial tendons which run along the fingers, batteries, and a motor. The grip is created by pulling the tendons like a puppeteer. It has an intuitive control without covering pressure sensors or buttons, using the body's signals as a source. It is a revolutionary control system capable of assisting and enhancing a signal to which the body itself does not respond, as is the case with people who are paralysed. Tendo's innovative technology contributes to life changing possibilities for users, conferring increased independence and resulting in high saving potential for society.
Although there is not yet a product on the market which can completely be compared to Tendo, there are similar solutions – however, Tendo's product boasts a range of key properties which distinguish from others, including its intuitive control, small size, grip strength; and the fact that the product assists the user when gripping objects (flexion), as well as giving active support to open the fingers (extension) again. Through a persistent effort, Tendo has developed an energy efficient and innovative mechanical solution within a slim, compact device, resulting in a product around a quarter the size and weight of its closest competitor.
From the beginning, the product has been developed and created in collaboration with the target user base, meaning the team has been able to gain knowledge which could not be drawn through passive research or conjecture. This partnership has allowed Tendo the privilege of a window into the lives of its users, to see the challenges and frustrations that they live with every day. Tendo's unique advantages have been extensively confirmed both by users and occupational therapists; and the innovative solution, combined with the company's close co-operation with users and clinics, has attracted the interest of both competitors and customers. The phrase 'This is the first exoskeleton that makes sense' has been expressed on several different occasions.
The impact of weak grip
Imagine waking up one day and not being able to use your hands. Suddenly, everyday activities such as holding a glass of water, getting dressed, brushing your teeth, grocery shopping or holding cutlery become a daily struggle. About 5% of the world's population struggle with everyday activities that others take for granted, due to a weak grip. Whether this is due to an injury, arthritis or a stroke, all of which are becoming more common in today's ageing society, it can lead to physical isolation and a continuing need for assistance.
One particularly vulnerable group is those who are paralysed because of a spinal cord injury. In Sweden alone, nearly 6,000 people are living with a spinal cord injury; and the incidence rate is 150 new cases yearly. Many patients were under the age of 30 at the time of the injury and the impact on daily living is often severe: the attendant loss of movement and sensation often leads to limitations which requires continued assistance, and this consequently leads to a significant loss of independence and quality of life (QOL).
For individuals with injuries to the higher vertebrae, such as C5, aids such as powered wheelchairs has proven life changing in terms of the mobility and the freedom the aids return to their user. However, when listing the most important function for QOL, hand function is ranked the highest – above even the ability to walk and bowel function. Despite this, the only available solutions today for this target group are expensive and complicated surgical procedures followed by a long rehabilitation, or a physical assistant who follows and helps the person in all situations. Tendo's goal is to deploy robotic technologies, such as exoskeletons and active orthopaedic devices, to enable the same revolutionary freedom for hand function as the assisting wheelchair did for mobility.
Johan's story
Early in the product's development Tendo met Johan, a man in his mid-40s who has suffered paralysis in almost his whole body for over 20 years. He is paralysed from the shoulders down but has some mobility in his right arm, but still lacks hand function as well as movement in his left arm and hand. After meeting Johan, the team created a custom-made version for him to evaluate. Within 15 seconds of the product being placed on his hand, Johan was able to eat, drink and write on his own for the first time in over 20 years. Johan participated in a dinner with his friends; and with the help of Tendo technology he was able to grip his fork, let it go to take a sip of his wine, pause, make a toast and take part in the conversation – all without a personal assistant. It was clear that this ability led to a tremendously increased feeling of independence and quality of life – a joy that was shared by everyone around the table.
After shifting focus from astronauts in space to people living on earth with a disability, the concept necessarily had to make quite drastic changes. Demands related to size, aesthetics, usability and the whole aspect of being able to operate a product without any existing hand function put the team to the test. The first functional prototype turned out to be about three times as strong as a person would ever need – a true 'ironman' version of the glove. Therefore, the next version could be drastically reduced in size and weight to make it truly wearable. Not only did the prototype change over time, but so did the target group. Initially, the prototype was made for people with rheumatic diseases and stroke; and it created a two-finger grip between the thumb and index finger – called the pinch grip. However, after meeting more people like Johan the team realised that users with a high spinal cord injury had an even more drastic need and such severe gripping problems that this was where the product could create the most value.
Evolving goals and changing needs
The long term goal remains to include a wider target group consisting of stroke patients and similar users, but the first product is geared specifically towards people who are paralysed due to a high spinal cord injury. After including this new user group into the discussions, the team quickly realised that the product could give a lot of value to the new target group even if it only assisted the thumb, creating a 'key grip'. The number of fingers involved was balanced towards to size of the product and a decision was made. However, since the final product will initially be custom made, this can be adapted to some extent depending on the user's need. Today, the product weighs less than 200g and covers only the thumb and forearm. It is slim enough to be worn under a sleeve and offers independence by enabling everyday activities that you and I take for granted, such as holding a fork, grasping a key to lock your own door or to enjoy a glass of wine.
The beauty of the patented Tendo Technology is that it can be applied to more body parts than just the hands. By using the same Tendo Technology, the team can assist an elbow, shoulder or knee, thus making everyday life accessible for more people; while providing the company with the possibility to scale up within several market segments.
Sofie Woge
Tendo AB
+46733310414
www.tendoforpeople.se/
This article is for issue 14 of Health Europa. Click here to get your free subscription today.