Explore the benefits of investing in the latest industrial scale extraction technology for cannabis processing facilities – CryoEXS extraction systems.
Root Sciences established one of the USA's first cannabis cultivation and processing operations in 2013; and has since continually played a major role in the development of industry leading techniques for producing cannabis concentrates. Five years after the company introduced wiped-film short-path molecular distillation to the cannabis processing sector, Root Sciences partnered with German manufacturer DEVEX Verfahrenstechnik GmbH, a global leader in botanical extraction solutions, with the ultimate goal of improving the entire extraction and purification process of cannabinoids. Together, the two companies combined their expertise and launched CryoEXS extraction systems in 2019, with DEVEX providing the systems directly in Europe; reducing the time requirements for extraction and post-processing down from several days to only a few hours.
In today's competitive marketplace, it is no secret that businesses continually seek out ways to improve their competitive edge by streamlining processes, improving throughput, reducing costly downtime, and decreasing production costs. For extraction businesses operating within the rapidly evolving hemp and cannabis industries, this is exceptionally true. Often, one of the most effective ways for cannabis processors to make such radical improvements to their bottom line is by investing in reliable equipment which is specifically designed for the unique requirements of their operation.
CryoEXS systems are the clear choice for business owners and investors seeking to maximise the potential of their processing operations. The system's streamlined design reduces facility requirements, while its automation features and clean-in-place procedures minimise downtime. These advantages allow for efficiency, consistency, and increased profit potential.
Traditional extraction techniques
Traditionally, cannabis crude oil has been extracted from raw plant matter by one of these three processes: CO2 extraction; light hydrocarbon extraction; and warm ethanol extraction. Each of these traditional methods have their own niche within the cannabis industry and each have provided small scale solutions for cannabinoid extraction. However, each of these three older methods are also subject to a number of unfortunate deficiencies and require several pre- and post-processing stages, including:
Biomass decarboxylation;
Winterisation;
Dewaxing;
Solvent recovery; and
Final decarboxylation.
For efficient CO2 extraction, the biomass must first undergo preliminary decarboxylation in order to increase the solubility of the cannabinoids in the CO2 solvent. The CO2 cannot effectively dissolve many acidic cannabinoids, so the biomass must be heated in order to convert the majority of cannabinoids to their neutral forms. Not only does this require large ovens, but it adds additional cost and time to the production process. CO2 is a tuneable solvent with interesting selectivity; however, unfortunately, this preliminary decarboxylation process also evaporates valuable terpenes.
After generating a crude extract, each method requires the removal of lipids (fats and waxes) through a process defined as winterisation, which requires the crude extract to be dissolved in a flammable solvent and then chilled to around -40°C for at least 24 hours. Once these undesirable compounds have precipitated, they must then be removed by physically filtering the slurry, all the while maintaining these cold temperatures, in a process commonly referred to as dewaxing. This filtration process is notorious for being time intensive and difficult, with significant operator attention required to ensure proper and efficient removal of fats and waxes.
After careful winterisation and dewaxing of the crude extract, the solvent must be distilled to produce a concentrate. Due to the flammable nature of this costly solvent, additional vacuum distillation equipment is necessary to recover this solvent in a safe manner. Extractors frequently find that local, state, and federal regulations require the entire winterisation, dewaxing, and solvent recovery processes take place in a special fireproof environment. These specially engineered environments, typically separated from the extraction environment, can incur high costs and take up valuable square footage.
Finally, in order to achieve the vacuum depths required for molecular distillation, the solvent-free concentrate must also be decarboxylated, regardless of any preliminary decarboxylation in the case of CO2 extraction. This decarboxylation is achieved by heating the concentrate to above 130°C – a temperature significantly higher than most solvent recovery systems are capable of reaching. For this reason, yet another piece of specialised equipment is typically required to perform this critical step. Despite a lack of flammable solvents, this process is usually done in its own separate area due to the fumes and gases evolved, and to prevent contamination.
Irrespective of which traditional extraction technique is used, all of these methods require extensive post-processing, necessitating many pieces of expensive additional equipment, taking up valuable labour space; and adding to the cost of production.
Cold ethanol extraction
When selecting an optimal extraction solvent, three fundamental factors must be considered:
Safety;
Efficiency; and
Cost.
First, in order to limit workplace environmental hazards, the solvent should be Generally Recognised as Safe (GRAS) and not chemically reactive. Second, an ideal solvent must quickly and efficiently extract the desired compounds, while leaving behind as many impurities as possible. Finally, the solvent must be readily available and not prohibitively expensive.
CryoEXS, the world's first large-scale cold ethanol extraction and processing technology, is a single skidded, scalable solution which does not suffer from the same limitations as the extraction methods of the past. With the ability to rapidly process hundreds of pounds of biomass per hour, this integrated, automated system quickly turns cannabis or hemp biomass into a lipid-free, decarboxylated concentrate in a matter of hours; all without the need for additional equipment. Designed by German process engineers DEVEX and fabricated with the highest quality components, these powerful systems are built for maximum uptime, boast unmatched reliability and come in a range of sizes to match customer throughput needs.
CryoEXS's cold ethanol extraction technology enables processors to skip the winterisation steps which added days to the total processing time of traditional methodologies. By maintaining a temperature below -40°C whenever the biomass is in contact with the solvent, fats, waxes, and lipids are rendered insoluble and remain in the plant material after extraction. Cannabinoids remain particularly soluble in the 190-proof ethyl alcohol; and the extraction process itself is complete in a matter of minutes. Sanitary centrifugal pumps then force the miscella (the ethanol-laden extract) through a configurable series of filters to remove any lingering traces of plant material from the extract.
In addition to the financial and time saving benefits of a completely integrated extraction and post-processing solution, the flexibility that CryoEXS offers processors is unmatched. Featuring multiple filters as part of its standard system, CryoEXS allows the operator to quickly and easily reconfigure the filtration system to meet the specific needs of each batch. This flexibility exists to address any conceivable issues that may be encountered, from excess fine particulates, to the need for depigmentation via adsorbent filtration (commonly referred to as carbon scrubbing). While the vast majority of undesirable chromophores such as anthocyanin and chlorophyll are insoluble in cold ethanol, some older or improperly handled feedstocks can release these contaminates. In these instances, the adsorbent serves to quickly remove these impurities from the extract prior to solvent recovery. This simple yet efficient feature was added to allow the processor complete control and the ability to easily adapt to each individual batch's unique needs.
After extraction, the ethanol-soaked biomass is dried before being removed from the machine to ensure safe and efficient operation. While other companies may use dangerous centrifuges to spin flammable solvent away from the biomass, generating forces equal to thousands of times the force of gravity, CryoEXS uses the same intrinsically safe technology which has been used in industrial scale extractors for decades. By pulling a vacuum on the biomass and introducing super-heated dry steam, the ethanol is safely distilled away from the plant matter for reuse, all without exposing the operator to risk. In addition, this technique minimises wear and tear, as it does not require any significant moving parts: this is an important consideration when working with flammable solvents at sub-zero temperatures.
Next, the filtered extract is forced through a steam-powered solvent recovery system, which quickly and efficiently recovers the solvent from the extract, and then gently decarboxylates the concentrate. Designed for continuous duty, CryoEXS is engineered to recapture latent heat from the cold ethanol stream coming out of the extractor, using it to help condense solvent during the ethanol recovery process. This is just another way in which CryoEXS is designed to be as efficient as possible, reducing operating costs and enhancing a business's bottom line.
The CryoEXS advantage
By efficiently integrating all the necessary extraction and post-processing steps into a single automated platform, the CryoEXS system decreases costs by reducing the facility's physical footprint; eliminating the need for multiple pieces of additional equipment; streamlining the need for labour to just a single unskilled operator (or dual operators in Europe); and ensuring repeatable, reliable results with its state of the art sensors and computerised controls.
In addition to acting as an efficient, integrated industry solution, CryoEXS is also designed to adhere to current Good Manufacturing Practices for European standards (EU GMP). Each machine comes with its own custom EU GMP documentation, enabling processors to speed through the certification process, opening the massive potential of foreign markets and safeguarding domestic distribution networks from future regulatory changes. Automated Clean in Place (CIP), a major cornerstone of GMP design, is featured on every CryoEXS model. In addition, all major wear components are field serviceable.
Periodic cleaning of the machine prevents the accumulation of residual debris, which most commonly accrue in solvent recovery systems due to heat, which is required by the process. The CryoEXS's ability to automatically clean itself ensures optimal long lasting performance, and prevents cross-contamination and costly downtime. These benefits, in combination with the best-in-class components used throughout the system, give CryoEXS an unbeatable uptime percentage and expected equipment lifetime.
The consumables for the CryoEXS are intentionally mitigated through thoughtful design, which can only come through decades of large-scale production extraction experience. DEVEX has been in the industry of botanical extraction systems for decades; and most of the company's early systems are still in use today. Despite being manufactured in Germany, standard conventions are used throughout the system for common consumables like gaskets, sight-glasses, and filters. This means businesses have numerous options to choose from when it comes to sourcing daily use components locally, or worldwide. Although Root Sciences stocks all critical replacement parts and offers next day delivery (in the contiguous US) and unbeatable after-sales support, this flexibility in sourcing components allows operators to find any needed components locally if their own supply of spare parts runs out.
Using the same chillers trusted by companies like Ford, Budweiser, Apple and Tesla, every chiller and cooling tower is custom tailored to the unique climate and demands of each processing facility. Similarly, CryoEXS utilises the same steam generators employed by major manufacturers such as Mercedes Benz, Samsung and Procter & Gamble. The sanitary centrifugal pumps used to move ethanol, extract and concentrate throughout the machine follow the same rigorous requirements for quality. Designed for food safe applications and temperatures well below -40°C, these field serviceable pumps are easily disassembled for inspection or deep cleaning. The increase in safety and minimisation of moving parts afforded by opting for steam stripping of ethanol from the biomass further highlights the reliability of the CryoEXS system.
The Root Sciences advantage
Root Sciences is the global leader in process design, equipment distribution, and support services for processing facilities in the cannabis and hemp industries, representing premium extraction, distillation, and other post-processing technologies. Much more than just equipment distributors, Root Sciences is backed by years of hands on experience in both growing and processing. With decades of combined cannabis processing experience, the Root Sciences team includes some of the most experienced technicians, chemists, and engineers in the industry. Root Sciences represents premium extraction, distillation, THC remediation, and nano-emulsification technologies.
As a single, consolidated provider of extraction and processing solutions, Root Sciences can determine the optimal process to suit your needs and size the equipment to match your desired throughput. Root Sciences also offers professional consulting and engineering services, from market research and business plan consulting to process optimisation and facility design. Root Sciences' industry connections also allow the company to assist with leasing and financing options of up to $10m.
For Root Sciences, the sale is just the beginning; and the company aims to nurture a long term partnership with all of its clients. After equipment is delivered and installed, the training and after-sales support delivered by Root Sciences' highly trained technicians show where the long term value is really added. Furthermore, clients have the added benefit of personal service throughout the lifetime of every machine purchased from Root Sciences. There is also the additional option of acquiring an extended service and maintenance package, to keep equipment in top condition and minimise the risk of operational downtime.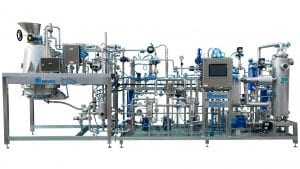 Invest in quality
CryoEXS entered the hemp and cannabis extraction market in 2019 and cut the extraction process down from days to hours by utilising cold ethanol extraction technology. This simple, scalable and effective process has quickly become the method of choice for large scale cannabis and hemp processing.
Today, CryoEXS provides top-of-the-line automated, integrated extraction and post-processing solutions that minimise labour and maximise efficiency. Engineered for maximum uptime with best-in-class components and Clean in Place integration, CryoEXS ensures years of reliable and profitable operation, and minimises the risk of costly downtime with minimal maintenance. Backed by the knowledge of DEVEX's German process engineers and Root Sciences' decades of cannabis processing experience, the CryoEXS system ensures that your company remains competitive in both domestic and foreign markets, thanks to its GMP-ready design.
Working in tandem with Root Sciences on other molecular distillation, THC remediation, and nano-emulsification offerings, your company can diversify its offerings to include the most popular formats. Root Sciences is an experienced partner, able to provide you with the optimal solutions for each step in your process and ensure your organisation operates smoothly and efficiently.
Upfront capital investments and risks are minimised by integrating extraction and post-processing techniques into a single, skidded system. This translates into a smaller footprint within the facility, without the need for multiple fireproof environments for different stages of processing. The greatly simplified workflow enables minimal labour costs for the operation of the equipment, creating continuous yearly savings.
When a single hour of downtime can potentially cost a business hundreds of thousands of dollars, and in the event of extended downtime supply and sales contracts can be further jeopardised, smart business owners should ask: what is the true cost of equipment failure? Of all the investments a business makes when opening a new processing facility, invest in the best technology available on the market today. Choose CryoEXS. Choose Root Sciences and DEVEX. For more information, visit www.rootsciences.com; or in Europe, visit www.devex-gmbh.de.
Lauren Hitt
Director of Marketing
Root Sciences
+1 206 452 1130
info@rootsciences.com
www.rootsciences.com
This article is for issue 3 of Medical Cannabis Network. Click here to get your free subscription today.