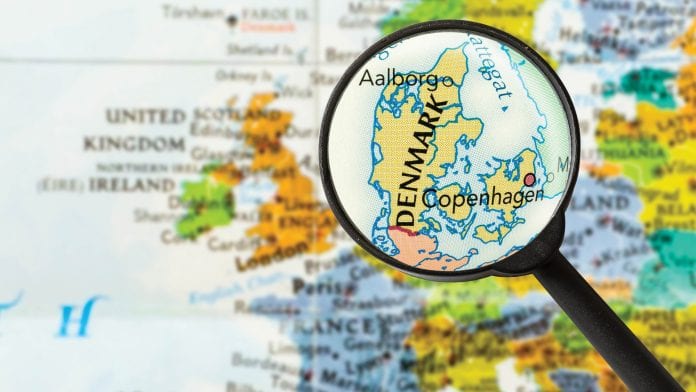 With the Danish medical cannabis pilot scheme now well underway, then Minister for Health Ellen Trane Nørby, talks about her vision for the programme.
Ellen Trane Nørby in her capacity as Minister of Health oversaw the implementation of the landmark medical cannabis pilot scheme in Denmark. Addressing attendees at the MJBiz Daily European Cannabis Symposium in Copenhagen, she made a passionate case for allowing vulnerable patients access to the treatment and recalled some of the patients she has met along the way.
Addressing the crowd, Nørby began by outlining her vision for the scheme, stating "I would just like to make a few points about why I as Minister of Health decided to support the medical cannabis scheme in Denmark so much. For me it has all to do with the patients, it is for the benefit of our patients and that is what must be our focus as politicians, as doctors, or as businesses."
Dignity for the most vulnerable
Nørby went on to recall meeting a young electrician who was forced to retire from his career having sustained injuries in an accident at work where his body was subjected to a high voltage electrical shock, leaving him with chronic pain. He told Nørby how he had been forced to turn to self-medicating, obtaining cannabis for pain relief on the black market. She recounted meeting him in 2018 at which point he was introduced into the medical cannabis scheme in Denmark and was assessed by specialist pain doctors who wrote him a prescription for medical cannabis from the scheme. In subsequent interviews with the media and in a follow up meeting with Nørby, he described himself as "able to be a human being again."
For Nørby this has all to do with dignity, she explained. Expanding on her views she pondered that cannabis should not be considered a panacea which will render all patients able to get out of bed in the morning and able to continue the lives they had enjoyed before their illness, "But for some patients, some of those patients who have tried everything to no avail – medical cannabis can help them," she explained.
Returning to the story of the young electrician, he confirmed to the media and to Nørby that following his treatment within the scheme he was able to collect his daughter from nursery and go back to focusing on his family – to enjoy time with them rather than be confined to lying in a dark room with his pain out of control and taking over his life.
Implementing the pilot programme
However, implementing the scheme was not been without challenges. "We also must keep in mind that our healthcare system has not been built in one day, just as Rome was not built in one day. The reason why we are better today than we were yesterday or 2 years ago, is that the medical community in the world has always been experimenting, has always been pushing things to the limits in order to see whether they could make a treatment which works even better than the ones they'd used before. This is the innovation in our healthcare system, and I think it is important to say, that this also must be implemented into the medical cannabis scheme. We also need to innovate to find out where the limits are and where it [medical cannabis] will never work.
"Conversely, we must experiment to find out who it will help, and how to create a system where we can help those patients who do not experience any relief from conventional treatments and medicines. So, from the minute I entered office as Minister for Health, it has been my focus to ensure that the Danish medical cannabis scheme has been successful – that it supports business but its most important point is that it supports patients," she argued.
Recounting some of the resistance she has encountered along the way from those calling for Denmark to await further evidence of the efficacy of cannabis, Nørby argued that after meeting some of the patients she has met that she could not wait.
"I don't think that this is any different to the schemes, trials and experiments we conduct in cancer treatment, or from when we invest public money into big research schemes in different fields of our medical sphere. I think that we must not only obtain the evidence for medical cannabis and consolidate it ourselves, but we also need to pave the way at the same time. We have to do so in a secure framework where we trial this in a sensible way to ensure we do not leave the patients out on the black market" she added.
Expanding on the origins of the scheme Nørby recalled that the decision was taken in 2016 to embark on the pilot scheme, supported heavily by all of the parties in the Danish parliament, by patients and research groups.
"We had a political agreement that we would find more ways to prescribe medical cannabis in Denmark and that we would allow a 4-year trial period in Denmark starting by the 1st of January 2018. In October 2017 we had the legal framework set up, it was adopted in parliament and it constitutes the whole framework for our national scheme.
"In June 2017 the government also decided to have a cultivation programme because we considered it wise not only to be focusing on imports, but also to focus on how we can cultivate in Denmark. We believe that our high standards generally in manufacturing medicines is something that should be also converted and introduced into medical cannabis so we do say that we have both the knowledge and also the expertise in the whole life science scheme that could somehow benefit from having another leg in medical cannabis," she recounted.
"The purpose is to offer patients a lawful way of testing medical cannabis, but also to ensure that they can also trust the products behind the Danish scheme. We do see that a number of Danish patients went out into that black market [to seek cannabis] even older ladies. I met one of them who told me; "I'm more than 80 years old and I've lived my whole life without committing a crime, and now suddenly because the pain in my back is so much worse and controlling my life, I got into a crime in old age." This is again about dignity for the patients, Nørby reiterated.
The medical community
Doctors in Denmark can prescribe medical cannabis for all purposes, and are not restricted by the legislation, although there are recommendations in 4 different areas to guide them. Nørby explained "We do not limit the individual doctor in their dialogue with the patient, but we do say that when it comes to the national recommendations there are 4 areas. Of course, doctors must exhibit diligence when they prescribe medical cannabis, just as they would with any other drug for our patients."
However, doctors are not obligated to prescribe cannabis for any of the indications outlined in the governmental recommendations, and this has led to some conflict between the medical community and patients seeking to try medical cannabis products. "Some conflicts have made their way to me with patients saying, "I went into the doctors office and they put up this note on the door saying if you want to talk about medical cannabis find another doctor." It's a difficult discussion because we cannot force doctors to have knowledge in this field, however I do think that it's an important part of being a doctor that if you do not feel comfortable or knowledgeable about something then you then refer your patient to another doctor. This goes for all other areas of medicine, and if general practitioners do not feel confident in their knowledge within a particular field then they would refer the patient elsewhere in the system. The same system needs to be established when it comes to medical cannabis. We see that there is a huge difference between GP's in this field. Some of them are illogically against cannabis, and that creates some of these tensions between patients and doctors."
The areas which the Danish Medical Agency consider there is enough evidence to consider medical cannabis are: pain caused by multiple sclerosis, spinal cord damage, side effects from chemotherapy treatment and neuropathic pain. "If we look at some of the patients behind the Danish scheme to date, many of them have neuropathic pain and many of them are women. Some tend to say that this [treatment with cannabis] is for men of a certain age, but if we look at the numbers – and we have all the details in Denmark – this is simply not the case" Nørby commented.
With the scheme ongoing, research into not only what conditions medical cannabis can be beneficial for, but also data on the demographics of those using it can be evaluated.
Ellen Trane Nørby
Tweet @EllenTraneNorby
Please note, this article will appear in issue 10 of Health Europa Quarterly, which is available to read now.