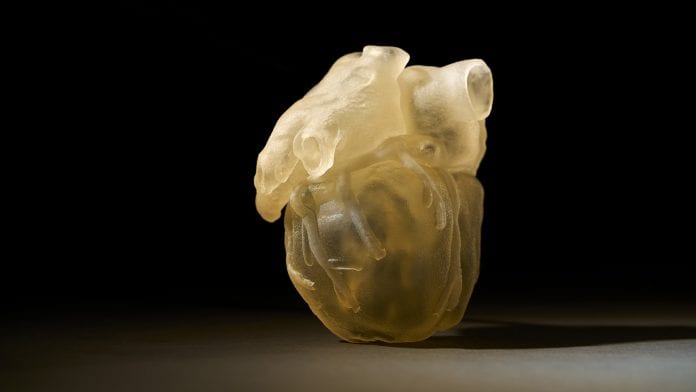 The days of using cadavers or animals for medical training and surgical preparation may be numbered with Stratasys digital anatomy 3D printer.
3D printing leader Stratasys Ltd. is further extending its commitment to the medical industry with the new J750™ Digital Anatomy™ 3D Printer. Designed to replicate the feel, responsiveness, and biomechanics of human anatomy in medical models – the digital anatomy 3D printer improves surgical preparedness and training while helping bring new medical devices to market faster.
What do you know about digital anatomy 3D printer?
Today, medical professionals have a choice of cadavers, animal, traditional, or virtual reality models which all have significant limitations. Unlike animal models that only approximate human anatomy and may raise ethical concerns, or cadaver models that cannot retain live-tissue feel and require a controlled environment, the Digital Anatomy 3D Printer recreates actual tissue response – and can be used anywhere without specialised facilities. It also lets users focus on specific pathologies.
"We believe in the potential of 3D printing to provide better health care, and the Digital Anatomy 3D Printer is a major step forward," said Stratasys Healthcare Business Unit Head Eyal Miller. "We're giving surgeons a more realistic training environment in no-risk settings. We also anticipate this will enable medical device makers to improve how they bring products to market by performing design verification, validation, usability studies and failure analysis with these new models."
"Recreating patient-specific anatomy"
The new 3D printer has already been tested at several organisations. The Jacobs Institute, a Buffalo, N.Y.-based medical innovation center focused on accelerating device development in vascular medicine, has been testing the Digital Anatomy 3D Printer to re-create key vascular components for advanced testing and training.
"3D printing has been wonderful for recreating patient-specific anatomy compared to cadavers or animal models; however, the final frontier for organ model realism has been live-tissue feel and biomechanical realism," said Dr Adnan Siddiqui, Chief Medical Officer, Jacobs Institute.
"That's exactly what the Digital Anatomy 3D Printer gives us. We believe these models give us the best opportunity to recreate human physiological conditions to simulate actual clinical situations and to study new devices to establish their effectiveness before introducing them to patients."
About Stratasys
Stratasys is a global leader in additive manufacturing or 3D printing technology and is the manufacturer of FDM® and PolyJet™ 3D printers. The company's technologies are used to create prototypes, manufacturing tools, and production parts for industries, including aerospace, automotive, healthcare, consumer products and education.
For 30 years, Stratasys products have helped manufacturers reduce product-development time, cost, and time-to-market, as well as reduce or eliminate tooling costs and improve product quality. The Stratasys 3D printing ecosystem of solutions and expertise includes 3D printers, materials, software, expert services, and on-demand parts production.