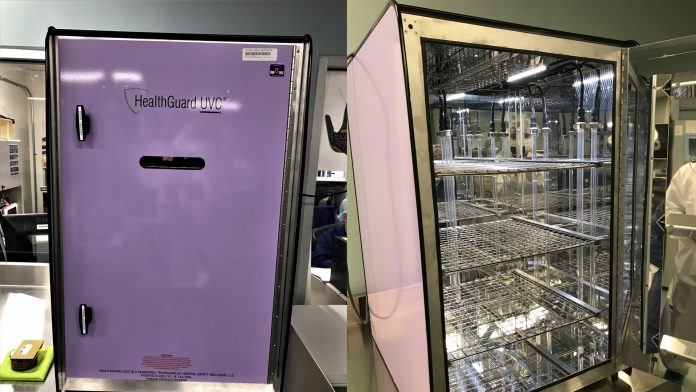 Hospital Safety Solutions's UVC sanitisation chambers could help the economy get back on track.
The impact of COVID-19 across the globe has been staggering, taking a toll on the population, service providers, healthcare professionals, and life as we know it. The pandemic is also having a devastating impact on the economy of many countries.
Given limited options in the face of rising numbers of infections and deaths, the governments of several countries have called for partial or complete 'lockdowns' in order to avoid or limit person-to-person contact. There are guidelines in place regarding safety in the workplace, but virtually no viable solutions to maintain employee protection in most settings. As a result, many businesses have reduced operations or have closed completely, leaving millions of people unemployed.
Products like the HealthGuard-UVC chambers can assist in maintaining a robust economy in the face of the ongoing health crisis, providing a safer work environment and easing worker illness, absence, and stress. The units are portable and vary in size and in design. The modest cost makes them accessible for a range of settings and applications for sanitation control, including in the prevention and control of COVID-19.
We are continually asked whether our chambers can kill the SARS-CoV-2 virus; and the answer is most definitely. In addition to the independent studies done directly with other pathogens, the chambers can provide from 650mJ/ cm2 to 1100mJ/ cm2 by the completion of a one-minute cycle. In a recent study3 conducted by Andrea Bianco and currently awaiting peer review, it was reported that both inactivation and replication inhibition could be achieved with a UVC [254nm] dose of 3.7mJ/cm2 and complete inhibition with 16.9mJ/cm2.
HealthGuard-UVC chambers are already in use in hospitals and pharmacies across the U.S. to sanitise surgical equipment and related objects. There is still the opportunity to expand usage across healthcare settings and residential facilities to disinfect any article that is handled or has public access. The use during the impending vaccination procedures has the potential to increase safety and efficiency.
Almost any object can be disinfected in less than one minute. In typical business and public settings, the UV-Flash is able to sanitise computer keyboards, tablets and laptops, cell phones, writing implements, eyeglasses, scanners, and more. Potential uses in schools and childcare facilities are also extensive: books, toys, art supplies, mats, etc can all be sanitised using this technology. Food processing, food service, and restaurants can sanitise items used in food handling, dining, and items involving consumer contact.
The objective and the result of using products like HealthGuard-UVC chambers is to prevent direct and cross-contamination of articles used during everyday life, therefore reducing overall exposure. Public facilities and businesses can stay solvent if they are safe places for their employees and for the public. Individuals who work in safe environments and keep their jobs contribute to the overall economy. In short, Hospital Safety Solutions can provide support for the ailing economy.
The road to 2020
In 2009, a small company in North Carolina, USA – HealthGuard-UVC® – was attempting to market a UV sanitation chamber to disinfect reusable grocery bags. The general response was that this was a great idea that nobody knew anything about, but that without instituting treatment chambers, the stores would be able to sell more bags. Over the following two years, HealthGuard-UVC pursued other outlets and applications. Athletics seemed a likely field, so a 17-foot (5m) prototype chamber, capable of disinfecting four sets of American football helmets, shoulder pads, and other protective items, was fabricated and demonstrated at national trade shows. Ultimately, however, it became evident that the primary target would be in healthcare.
On a converging path, as early as 2011, Hospital Safety Solutions began exploring the world of ultraviolet disinfection. For over 20 years, they had been providing a contracted sales force to a variety of small manufacturers of medical equipment with surgical smoke evacuation being their chief offering. They entered the realm of ultraviolet (UV) disinfection in order to broaden their presence as a provider for a safer environment for the hospital worker. Market research unveiled a myriad of UV solutions including:
UV-enhanced heating, ventilation and air conditioning (HVAC) units;
Whole room disinfection robots;
Wall-mounted UV lamps;
In-room air circulators;
Patient transfer wheelchairs with positive and negative airflow capabilities;
Hand-held wands; and
UV disinfection chambers.
Allen Gehr, owner of Hospital Safety Solutions, remembers commenting at the time: "There really is no single modality that would address all the issues surrounding decontamination and infection control." It was decided then to focus on gaining expertise in one modality.
A new direction
In 2012, Hospital Safety Solutions became HealthGuard-UVC's primary sales agent promoting its UV disinfection chambers, which included the two sizes of the UV-Flash units as well as a novel unit which replaces the pass-through window with a UV-enabled chamber.
In the fall of 2019, Hospital Safety Solutions acquired HealthGuard-UVC, keeping the name and making the UV chambers its principal product offering. The parties continue to collaborate while exploring additional applications including sports, schools, childcare, food service, pharmaceutical operations, and disaster relief.
The latest development (December 2020) is an agreement with Midbrook, LLC to be our exclusive international manufacturer and distributor. They bring extensive experience from the earliest versions of the chambers and we are excited to have them back working with us.
To date, our largest customer of the pass-through units has been the US Veterans Administration hospitals. We have positioned ourselves to provide a turnkey solution for facilities to replace their outdated and often inefficient pass-through window. The chamber's main function is to reduce the burden of likely colony-forming units (CFUs) on items, making them safer to handle on their way to sterilisation. The unit also resolves the issue of maintaining the desired pressure differential between the decontamination room and the clean room, because only one door gets opened at a time.
Validation of UVC chambers
Extensive research indicated that incorporating a highly reflective interior coupled with specific reflector and lamp placement could reduce the exposure time to just 60 seconds. In order to obtain the patent for this breakthrough and that of eliminating 'shadow areas' where UV beams cannot reach, extensive biological testing took place. An independent test1 designed and conducted at Microbac Labs would test the efficacy of the chamber using live pathogens as test subjects. Inoculated TSA plates were placed in the centre and corners of each of the three shelves. The plates were then subjected to separate exposures of one- and two-minute durations. All plates from all locations had 100% of the pathogens present killed within 60 seconds.
An independent study2 by HealthMark Industries confirmed that: 'hand-washed items harboured more bacteria than machine-washed items. The goal of this study was to compare the microbial count difference in manually and mechanically cleaned medical devices. The study also demonstrated that exposure to UVC radiation resulted in a considerable decrease in bacterial count on the surfaces of medical devices, thus rendering them safer to handle. The overall findings demonstrate that placing a UVC disinfector at the pass-through window offers an added level of safety for sterile processing personnel handling manually cleaned medical devices in sterile processing departments.' (See Fig. 1 below). .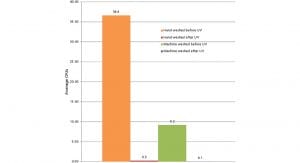 The sterile processing department plays a vital role contributing to successful surgeries. Many heat-intolerant and non-immersible medical devices must be washed by hand; and there are few options for disinfecting them after washing. They are passed through to the prep room having been washed, but not disinfected. Staff must use hand hygiene and alternative disinfecting practices at their workstations to compensate. The units use no harmful chemicals, consumables, or antimicrobial wipes; and offer a standardised, repeatable decontamination process which helps to eliminate human error and make instruments safer to handle.
The two portable tabletop UV-Flash™ units provide the same effectiveness and are used in ICUs, ERs, clinics, medical offices and nurses' stations for items with high rates of patient contact, like glucometers, stethoscopes, electronic thermometers, blood pressure cuffs, and oximeters; as well as items frequently carried by doctors and other staff, such as mobile phones, electronic medication administration record (eMAR) scanners, penlights, scissors, personal digital assistants (PDAs), tablets, laptops, and other easily contaminated and difficult to disinfect items.
Nurses in children's hospitals are particularly inspired by this technology as a great device for waiting rooms, where children are offered items to play with while they wait to be seen. Isolating these items to specific patients and families and then disinfecting them for the next family would not be a difficult protocol to implement. The same can be said for the high-risk patient population in cancer centres.
Another area of use is pharmaceutical compounding labs. The HealthGuard-UVC Chambers are new applications of proven technology. For the first time, the general workforce as well as healthcare workers outside of the operating room have access to UVC light's 'gold standard' of infection control.
References
MicroBac Labs, 'Organism UV Light Exposure Study', available on request
Safe to handle? Comparing manually and machine-washed medical devices. Kaumudi Kulkarni, Dzelma Kaczorowski, Alex Bonkowski, Stephen Kovach, and Ralph Basile. Biomed Instrum Technol (2016) 50 (s2): 18–22.
Andrea Bianco, et al.; awaiting peer review (2020).
Ransom Willard
Director
Hospital Safety Solutions
+1 844 889 6757
ransom@HospitalSafetySolutions.com
www.HospitalSafetySolutions.com
This article is from issue 16 of Health Europa. Click here to get your free subscription today.
Recommended Related Articles