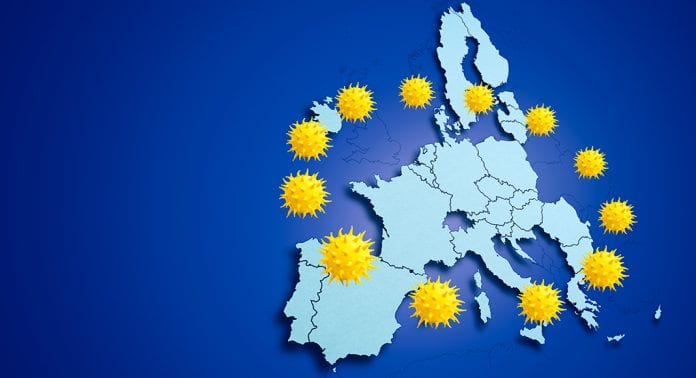 What is the European Commission doing to address the COVID-19 pandemic?
In March, in response to the rapid spread of COVID-19, the European Commission established an advisory panel, jointly chaired by Commission President Ursula von der Leyen and Commissioner for Health and Food Safety Stella Kyriakides and comprising seven EU experts in epidemiology and virology. The panel's recommendations, along with guidance from the European Centre for Disease Prevention and Control (ECDC), informed the Commission's subsequent strategies on community measures, COVID-19 testing, and ensuring the resilience of healthcare systems.
European Commission preparedness for COVID-19
The Commission has a number of preparedness measures and contingency response strategies in place for crises such as the COVID-19 outbreak, Darragh Cassidy, the European Commission's Press Officer for Health and Food Safety, tells HEQ: "Even prior to the pandemic, which is the first global pandemic of such proportions in recent memory, the Health Security Committee was set up in 2001 at the request of EU Health Ministers as an informal advisory group on health security at European level. The Committee is mandated to reinforce the co-ordination and sharing of best practice and information on national preparedness activities.
Member States also consult each other within the Committee with a view to co-ordinating national responses to serious cross border threats to health, including events declared a public health emergency of international concern by World Health Organization in accordance with the International Health Regulations. At EU level, Decision 1082/2013/EU on serious cross-border threats to health provides the framework to co-ordinate preparedness and response planning to strengthen capacities for the monitoring, early warning and assessment of, and response to health emergencies."
The search for a vaccine
In June, the Commission launched its EU-wide strategy to accelerate the development and rollout of vaccines against COVID-19, with the key goals of ensuring the swift delivery of a safe and effective vaccine; securing timely access to such a vaccine for Member States and their citizens; and ensuring that access to the vaccine is equitable and affordable.
Commissioner for Health and Food Safety Stella Kyriakides said: "Working together will increase our chances of securing access to a safe and effective vaccine at the scale we need and as quickly as possible. It will ensure fair and equitable access for all across the EU and globally, thus offering the best opportunity of finding a permanent exit strategy from the COVID-19 crisis. This is the EU at its best: pooling resources, joining efforts, bringing tangible results to the everyday lives of people. No one is safe until everyone is safe and we will leave no stones unturned in our efforts to protect EU and global citizens."
In its strategy launch, the Commission emphasised the importance of collaboration between Member States in research and delivery; France, Germany, Italy and the Netherlands have already formed a 'vaccine alliance', working together and sharing resources in order to boost research efforts. Cassidy says: "Cross-border co-ordination remains a significant priority and function of the Commission and this is done through fora such as the Health Security Committee, the Early Warning and Response System and the regular Health Ministers' meetings."
PPE and procurement
The Joint Procurement Agreement for medical equipment, which has been signed by all EU and EEA Member States, Albania, Bosnia and Herzegovina, Kosovo, Montenegro, North Macedonia and Serbia, was implemented in 2013 as part of a series of countermeasures prepared in response to the 2009 H1N1 influenza outbreak. The mechanism, which allows signatories to purchase medical equipment and supplies jointly, sets out standards for decision-making and tendering in the procurement of medical countermeasures; with the goal of ensuring equitable access to medical equipment, lowering the risk of supply shortages, and standardising costs between countries.
The Commission was able to launch calls for tenders under the Joint Procurement Agreement in the early stages of the pandemic for an array of essential medical countermeasures including personal protective equipment (PPE), ventilators and laboratory equipment; with a further joint tender launched in June for intensive care medicines. Up to 26 countries participated in the calls, which have the capacity to deliver millions of coveralls, goggles, face shields, masks and 110,000 ventilators to hospitals around the EU and its partners.
As the need for private sector participation became apparent to ensure sufficient quantities of PPE are manufactured and delivered, the European Committee for Standardisation (CEN) and the European Committee for Electrotechnical Standardisation (CENELEC) agreed at the Commission's request to make European standards for the manufacture of PPE and certain medical devices freely available. This measure enabled EU Member States and third countries to accelerate the manufacture of essential equipment and access the market faster without the need to purchase standards in line with intellectual property regulations, as is typically the case.
Thierry Breton, the EU's Commissioner for Internal Market, said: "We need to act collectively with urgency, solidarity, and audacity. I am encouraging manufacturers to increase and diversify production, building on positive examples such as textile and shoe manufacturers starting to produce masks and gowns. I will do everything possible to support their efforts. I am pleased to announce that following contacts with the Commission, CEN/CENELEC has agreed to make freely available the standards needed for such companies to be able to produce masks and other protective equipment."
The Commission has also established a 'Clearing House' for medical equipment, working in partnership with governments, health authorities, manufacturers and stakeholders to identify regional surpluses and shortages of equipment and redistribute items where they are most needed.
On the frontline
"Protection of health workers, who are on the frontline of COVID-19, is very important," Cassidy says. "This is why the Commission has engaged in various mechanisms to ensure that Member States can get additional PPE and medical devices. Additionally, we look to the ECDC for ongoing risk assessments that the virus presents across the EU, including vulnerable populations."
The Commission encourages cross-border co-operation between healthcare authorities, alleviating the burden on overstretched facilities by facilitating the transfer of patients between Member States where beds are available. Health authorities within the EU are further encouraged to make use of the EU Civil Protection Mechanism, which enables the Commission to fund and co-ordinate the transport of patients and clinical staff across borders in emergencies.
Commissioner Kyriakides said: "We can only overcome the coronavirus crisis together. Life-saving co-operation between Member States is key. EU solidarity has been tangible over the past weeks with Member States treating patients from their neighbours, even when stretched themselves. This is the EU at its best, and with our guidance today, we want to encourage more cross-border treatment of patients, more deployment of healthcare staff from EU countries with extra capacity, to where it is needed most. Solidarity saves lives."
This article is from issue 14 of Health Europa. Click here to get your free subscription today.