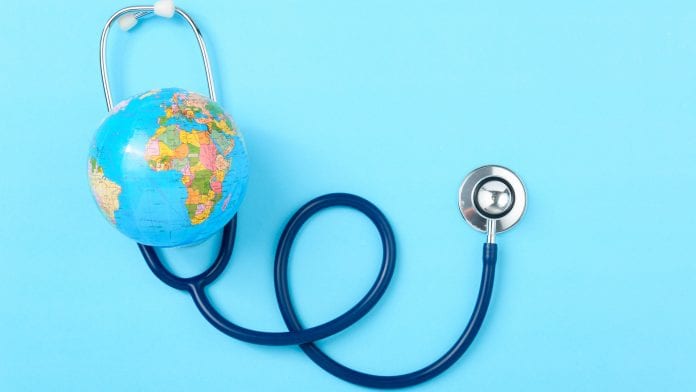 A new report has highlighted that no country is immune from the health impacts of climate change, and that the COVID-19 pandemic is an opportunity to take urgent action.
The 2020 Report of the Lancet Countdown on Health and Climate Change, published in The Lancet, raises concerns that climate change will pose an increasing threat to health across the globe, causing disruptions to livelihoods and overwhelming healthcare systems.
The authors say that a joint response to converging crises offers the chance to improve public health, create a sustainable economy, and protect the environment.
The report, a collaboration between experts from more than 35 institutions including the World Health Organization (WHO) and the World Bank, was led by University College London.
Heat-related deaths
The report highlights that there has been a 54% increase in heat-related deaths in older people over the past two decades, with a record 2.9 billion additional days of heatwave exposure affecting over-65s in 2019 – almost twice the previous high. The 120 world-leading health and climate change academics and clinicians who are behind the report say that urgent action is needed to tackle climate change through the implementation of plans to limit global temperature increases.
They highlight that limited temperature increases would also reduce the risk of future pandemics as the drivers of climate change can also drive zoonotic pandemic risk.
Dr Ian Hamilton, executive director of the Lancet Countdown, said: "The pandemic has shown us that when health is threatened on a global scale, our economies and ways of life can come to a standstill. The threats to human health are multiplying and intensifying due to climate change, and unless we change course our healthcare systems are at risk of being overwhelmed in the future. This year's devastating US wildfires and tropical storms in the Caribbean and Pacific, coinciding with the pandemic, have tragically illustrated that the world doesn't have the luxury of dealing with one crisis at a time."
Dr Wenjia Cai, director of the newly-launched Lancet Countdown Regional Centre for Asia, based within Tsinghua University in Beijing, China, said: "On the occasion of the 5th anniversary of the Paris Agreement, we must confront the worst outlook for public health our generation has seen. Failure to meet our climate commitments could take some key Sustainable Development Goals out of reach as well as our ability to limit warming."
How climate impacts health
Climate-related health problems could be caused in the future if we are unable to anticipate the impacts of extreme heat, such as growing levels of heat-related mortality among vulnerable people in all parts of the world. This will risk livelihoods across the globe, leading to adverse economic implications.
For example, in 2019 the UK saw over 12 million 'above-baseline' days of heatwave exposure affecting its elderly population, and heat-related deaths in the over-65s have more than doubled since the early 2000s. The economic cost of this mortality was the equivalent of 1.29% of the UK's Gross National Income.
Other environmental and human health implications such as heat and drought are also driving sharp increases in wildfires, resulting in burns, heart, and lung damage from smoke, as well as the displacement of communities. The report highlights the ability to deal with these problems is limited as healthcare capacity is still not enough despite recent improvements in healthcare systems, with only half of countries surveyed having drawn up national health and climate plans.
Professor Hugh Montgomery, the Lancet Countdown co-chair and an intensive care doctor, based at University College London, said: "Climate change drives a cruel wedge which widens existing health inequalities between and within countries. Our report shows that – just as for COVID-19 – older people are particularly vulnerable, and those with a range of pre-existing conditions including asthma and diabetes are at even greater risk.
"The COVID-19 pandemic has thrown a spotlight on the current ability of healthcare and wider health systems to cope with the sorts of future health shocks that climate change may generate. Flames, floods and famine do not respect national borders or bank accounts: a nation's wealth offers no protection against the health impacts of even a 1.2°C global average temperature rise."
The climate and zoonotic pandemic risk
Another Lancet editorial, published alongside the new report, highlights that climate change and zoonotic pandemic risk share common drivers, which damage the environment through urbanisation, intensive agriculture and unsustainable food systems, air travel and tourism, trade, and lifestyles powered by fossil fuels. This all creates conditions that encourage zoonoses.
Dr Richard Horton, editor-in-chief of The Lancet, said: "If we wish to reduce the risk of future pandemics, we must prioritise action on the climate crisis – one of the most powerful forces driving zoonoses today. Now is the time for us all to take the environmental determinants of health more seriously – we must address the climate emergency, protect biodiversity, and strengthen the natural systems on which our civilisation depends. This is a moment we cannot afford to ignore. Just as we have seen with COVID-19, delayed action will cause avoidable deaths."
The report says that limiting temperature to below 2°C and by aligning the climate and pandemic recovery, countries across the globe will be able to deliver on health.
There are currently seven million annual deaths from air pollution associated with the combustion of fossil fuels. For example, the UK saw an estimated 17,700 deaths linked to ambient fine particulate air pollution (PM2.5) from human activities in 2018, and industry and households were responsible for almost 3,100 of these deaths in 2018.
Despite this, steps across the WHO Europe region to mitigate pollution and increase cleaner energy have helped to slightly decrease deaths from ambient air pollution.
Dr Maria Neira, Director of the Department of Environment, Climate Change and Health at the World Health Organization, said: "With trillions being invested globally in economic support and stimulus there is a genuine opportunity to align the responses to the pandemic and climate change to deliver a triple win – one that improves public health, creates a sustainable economy and protects the environment.
"But time is short. Failure to tackle these converging crises in tandem will lock in huge amounts of fossil fuels, moving the world's 1.5°C target out of reach and condemning the world to a future of climate-induced health shocks."
Click here to read the full report.