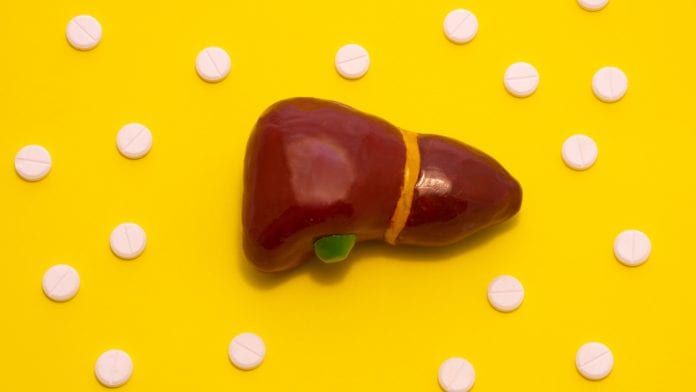 On Big Yellow Friday, we need to discuss the need for improvements to public awareness and earlier diagnoses of childhood liver disease.
Patients and clinicians across the continent are coming together for Big Yellow Friday to call for much needed improvements to the public awareness and earlier diagnoses of childhood liver disease, which affects up to 1 in 10 children across Europe.
The problem with late diagnosis
Childhood liver disease is any condition that disrupts the function of the liver in a child. Risk factors include family history, transmission from mother to child and autoimmune conditions.
Past research has shown that childhood liver disease is often under-recognised and diagnosed late, as early symptoms are hard to detect. The issue of late diagnosis is aggravated due to the very low public awareness of symptoms.
Professor Dominique Debray, ESPGHAN Hepatology Committee, explained: "If diagnosed late, liver disease may have an impact on growth, induce itching, insomnia, bone fractures, multiple vitamin deficiencies, and in some instances, such as cirrhosis, a liver transplant may be required,
"To prevent the impact of late diagnoses, early diagnosis should be actively pursued, and once diagnosed, children with chronic liver diseases should be managed in specialised liver centres."
Newborn jaundice is one of the key signs of childhood liver disease, while other symptoms such as pale stools, regular pain or swelling in the abdomen, itchy skin, loss of appetite, bleeding or bruising easily and poor growth, can all be indications of childhood liver disease.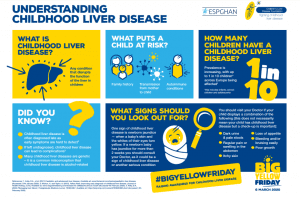 Taking Big Yellow Friday to the European stage
Big Yellow Friday, which takes place on 6 March, aims to drive awareness and understanding of, and support those affected by, childhood liver disease.
In 2020, clinical experts from the European Society for Paediatric Gastroenterology, Hepatology and Nutrition (ESPGHAN) and patient representatives from the Children's Liver Disease Foundation (CLDF) have joined forces to take Big Yellow Friday to the European stage for the very first time.
Debray explained: "Early management of childhood liver disease to improve growth, treat infections, and prevent bleeding issues will considerably improve the quality of life and outcomes of patients."
The partnership has allowed both ESPGHAN and the Children's Liver Disease Foundation to create a four-step plan to improve the lives of paediatric liver patients:
Public awareness and education campaigns should be implemented to improve public understanding of childhood liver disease;
Utilising available funds and grants for rare disease initiatives, greater research should be commissioned to help drive the development of treatments for rare liver conditions;
Children with liver disease must receive care in a specialist paediatric setting to ensure patients are diagnosed and treated in the most effective way; and
Long-term and gradual transitional arrangements from paediatric to adult care must be improved to ensure patients receive the highest quality of care, with as little disruption possible
Alison Taylor, Chief Executive of the Children's Liver Disease Foundation said: "There are many different forms of childhood liver disease and there is so much we have yet to learn about the possible causes,
"Raising awareness of these conditions is vital so we are delighted that ESPGHAN is joining in by spreading the word amongst its extensive networks this year. Their support will make a real difference to the many families whose lives are affected by liver disease in their child."
Do you want the latest news and updates from Health Europa? Click here to subscribe to all the latest updates, and stay connected with us here.