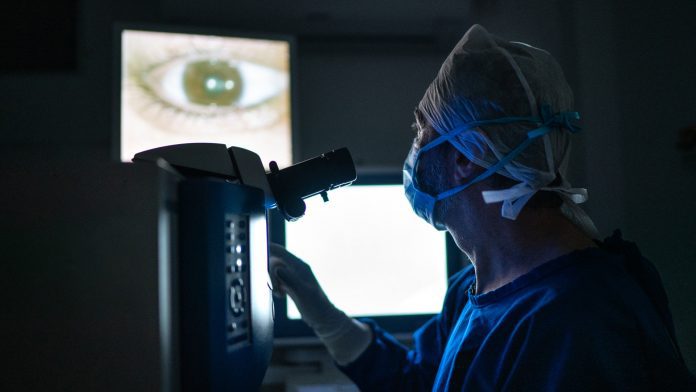 Aston University and Rayner Intraocular Lenses Limited (Rayner) have worked together to develop a new generation of intraocular lenses that will give patients a high-quality full range of vision without the need to use spectacles.
Raynor Intraocular Lenses, a Worthing-based company that also design and manufacture ophthalmic medical devices such as delivery systems and eye drops, used the Knowledge Transfer Partnership (KTP) to access the University's unique sector-leading expertise and facilities.
A KTP is a three-way collaboration between a business, an academic partner and a highly qualified graduate, called a KTP associate. The UK-wide programme helps businesses improve their competitiveness and productivity through the better use of knowledge, technology and skills. Aston University is the leading KTP provider within the Midlands.
Revolutionising Intraocular lenses
Aston University's expertise assisted with the delivery of mechanical lens stretching device and ex-vivo model that plays a central role in the long-term strategy of the company.
The project exceeded its initial scope and was assessed as outstanding by Innovate UK, the highest possible accolade. Key outcomes of the KTP have seen the development of a lens-stretching device that mechanically mimics the focusing mechanism of the human eye and the development of an artificial capsule module required for testing and operating the new lenses. The creation of the artificial module has removed the need to use human or porcine alternatives, which would require surgical preparation.
The lens-stretcher system required specialistic knowledge to build algorithms to activate and control the movement characteristics of its motor, such as speed, acceleration and duration. The unique apparatus also required the design and manufacture of bespoke parts through 3D printing – both the automation and design capability formed knowledge that was new to the company at the beginning of this project.
KTP programme
Otavio Gomes, research programme manager, Rayner Intraocular Lenses, said: "The KTP programme is a great opportunity to join forces to explore challenging elements of science-driven developments.
"We could not be more satisfied with the whole experience with this KTP project and are proud of what we have achieved so far."
Professor James Wolffsohn, Head of School of Optometry, Aston University, said: "This KTP programme has taken a long-running relationship between Rayner and Aston University and raised it to a new and exciting level of innovative collaboration.
"The KTP associate has flourished through the developmental opportunities and has been employed by the University to continue the collaboration."
The KTP has led to the submission of two academic publications and the development of a unique intraocular lens testing rig. The project outcomes will also be integrated into Aston's curriculum, enabling future graduates to understand the cutting edge of future ophthalmic innovation.
Recommended Related Articles