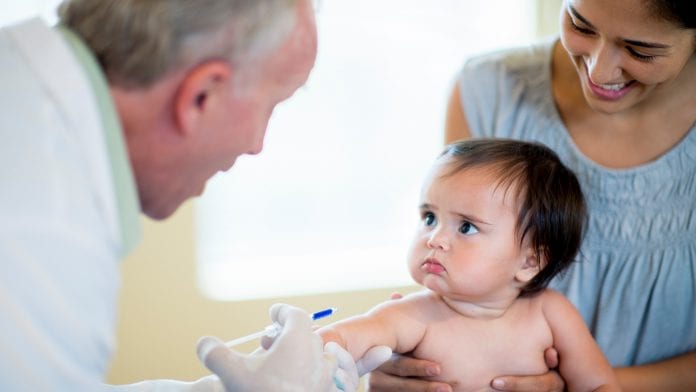 A recent global rise of measles has seen a number of American states declare a state of emergency and the World Health Organisation (WHO) has highlighted the antivaxxers threat to global health as more and more parents are choosing not to vaccinate their children.
More recently, the new British prime minister, Boris Johnston, has said the UK will be taking a firm stance against antivaxxers, ordering urgent action to ensure children and young people are vaccinated following the rise of measles cases in the UK.
More than 230 cases of measles were reported in the UK during first quarter of 2019. This figure is slightly lower compared to the same quarter last year. As measles is highly infectious, anyone who has not received two doses of MMR vaccine is at risk, particularly unvaccinated people travelling to countries where there are large outbreaks of measles.
Outbreaks in the community
The recent rise of measles cases are primarily occurring in under-vaccinated communities, particularly those with links to other countries with ongoing measles outbreaks. There has also been some spread into the wider population, such as those who may have missed out on the MMR vaccine when they were younger.
Dr Mary Ramsay, Head of Immunisation at Public Health England said: "Measles can kill and it is incredibly easy to catch, especially if you are not vaccinated. Even one child missing their vaccine is one too many – if you are in any doubt about your child's vaccination status, ask your GP as it's never too late to get protected. There are measles outbreaks happening across Europe so if you are planning to travel, make sure you check with your GP and catch-up if needed.
"We continue to work with NHS England on how we can make it as easy as possible for parents to access vaccines so that they can offer their children the best possible start in life.
Calling on social media companies
Both the British Prime Minister and the Chief Medical Officer for England have encouraged parents to ignore the "fake news" about vaccines and Johnson is now calling a summit of social media companies to discuss how they can play their part in promoting accurate information about vaccinations.
Speaking late last year to the BBC, Professor Dame Sally Davies, Chief Medical Officer for England, said the MMR vaccine was safe and had been given to millions of children worldwide but uptake was currently "not good enough".
She said: "A number of people believe these myths – they are wrong. Over these 30 years, we have vaccinated millions of children. It is a safe vaccination – we know that – and we've saved millions of lives across the world. People who spread these myths, when children die, they will not be there to pick up the pieces or the blame.
"Vaccines are among our most important weapons against many infectious diseases. We must do more to increase uptake."
Scaling up responses to the rise of measles
Earlier this year the WHO began scaling up its response to the ongoing measles outbreaks in the European Region, including by creating an operational platform to accelerate its support to affected countries.
The decision followed an assessment of the measles situation in the Region. It was based on the growing number of children and adults affected by and dying from the disease, and the persistence of pockets of non-immunised or under-immunised individuals in many countries fuelling the continuing spread of measles.
Since 1 January 2018, 47 of the 53 countries in the Region have together reported over 100,000 measles cases and over 90 measles-related deaths. WHO has been supporting them over time to improve their immunisation coverage and tackle disease spread. However, as the rise of measles continues to circulate across countries, more needs to be done.
Dr Dorit Nitzan, Acting Regional Emergency Director at the WHO Regional Office for Europe said: "We have observed an unprecedented upsurge in people sick with this preventable disease, and too many have lost their lives to it. This is unacceptable and we need to be bolder and scale up our response to the next level. I am proud to see that different parts and levels of WHO are intensifying their combined efforts to stop these outbreaks."