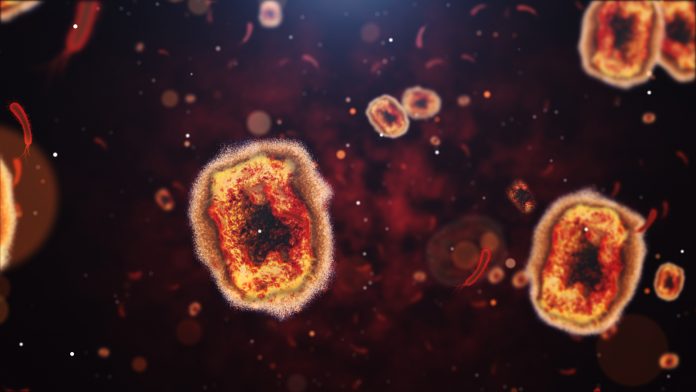 Health Europa Quarterly explores the origins of the monkeypox virus which has been dominating headlines in recent months following an uptick in cases.
Since May 2022, the viral disease known as monkeypox has been reported to be spreading through countries where the disease is not endemic. The rise in cases of monkeypox has caused some alarm and uncertainty as health authorities act to control the virus. Digital editor, Rian Overy explores the origins of the disease and how health authorities are addressing the recent spike in cases.
What is monkeypox?
Monkeypox is a viral zoonosis, meaning it is transferred to humans from animals. Symptoms can include fever, headache, muscle aches, back pain, low energy, and swollen lymph nodes; often these are accompanied by a rash which can last for up to three weeks.
Monkeypox can also cause large lesions on the skin, often found in the mouth or on the genitals, this can make it difficult to differentiate from other diseases. Before the current outbreak, 1-3% of untreated people died from the infection. Cases in children and immunocompromised people tend to be more severe.
Origins of the monkeypox virus
The first case of the monkeypox virus was discovered in 1958. Two outbreaks of a pox-like disease were found in a colony of monkeys that were being kept for research. This is how the disease got its name; however, its original source is unknown.
The monkeypox virus was first observed in a human in 1970. Prior to the recent outbreak, most cases were restricted to western African countries, most of these cases were linked to international travel to countries where the disease is commonly found as well as the importing of animals.
Until 2022 a major international outbreak of the monkeypox virus had been avoided. Initially, a cluster of cases was found in the UK, the first detected on May 6 2022 in a man who had recently travelled from Nigeria.
From 18 May 2022 cases began to spread quickly across the globe. Cases were soon identified in North and South America, Asia, Africa, and Oceania.
Cases in gay and bisexual men
Most cases of the monkeypox virus across the world have been found in gay and bisexual men and other men who have sex with men (MSM). Unfortunately, this has created a stigma around the condition.
The World Health Organization (WHO) have stated that: "With the outbreak continuing in Europe, providing factual information on where the virus is spreading, without judgement, is critical to helping individuals take action to lower their risk of exposure. While it is important to avoid any stigma and discrimination against the communities affected, the most affected groups – currently MSM – need to be involved in solutions to stop its further spread, and not excluded."
According to a study from Queen Mary University of London, 95% of monkeypox infections are spread through sexual contact. An estimated 95% of participants with monkeypox developed a rash, mostly around the genitals. Around 41% of participants had sores inside the body, including in the anus and mouth.
As well as sexual contact, monkeypox can be spread through contact with bed sheets, towels and fabrics that have come into contact with the infected sores. The virus can survive on surfaces for several weeks.
The disease has caused distress among some men who have sex with men. "Initially, I wasn't too worried, because I thought that you had to have travelled to one of the countries where the disease is endemic. But then as I heard more, I realised this wasn't the case – it was spreading among people without any history of travel to Africa. That really made me sit up and take notice, particularly as in Europe the cases were mainly being found among gay men and it was being spread through having sex", said John, 52 from London when speaking to the WHO.
What is being done to treat monkeypox?
There are currently no treatments specifically for the monkeypox virus. However, the viruses that cause monkeypox and smallpox are similar, meaning antiviral drugs developed to protect against smallpox may be used to treat monkeypox.
Some countries have offered vaccination to gay and bisexual men who are sexually active. Research has suggested that, if used prior to exposure, the vaccine can provide up to 85% protection against infection.
If administered between four and 14 days after exposure to the virus, the vaccine may reduce symptoms.
TPOXX treatment
Tecovirimat, also known as TPOXX or ST-246 is an approved treatment for human smallpox. However, TPOXX has not been approved for other orthopoxviral infections, including monkeypox. In some countries such as the US and UK, TPOXX is subject to investigational protocols, often referred to as compassionate use. This means TPOXX may be used for primary or early empiric treatment on non-variola orthopoxviral infections such as the monkeypox virus.
A clinical trial of TPOXX is currently underway at the University of Oxford and is due to be completed by December 2022. The randomised, placebo-controlled trial will examine the efficacy and safety of TPOXX on hospitalised monkeypox patients.
"We need definitive evidence that tecovirimat is safe and effective. Although the early data on tecovirimat are promising, only a randomised clinical trial will provide the level of evidence we need to treat patients with confidence. This study will provide that evidence," said Professor Sir Peter Horby, Professor of Emerging Infections and Global Health at the University of Oxford and the Director of the new Pandemic Sciences Institute.
In the trial, participants will be randomly assigned either a 14-day course of 600mg tecovirimat twice daily or a placebo. The study is aiming to examine at least 500 participants across the UK.
The researchers will assess the rate of healing of monkeypox-induced skin and mucosal lesions. The researchers will also consider the time taken for throat and lesion swabs to test negative for the virus. The proportion of patients who require hospitalisation for complications of the disease will also be considered.
"This government-funded study is an important step to finding a treatment which can help speed up the recovery of those who have monkeypox. Vaccines remain our best defence against the spread of the monkeypox virus – we urge all those eligible to come forward when contacted, and report any symptoms to NHS 111," said Minister for Public Health, Maggie Throup.
Government handling of the virus
Currently, England's national health service (NHS) can only provide treatment to relieve the symptoms of monkeypox. The NHS advise that symptoms are usually mild and most people will recover without treatment after a few weeks. However, according to the NHS people with severe symptoms should seek hospital treatment. People who have suspected symptoms of monkeypox are also encouraged to self-isolate.
Overall, cases in the UK have been kept to manageable levels. The most recent government statistics estimated there has been a total of 3,654 cases of monkeypox in the UK to date. However, some uncertainty remains over the future of the disease.
It has been reported that the UK secretary for Health and Social Care, Thérèse Coffey declined the opportunity to secure 70,000 vaccine doses for monkeypox in October, despite strong recommendations from the UK Health Security Agency (UKHSA). The UK has purchased vaccines in response to the outbreak; however, some have criticised the lack of a long-term plan from the government.
The UKHSA has identified 110,000 gay and bisexual men who are at high risk of infection, 70,000 of whom are yet to be vaccinated. While the UK does have enough doses to vaccinate these men, health authorities such as the UKHSA believe more vaccines will be needed to treat those who are next in line to effectively protect the population from the disease.
References
This article is from issue 23 of Health Europa Quarterly. Click here to get your free subscription today.
Recommended Related Articles