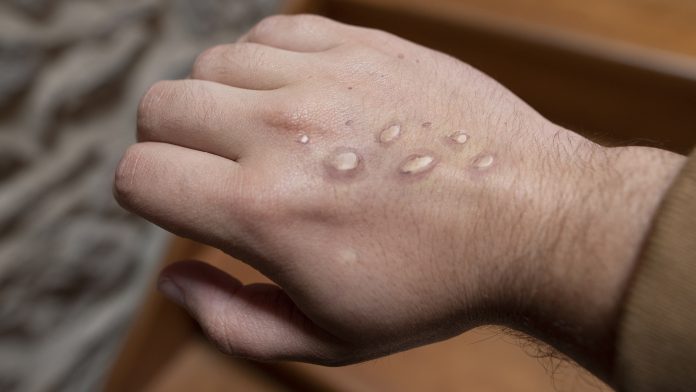 A study will investigate a potential treatment for monkeypox that could help speed up recovery in those who develop the disease.
Monkeypox is typically found in west and central Africa; however, in 2022, outbreaks were recorded across the globe, including in the United Kingdom. This sparked global interest in developing new treatments for monkeypox to tackle the symptoms such as rash, fever, and muscle ache.
Whilst vaccines are available to treat smallpox, the family monkeypox originates from, which could reduce the risk of monkeypox infection, there are no other therapeutics. Now, the University of Liverpool will carry out a Placebo-controlled randomised trial of tecovirimat in non-hospitalised monkeypox patients (PLATINUM) study to test the effectiveness and safety of the medication.
What is tecovirimat?
Tecovirimat is an antiviral treatment originally developed for smallpox and works by preventing the virus from leaving infected cells and stopping its spread within the body. It was licensed earlier in 2022 by the Medicines and Health products Regulatory Agency (MHRA) as a treatment for monkeypox based on exciting results from initial studies in animals and evidence of safety in healthy human volunteers.
It is currently used as a treatment for monkeypox patients suffering severe complications in hospitals. However, there have been no clinical trials to confirm whether this treatment for monkeypox helps patients recover.
The University of Liverpool's Professor Calum Semple OBE said: "Monkeypox is a deeply unpleasant and painful disease which often leaves people with scars on their skin and can cause death in susceptible individuals. We are fortunate in Liverpool to have experts such as Professor Neil Blake, who is experienced in handling poxvirus, and Professor Bill Greenhalf and myself who have experience in the logistics of collecting and processing data and samples collected during outbreaks of serious infectious disease."
Trialling a new treatment for monkeypox
The PLATINUM participants will be randomly allocated to receive a 14-day course of 600mg tecovirimat twice daily or a matched placebo treatment. It will be a community-based trial, with participants taking the treatment or placebo in their homes.
Eligible participants will be identified following a clinical assessment and laboratory confirmation of monkeypox infection as part of routine NHS care. The study aims to recruit 500 participants from across the UK requiring treatment for monkeypox.
The researchers will monitor how quickly the skin and mucosal lesions heal to understand if tecovirimat helps patients recover faster. It will also assess the time taken until throat and lesion swabs test negative for monkeypox virus and the proportion of patients who require hospitalisation due to complications from the disease.
Minister for Public Health Maggie Throup said: "This government-funded study is an important step to finding a treatment which can help speed up the recovery of those who have monkeypox. 'Led by the same experts behind the world-leading COVID-19 RECOVERY trial – which developed ground-breaking treatments for patients – this new monkeypox treatment trial will test the effectiveness of the antiviral tecovirimat in fighting the disease. 'Vaccines remain our best defence against the spread of monkeypox – we urge all those eligible to come forward when contacted and report any symptoms to NHS 111."
Recommended Related Articles