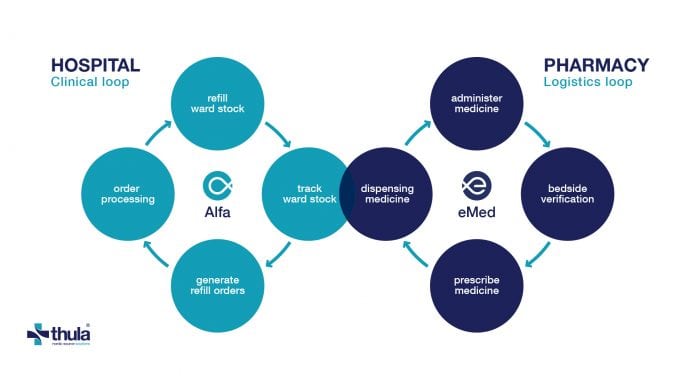 Thula-Nordic Source Solutions explains how it is taking charge of medicine management through innovative technologies.
Thula-Nordic Source Solutions is a dynamic software product development and consulting firm with special expertise and broad experience in the field of healthcare software solutions and integrations. Our mission is to provide first class IT services to the healthcare sector, based on our extensive experience and proven track record in delivering successful projects.
Thula is a privately held company based in Iceland and was originally founded in 1988 with a focus on IT services. In 2011, Thula recruited several key consultants from the well-established solution provider Theriak, with the dual ambition of extending their unique expertise in the Norwegian healthcare market and healthcare informatics in general.
Thula's main office is located in Akureyri, Iceland, with a smaller office in Oslo, Norway. As of 2018, Thula operates with 20 full-time specialists, which is triple the headcount of 2011.
The team consists of healthcare informatics professionals with extensive experience in implementing e-health solutions throughout Europe. Thula is operating with a solid customer base in Norway and Iceland and is currently expanding into new geographies.
Overcoming industry challenges
Drug management inefficiency leads to large increases in cost, patient risk and drug waste
Pharmacy operating costs are one of the largest in a hospital's budget. Pharmaceuticals account for 20% of overall health care expenditures across OECD (Organisation for Economic Co-operation and Development) countries, but they do not always add value for patients.1 For this reason, any inefficiencies in the way drugs and pharmaceuticals are managed can be extremely costly in today's strained healthcare systems.
Pharmacies need to efficiently integrate a large number of components from the clinical and logistic loops, which range from:
Handling e-prescriptions;
Preserving drug stocks;
Budgeting;
Interacting with suppliers; to
Tracking drug deliveries to patients.
Lack of optimisation can lead to vast expenditures and safety issues that ultimately affect the healthcare services provided. Current technology often relies on distinct, independent systems for medicine management at the hospital ward – utilised in prescribing, dispensing and administering drugs – and the hospital pharmacy – involved in interaction with suppliers and distributors, stock logistics, orders or financial tasks. Inefficiencies in these two loops can result in wasted time for healthcare personnel, waste of unused and outdated medicines, drug shortages because of poor planning or errors in prescription and dispensing.
Award winners in healthcare technologies
Thula has recently been honoured with national and international awards, including:
Deloitte: Thula's solid solutions and reliable delivery were recognised in 2015 when Thula topped the Technology Fast 50 list, compiled by Deloitte in Iceland. That same year, Thula was listed in 20th place on Deloitte's EMEA Fast 500 list;
The European Business Awards: Thula was the National Champion for Innovation in the year 2016-2017; and
The Icelandic Technology Fund (Rannis): Rannis manages international co-operation
programmes and national funds in the field of research and innovation. Rannis co-ordinates Icelandic participation in European programmes, such as the EU's Framework Programme
for Research and Innovation (Horizon 2020), promotes the programme in Iceland
and manages National Contact Points for the programme. Rannis has supported the introduction of our products to the Icelandic market through a three-year innovation project.
The Thula solution
In co-operation with innovative customers, we have developed the software products Alfa and eMed: Alfa supports processes in the medication logistics loop within healthcare organisations and eMed is tailored towards the clinical loop, supporting
e-prescriptions, dispensing and administrations.
Thula is currently planning further development for the two products, introducing new and improved features, and preparing for entering the European market by supporting regulations, such as the Falsified Medicines Directive.
GS1 barcodes will be used to improve tracking and we will support distributers in delivering products straight to clinical wards, whilst targeted workflows will be supported on mobile devices. Furthermore, we will extend eMed to support more complex clinical workflows, as well as supporting large-scale cloud deployment of both products.
In the process, the two loops mentioned above – the logistics and clinical loop – will be joined to form a modular, closed loop, medicine management solution. This project has the codename MØBIUS and it is a major step forward in capabilities and a unique opportunity in commercialisation and internationalisation. Thula is in the process of seeking support for MØBIUS through the EU's Horizon 2020 programme for product development and market entry.
The MØBIUS e-health solution for medication management
In a single, integrated platform, MØBIUS brings together our breakthrough Alfa and eMed technologies, where electronic prescriptions can drive patient-specific dispensing and drug transactions are shared across all systems involved, including financial systems, stock management systems and dispensing units.
MØBIUS provides extensive support for important medication processes not covered by existing systems, even with custom integrations. In the pharmacy, it can handle different stock systems, ranging from manual stock picking to automated unit- or multi-dose robots. In wards, MØBIUS can handle different dispensing mechanisms, ranging from traditional (manual) shelf-based systems to automated dispensing cabinets or third-party dispensing.
Based on detailed tracking and statistics on drug usage, MØBIUS manages the whole drug flow and ensures that the hospital wards have the right drugs available in the optimal quantity at any given time. By implementing MØBIUS, the pharmacy gets a 100% overview of the whole environment it is serving, which results in reduced costs, better collaboration and increased safety, efficiency and traceability.
Delivering quality medicine management
Automated labour-intensive operations
Through automated refill orders, the pharmacy streamlines the workflows used in processing ward orders. Orders are timely and accurate and based on pre-defined parameters to optimise stock levels at any given time. Therefore, ambiguity and human errors are taken out of the equation. Subsequently, this greatly reduces the time spent on chasing incomplete, incorrect or ambiguous orders. One such counterproductive incident can easily cost 30-60 minutes to fix and there can be many of these incidents in one day. MØBIUS allows major time savings for both pharmacy and hospital wards.
Delivering a full overview for pharmacies
From one dashboard, a pharmacist can get a full overview of all ward orders and orders can be adjusted easily, such as making generic substitutions and adjusting packet sizes. MØBIUS order processing support is designed with the aim of saving time and increasing security in the pharmacy. Through MØBIUS, the pharmacy gets a unified and transparent platform to manage the entire drug supply chain, regardless of the technology used for stock management or drug dispensing. Ultimately, our technology leads to decreased expiration-related waste.
Collaboration is made easy and efficient
By using MØBIUS, the pharmacy and the wards can exchange relevant information in a structured manner. The pharmacy can make structured notifications to hospital wards about specific orders, generic substitutions or other adjustments made to an order. Furthermore, the wards can send structured order-related messages to the pharmacy, considerably reducing the time needed on traditional communication via e-mail, phone or paper forms.
Extensive support for pharmacy processes
In cases where a pharmacy does not have a product in stock, it can easily do a global search across all organisations, and all wards it serves, to identify if there are products available elsewhere to bridge the gap until it receives a new shipment from wholesalers. It is common for pharmacies to periodically seek better prices from wholesalers by tendering for parts of the formulary. With MØBIUS, the pharmacy gets extensive support to ensure that older products are used before the new ones enter into circulation and, therefore, minimises unnecessary expiration.
Increased security
Every order can be traced, every barcode can be tracked and all user actions leave an audit trail. With MØBIUS, medications are available at any time and wherever needed.
Designed for integration
Our solutions are designed to be seamlessly integrated with third-party solutions, including:
Stock control systems;
Financial systems;
E-prescribing systems; and
Dispensing robots or third-party dispensing software.
This flexibility brings great opportunities to our customers and is an important feature since it facilitates a best-of-breed approach as an alternative to a one system, monolithic approach.
Proven technology
MØBIUS is being designed for high availability, scalability and failover. It can therefore be deployed in small settings, but also in larger settings which contain a number of pharmacies and hospitals. With MØBIUS, customers can start small and scale up the infrastructure, if needed.
Reference
OECD (2017), Tackling Wasteful Spending on Health, OECD Publishing, Paris, France.
Garðar Már Birgisson
Business development
Thula – Nordic Source Solutions
+35 4 865 9000
gardar@thula.is
http://www.thula.is
This is a commercial article that will appear in Health Europa Quarterly issue 6, which will be published in August, 2018.
Recommended Related Articles