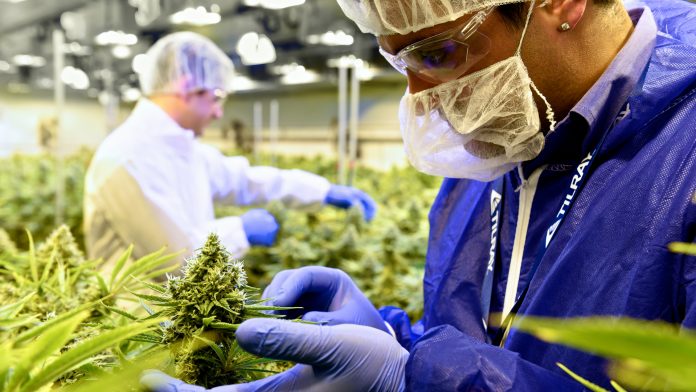 Discover how licensing and certification will enhance Tilray's capacity to export medical cannabis from Portugal to Germany, other EU member states and international markets.
Tilray, a global pioneer in medical cannabis research, cultivation, production and distribution, announced that its wholly-owned subsidiary Tilray Portugal has received a standard manufacturing license and a Good Manufacturing Practices (GMP) certification, in accordance with the European Medicines Agency's (EMA) standards, for its Biocant Park manufacturing facility in Cantanhede, Portugal.
This license and certification allow Tilray Portugal to manufacture and export GMP-certified dried cannabis as an active substance for medicinal products.
Tilray's capacity to serve international markets
Tilray has established sales and distribution arrangements to supply medical cannabis through major pharmaceutical distribution channels throughout Germany and the European Union (EU). This license and certification further enhance Tilray's capacity to serve international markets such as Germany and other EU member states, as well as non-EU jurisdictions that recognize EU GMP certification.
Tilray's EU Campus in Portugal is a multi-faceted production facility that includes indoor, outdoor and greenhouse cultivation sites; research and quality control labs; as well as processing, packaging and distribution sites for medical cannabis and cannabinoid-containing medical products.
Ramping up production of cannabis
To date, Tilray has invested approximately €20 million in the facility, which totals nearly 250,000 square feet with additional room to expand. The site also serves as a hub supporting Tilray's clinical research and product development efforts across Europe.
The Tilray EU Campus currently employs over 100 people, and that number is expected to double by the end of 2019, with production ramping up and multiple harvests anticipated in the coming months. An official ribbon-cutting ceremony celebrating the inauguration of Tilray's EU Campus was hosted in April 2019.
Serving more patients in need
Sascha Mielcarek, Managing Director, Europe, said: "This licensing and certification marks a critical milestone for our growth in Portugal and Europe. We're proud to increase our international export capacity and are looking forward to exporting dried cannabis as active substances from our EU Campus to legal jurisdictions in the EU and other international markets."
"The next phase of GMP certification will allow us to utilise the full capacity of our multi-faceted facility and continue to serve more patients in-need."
Recommended Related Articles