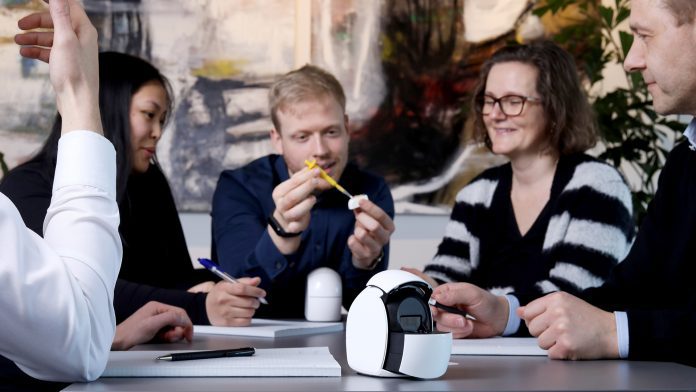 Egoo.Health Platform is transforming testing for biomarkers with their diagnostics device, which delivers everyone from ordinary people to healthcare professionals, the opportunity to monitor health. Jakob Broberg Lind, Director of Sales discusses the Egoo.Health Platform and how it will revolutionise healthcare.
Q life Holding AB is a med-tech group that strives to revolutionise the market for clinical biomarkers and virus tests. The company was formed in October 2019 and received the certification ISO 13485:2016 the same year, meeting all requirements for the manufacture and sale of in-vitro diagnostic analysers and reagents. The Egoo.Health Platform was developed, and the first capsules were CE marked for professional use in early 2020.
The Egoo.Health Platform is an integrated platform with a measuring instrument with disposable capsules and software, where each capsule contains a test for specific biomarkers or virus. The system can be used in the laboratory, in point of care environments and eventually in the home. Health Europa spoke to Director of Sales, Jakob Broberg Lind, to find out more about the Egoo.Health Platform.
What was the vision that brought about the formation of the company?
Our vision is taking testing for biomarkers out of professional laboratories and into the private homes of everyone, putting the power of information about your own health into the hands of people themselves.
Currently, you cannot choose to get medical tests done, doctors and other healthcare professionals decide what tests can be performed and whether there is the capability to do so. The Egoo.Health Platform allows ordinary people to test themselves based on their symptoms and receive results that are straightforward. Our aim is to democratise the information about your own health and put it into the hands of everyone.
At the same time, we want to free up resources from the healthcare system, which is under huge pressure because of demographic development. With a system like this, there's no need to take time from healthcare workers to take a sample from you, then analyse it in a laboratory and share those results with your doctor, the average person can do this from home. We want to make it available for everyone by being affordable and accessible, because of this, the Egoo.Health Platforms price point is comparable to a new smartphone. The system is also platform based – you have one machine and then you have several different tests that can be run on the same gene.
We currently have the CE mark for professional use, meaning we can sell within clinical segments like hospitals and clinics where healthcare staff are employed but we are aiming to enter the consumer market in the next few years.
Can you give an overview of Egoo.health Platform?
The Egoo.Health Platform is currently capable of COVID-19 testing. It works by using an oral throat or nose swab, the tip of the swap stick will enter the transport medium vial to mix the potential virus particles into the transport mediums liquid. Then, the liquid will be transferred into the pipette and added into the Egoo Lysis Buffer vial to open the virus to allow access to the DNA material inside the virus. The sample will be injected and delivered into the capsule then inserted into the Egoo instrument to be analysed.
Once this stage is complete, the Egoo Clinical Application, which is available on PC or laptop, can start the diagnostic process. You will scan the sample ID to establish who is having the test made, then the QR code on the capsule will be scanned to start the analysing process of the swab. The system is linked to the cloud and the prescription of that specific test is stored in the cloud, and when the QR code is scanned, it will download instructions for how that test should be processed and analysed. For example, the temperature, how much and how often it should be shaken to ensure the biomarkers are correctly measured. Specifically, with the COVID-19 test, it will measure fluorescence development throughout the process, which only occurs if that particular virus gene is present. The raw data is sent back to the cloud to calculate to establish if the viral genes were present and it sends the results back to the Egoo Clinical Application.
The advantage of this system is the simplicity of introducing a new capsule to the market as we can upload the instructions to the cloud and introduces further opportunities to test for additional biomarkers.
This is for clinical practice only, for the use of healthcare professionals but we are aiming to streamline the process to expand into consumer markets and expand our application to tablet and mobile phone devices to allow at-home use.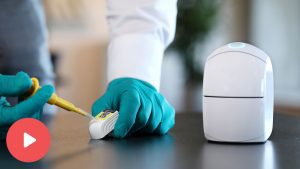 It has been estimated that there will be a major increase in deaths related to antimicrobial resistance (AMR). How can your platform help to mitigate this problem and what is the scale of this threat to the global health care system?
C reactive protein (CRP) is one of the biomarkers for inflammation and can be a sign of infection. Currently, in healthcare institutes, your blood will be tested, sent to the laboratory to be analysed and this process could take a few days. In the meantime, a doctor may prescribe antibiotics as a precaution to avoid symptoms worsening, however, you may not have an infection or antibiotics may not be the suitable choice for your condition. But with our system, once we have launched our CRP testing capsule, it can indicate within six minutes whether there is an infection, directly reducing the normal processing time. Therefore, mitigating unnecessary antibiotic prescriptions and allowing doctors to make calculated decisions based on the results. As a result, AMR rates will decrease as antibiotics will only be prescribed when required.
One of the threats to the global healthcare system is that it can be more dangerous to go to the hospital than staying at home because some of the more dangerous microbial diseases only exist in hospitals. They exist in these settings because of the development of antimicrobial resistance. It is causing a growing number of more deaths and decision making is often not based on enough facts because the necessary tools are not available or have the flexibility the Egoo.Health Platform has. Healthcare professionals are making medical decisions based on symptoms due to the time-consuming testing process, and prescribing antibiotics where it is not necessary. This can result in antimicrobial resistance and can make treating future conditions more difficult.
How do you foresee your platform being deployed in different care settings and who is the platform aimed at and how will it benefit them?
We are currently selling the Egoo.Health Platform to around 10-15 different countries, primarily in Europe to point of care organisations. For example, to general practitioners, emergency departments, hospital wards, elderly care homes and in homes along with, more remote locations with reduced healthcare options. The only requirement for our device is an internet connection, therefore, the scope is broad. We are currently working with a German company in the shipping industry and placing the Egoo.Health Platform on container ships and oil rigs for COVID-19 testing in remote locations, where access to healthcare is limited.
Another example of deploying the platform in a different care setting is at home. If a family member is showing symptoms for an infection, you can quickly and easily take a test, from the comfort of your home and then, decide whether you need to go to see a doctor.
When we are at the stage where have many different test capsules, the platform will be useful for everyone. It can be anything from vitamin level measurement to testing stress hormones and understanding your hormone cycle. More specifically, there's a disease called Phenylketonuria (PKU), where you have inherited genetic faults and as a result, you are unable to break down the amino acid phenylalanine which can lead to brain damage. It is diagnosed at birth, and concentration levels need to be monitored throughout life and strict diet plan will be necessary. The problem is you need that amino acid along with 20 others to build proteins. This group of affected individuals will benefit from our platform as you can regularly monitor these concentration levels at home.
Another customer segment we have are businesspeople where time is the essence of their jobs, especially in the COVID-19 pandemic. To be able to test quickly and effectively so they can continue to travel and go to meetings. The market we have in Sweden is focused on travel certificates and we are working with clinics to offer fast access to COVID-19 test results to permit travelling, issued by the Swedish authorities.
Furthermore, COVID-19 has shown how fragile the healthcare sector is and it has highlighted how the sector needs to be smart with the way they spend their time with patients. Value-based healthcare is essential, and our platform allows the consumer to get the healthcare answers they require from home and monitor the development of their conditions.
How do you hope Egoo Health will develop in the future and are there any other products or capsules that you have in the pipeline?
Firstly, we want to develop tests for chronic disease biomarkers, available in clinical settings for healthcare professionals and then we would like to expand into clinical retail such as self-screening health kiosks to allow communities to test for biomarkers and understand existing conditions flexibly and quickly without a doctor's recommendation. Following this, we would like to be private homes as a consumer product within the next few years. We envision that ordinary people can purchase our device and capsules from pharmacies or from an online store, for example. We are aiming high by offering the same clinical quality as you would receive in a hospital or clinic and backing it up with clinical-grade data but from the comfort of your home.
Our business model will introduce a consumer-friendly mobile app where you can purchase capsules based on yourself and your family's needs. The app will offer a service where you can enter details about your health and the app will guide you with what variety of capsules you need. However, our platform is based on data, it is not medical advice, but the consumer can use their data to make informed decisions with their healthcare provider.
We have recently received a grant for a project from FIND, the global alliance for diagnostics, backed up by the World Health Organisation (WHO) and the Gates Foundation where we are going to develop a combined capsule for the detection of biomarkers found in SARS-CoV-2, influenza A and B viruses. This will specifically be developed for low to middle-income countries, where it is important to quickly find out whether it is one of the three diseases or if it is a bacterial infection. Resulting in the correct treatment plan to be assigned, which will consequently help to limit the development of future pandemics.
Special Report Contact Details