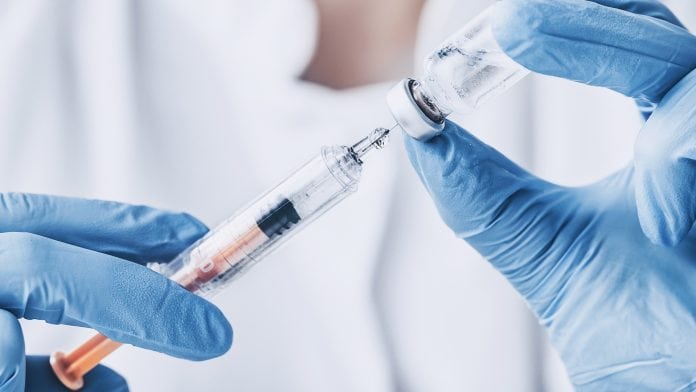 A phase one trial for the world's first multivariant COVID-19 booster vaccine has been launched in Manchester.
Initiated by pharmaceutical company Gritstone, in partnership with The University of Manchester and Manchester University NHS Foundation Trust, the drug is intended to boost the immune response of the first-generation of COVID-19 vaccines to protect against a range of variants of the SARS-CoV-2 infection which causes COVID-19.
The trial of the vaccine, called GRT-R910, will take place at the National Institute for Health Research Manchester Clinical Research Facility (NIHR MCRF) at Manchester Royal Infirmary, and will be delivered by the Research and Innovation Vaccine Team.
The trial will initially recruit 20 volunteers over the age of 60 and the data from this evaluation of the vaccine is expected to be released in the first quarter of 2022. Results from the preclinical studies leading up to the development of the vaccine will be jointly published by Gritstone and the National Institutes of Health later in the year.
SAM vaccines and how they work
The GRT-R910 drug is a self-amplifying mRNA (SAM) second-generation SARS-CoV-2 vaccine, which delivers antigens from both the spike and non-spike proteins.
Gritstone hopes that the SAM vaccines could help to lower the number of vaccine doses needed or eliminate the need for repeat administrations – with the potential to safely drive strong, durable and broad immune responses across SARS-CoV-2 variants.
The vaccines work by inducing special immune cells (CD8+ T cells), an important arm of the body's immune response to viruses, as well as antibodies that can neutralise the virus and prevent it binding to and infecting cells. Its creators hope that this will offer the potential for robust and persistent immunity, which includes at-risk and older populations.
Andrew Allen, Co-Founder, President and Chief Executive Officer of Gritstone, said: "Our SAM COVID-19 vaccine is designed to drive robust CD8+ T cell responses, in addition to strong neutralising antibody responses, offering the promise of longer-lasting immunity.
"Since viral surface proteins like the spike protein are evolving and sometimes partially evading vaccine-induced immunity, we designed GRT-R910 to have broad therapeutic potential against a wide array of SARS-CoV-2 variants by also delivering highly conserved viral proteins that may be less prone to genetic variation in the virus.
"Our hypothesis is that a different vaccine, such as GRT-R910, might complement the primary immune response from pre-existing vaccination with a first generation COVID vaccine in such a way that it would provide more benefit than an additional dose of the same vaccine."
Professor Andrew Ustianowski, who is Clinical Lead for the NIHR COVID Vaccine Research Programme, Consultant in Infectious Diseases and Tropical Medicine at North Manchester General Hospital (part of MFT) and Honorary Clinical Chair at The University of Manchester, will be the local lead investigator for this study. Professor Ustianowski is Chief Investigator for the study and MFT is the chief site.
Professor Ustianowski said: "We now know the immune response to first-generation vaccines can wane, particularly in older people. Coupled with the prevalence of emerging variants, there is a clear need for continued vigilance to keep COVID-19 at bay.
"We think GRT-R910 as a booster vaccination will elicit strong, durable, and broad immune responses, which are likely to be critical in maintaining protection of this vulnerable elderly population who are particularly at risk of hospitalisation and death."
The study will examine dose, safety, tolerability, and immunogenicity of GRT-R910 at two dose levels at least four months after the second administration of their initial vaccine.
GRT-R910 is also being investigated as part of a US National Institute of Health sponsored Phase 1 study.
Recommended Related Articles