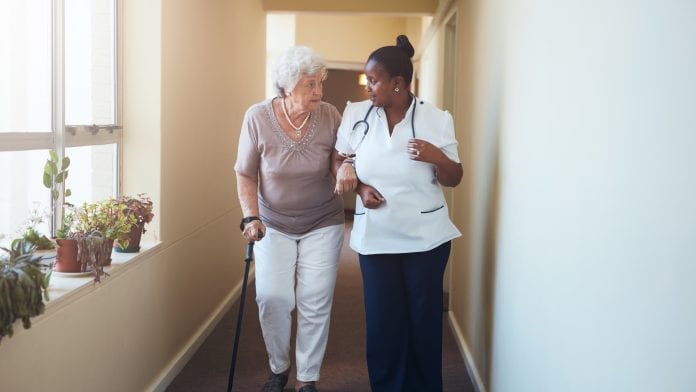 The UK Government has confirmed that a new social care sector taskforce has been set up, and testing is to be rolled out across all care homes in England for both residents and staff, even if they do not have symptoms.
The UK Government has set up a social care COVID-19 taskforce to help the sector control the spread of the virus, and 'whole home' testing is now set to be available for all care homes across England. This includes adult care homes for the under 65's and those catering for people with learning disabilities or mental health problems.
COVID-19 UK testing
The government figures show that it has so far provided 1,071,103 test kits to 8,984 care homes, and it says it is now able to send out over 50,000 test kits a day.
The new taskforce aims to tackle the spread of the infection in the social care sector and will include representative from across the government care sector, helping to oversee the implementation of the government's social care action plan and care home support package.
Health and Social Care Secretary, Matt Hancock said: "From today all remaining adult care homes in England will be able to order the whole care home testing service for residents and staff. This service will benefit residents and staff in over 6,000 more care homes.
"It will mean that right across the care home sector everyone will have the certainty and confidence of a high quality coronavirus test, whether symptomatic or not, certainty about whether or not they're carrying the virus and confidence that they are doing the right thing both to protect themselves and others."
Professor Martin Green OBE, Chief Executive, Care England: "Care England welcomes the announcement of whole home testing which will help care provides to identify who is COVID-19 positive and we will be able to support people appropriately."
Helping with care sector infection control
Up until now, testing was only available for those in care homes for the over-65s and for those caring for people with dementia. Now specialist learning disability and mental health care homes will also be included.
Minister for Care, Helen Whately said: "Care homes are on the frontline in the fight against COVID-19 and we are determined that staff have everything they need to keep themselves and their residents safe. Opening up whole care home testing to the whole social care sector, regardless of symptoms, means we can prevent and control outbreaks and protect the most vulnerable.
"Former president of ADASS and Director of Adult Social Care of DHSC, David Pearson has been appointed independent Chair of the Social Care Sector COVID-19 support taskforce which will oversee delivery of infection control measures as set out by the care home support package, backed by £600 million from the government, delivery of testing programmes and effective deployment of the workforce."
David Pearson CBE, Chair of the Social Care Sector COVID-19 Support Taskforce said: "The social care sector is on the frontline of our coronavirus response. This taskforce will support the service by overseeing the delivery of the Social Care Action Plan and the Care Homes Intensive Support Package.
"This will play an important part in ensuring we are doing everything we can to reduce the risk of transmission of COVID-19 in the sector, both for those who rely on care and support and the social care workforce."
David Pearson CBE is the former President of ADASS and the social care COVID-19 lead for the NHS.
Online testing portal
An online portal has been created which care home providers can access to order tests for their residents and staff. The Department of Health and Social care is contacting all care homes to encourage them to order tests.
Tests will also be available for asymptomatic workers as this will help to prevent and control outbreaks, and those who test positive can be isolated, reducing the number of people who can spread the virus and protecting the most vulnerable.