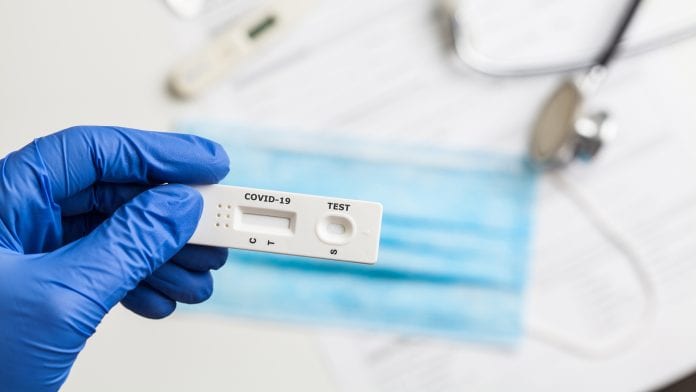 The UK will begin to roll out rapid and regular testing across the country for people without any symptoms of COVID-19 this week.
The UK's community testing programme has now been expanded to cover 314 lower-tier local authorities, which are being encouraged to test people who are unable to work from home during the lockdown period.
As around one in three people have the virus without any symptoms, the expansion will help to identify those who have COVID-19 who may pass it on.
Workforce and community testing
Alongside the NHS Test and Trace programme, local authorities will be working with government departments to scale up workforce testing, many of which are already testing workforces in food, manufacturing, energy, and retail sectors, as well as public sector workers.
Health Secretary Matt Hancock said: "With roughly a third of people who have coronavirus not showing symptoms, targeted asymptomatic testing and subsequent isolation is highly effective in breaking chains of transmission. Rapid, regular testing is led by local authorities who design programmes based on their in-depth knowledge of the local populations, so testing can have the greatest impact.
"We are now expanding this offer to every local authority across the country, and asking testing to be targeted on workers who cannot work from home during this national lockdown, while asking employers to work with us to scale up workforce testing. Lateral flow tests have already been hugely successful in finding positive cases quickly – and every positive case found is helping to stop the spread – so I encourage employers and workers to take this offer up. We must all do all we can to stop the spread of COVID, right now."
School staff and students in secondary schools and colleges, as well as primary school staff, will also be tested.
Business Secretary, Kwasi Kwarteng, said: "The safety of our workforce has been an absolute priority for this Government throughout the pandemic, and it has been incredible to see businesses go to extraordinary lengths to put the safety of their staff and customers first.
"With the expansion of asymptomatic testing for those unable to work from home, added to our comprehensive COVID-Secure guidance, we can keep our economy on the move while giving individuals in key sectors complete confidence that their workplace is safe. During this difficult period, it is fantastic to see so many major employers taking up the offer of rapid, regular workforce testing, and I'd encourage even more to do so as we pull together to protect our NHS and save lives."