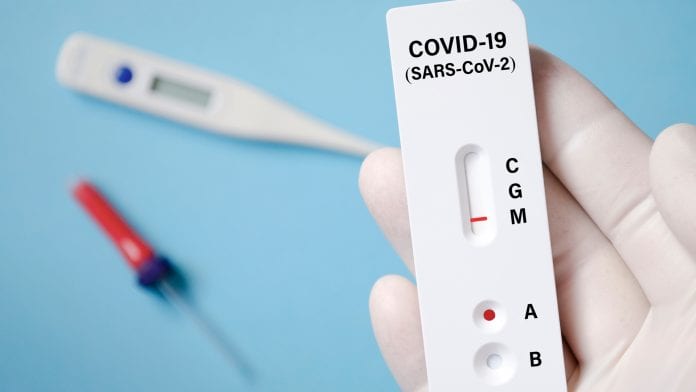 As the UK deals with the third wave of COVID-19 and the emergence of a new strain of the novel virus, the government will begin to roll out asymptomatic testing this week.
Rapid and regular testing for people without COVID-19 symptoms will be made available across the UK from this week, with the eligibility of the community testing programme expanded to cover all 317 local authorities, which will be encouraged to target testing at people who are unable to work from home during the national lockdown.
Around one in three people have COVID-19 without displaying any symptoms.
Scaling up testing
Many companies including organisations operating in the food, manufacturing, energy, and retail sectors, as well as job centres, transport networks, and the military, are already piloting regular workforce testing and an estimated 27,000 tests have taken place across the public sector, as part of pilots, so far.
NHS Test and Trace is to work closely with other government departments to scale up workforce testing and 15 large employers have taken up the offer across 64 sites.
Health Secretary Matt Hancock said: "With roughly a third of people who have coronavirus not showing symptoms, targeted asymptomatic testing and subsequent isolation is highly effective in breaking chains of transmission. Rapid, regular testing is led by local authorities who design programmes based on their in-depth knowledge of the local populations, so testing can have the greatest impact.
"We are now expanding this offer to every local authority across the country and asking testing to be targeted on workers who cannot work from home during this national lockdown, while asking employers to work with us to scale up workforce testing.
"Lateral flow tests have already been hugely successful in finding positive cases quickly – and every positive case found is helping to stop the spread – so I encourage employers and workers to take this offer up. We must all do all we can to stop the spread of COVID, right now."
Lateral flow tests
Using lateral flow tests is highly effective, having already identified over 14,800 positive COVID-19 cases. These tests go through a rigorous evaluation by the country's leading scientists and are accurate, reliable, and successfully identify those with COVID-19 who don't show symptoms – returning results within 30 minutes, without needing to be sent to a lab.
Existing plans for the rapid testing of staff and students in secondary schools and colleges, and staff in primary schools, remain in place.
Milton Keynes Director of Public Health Vicky Head said: "In Milton Keynes, our transmission rates are serious and there's no single hotspot or outbreak locally that's driving this – it's general person to person transmission that we can all help to control. One in three people with COVID-19 have no symptoms and could be spreading it without realising it.
"Our pilot for frontline key workers is intended to help break transmission by identifying people who are positive for COVID-19 without displaying typical symptoms. By doing this we can help to reduce the number of COVID-19 cases, limit the number of people who might fall very ill, and protect the NHS."