New research has offered insight into the factors driving the low medical cannabis prescription rates in the UK and the polarisation of attitudes among UK healthcare professionals towards its use.
The analysis from Creation Healthcare offers insight into key events and factors driving the online conversation over medical cannabis prescription among healthcare professionals over the period, such as the impact of EU-UK trade restrictions disrupting the supply of medical cannabis from the Netherlands in early 2021.
Much of the conversation surrounded Hannah Deacon and her campaign urging the Government to intervene following a notice by the Department of Health and Social Care that in just two weeks, her son Alfie's supply of a life-changing cannabis medicine would cease. The case revealed strong polarisation in attitudes among UK healthcare professionals towards medical cannabis prescription.
Fear of encouraging self-medication and a lack of understanding
Medical cannabis was made legal in the UK in November 2018. Despite this, in 2019 only 18 people in the UK were issued a prescription.
The authors found that many physicians participating in the online discussion expressed a lack of knowledge of the drug's beneficial effects adverse effects and of how to advise patients and therefore contributing to low prescription rates.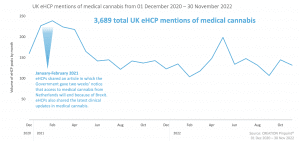 However, another key driver identified from the data was a concern among some healthcare professionals that through medical cannabis prescription, they were indirectly legitimising and encouraging patients to self-medicate with potentially harmful consequences. This fear, the authors argue, is also contributing to an unwillingness among some healthcare professionals to participate publicly in the debate surrounding the drug's potential benefits.
Despite this, the study found evidence of a vocal contingent of UK healthcare professionals who were willing to advocate for the prescription of medical cannabis and were using their online presence to promote policy change. Many of these were those with family members who were deriving therapeutic benefits from medical cannabis to treat various conditions.
Medical cannabis and its effectiveness in treating health conditions
From the conversational analysis among UK healthcare professionals over the past two years, the researchers identified leading proponents of medical cannabis. They also found that the top 10 most frequently posting healthcare professionals comprised 30% of the conversation. Their support for medical cannabis is largely based on its clinical efficacy in relieving symptoms of certain conditions. Of these conditions, epilepsy was heavily cited, with almost 200 healthcare professionals' posts supporting the use of medical cannabis for this condition in the past two years. Other conditions discussed included Alzheimer's disease, amyotrophic lateral sclerosis (ALS), HIV/AIDS, glaucoma and mental health.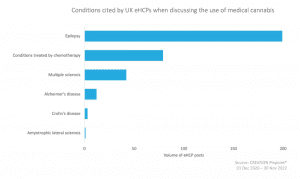 "This study helps to illustrate the barriers preventing the widespread prescribing of medical cannabis. Much work needs to be done to educate better and inform healthcare professionals surrounding the real-world medical applications of the drug and the clinical data that support its use in treating a wide range of health conditions ranging from epilepsy to chronic pain," said Mark Sullivan, Analyst at Creation Healthcare and lead author on the study.
"The other key finding our research highlighted was the fear among healthcare professionals that through medical cannabis prescription, they would in some way be encouraging patients to self-medicate. To address this, it's important to inform patients that just like other prescription medications used appropriately, the drug can deliver health benefits. However, its uncontrolled use also poses dangers.
"It's also clear to us that ongoing analysis of the online conversation among healthcare professionals could allow manufacturers of medicinal cannabis to understand unmet patient needs, learn why some healthcare professionals passionately support medical cannabis prescription and production and hear potential concerns around specific products. A thorough understanding of concerns could inform trial design – ensuring the most appropriate study population, efficacy and safety endpoints are included. Additionally, PAGs may be able to learn from clinical reluctance to prescribe and understand what resources and changes may achieve greater levels of support," he concluded.
About Creation Healthcare
Creation Healthcare provides insights and consulting to inform health strategy, communications, and policymaking among some of the world's largest healthcare companies, government organisations and NGOs.
This is made possible through CREATION Pinpoint®, the world's only Artificial Intelligence-powered global database of more than three million healthcare professionals' social media profiles, analysing the collective intelligence of almost two billion social media posts by professionals on the front lines of healthcare.
Recommended Related Articles