Ultra-low freezers, or ULTs, are special freezers built to reach extremely low temperatures. These products can easily reach a temperature of -86°C but can sometimes go even lower.
Ultra-low freezers are some of the most complex products in the refrigeration industry and utilise various innovative technologies to be able to reach and maintain those rigid temperatures. Mainly used in life sciences and healthcare for the long-term preservation of biological samples such as DNA, RNA, and proteins, they have recently been brought to the centre of attention when Pfizer and BioNTech announced that their COVID-19 vaccine would require a storage temperature of -70°C to keep its effectiveness over the long-term.
The reason why ULTs are so sought after is simple: in biology, molecules in a system interact with each other constantly, changing each other in the process and thus modifying their roles, often with undesirable effects. Not only that, but these particles can also degrade over time. An example of this is blood and its components, as they can easily lose their potency if not kept at the right temperature range, rendering them almost unusable for any medical activity, whether research or transfusions. By lowering the temperature of the system, the molecules in it slow down and will interact with each other or degrade on their own at lower rates, depending on the ambient temperature.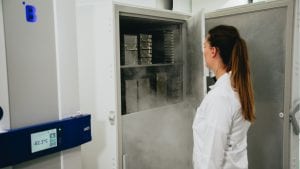 Regarding the Pfizer and BioNTech COVID-19 vaccine, the mRNA strand used to cause a reaction by the immune system and therefore generate immunity to the actual virus is surrounded by a layer of lipids. This coat of molecules protects the fragile genetic code and ensures it can safely enter the target cells to start the immunisation process. If the vaccine is not kept at the ultra-low temperature of -70°C in the long term, the lipid layer can easily break down exposing the mRNA to the outside environment, rendering the vaccine ineffective.
In summary, whether for research, medical applications, or other uses, ultra-low freezers have over the years found environments where they are critically needed, and new innovations in the medical field seem to indicate that future vaccines and medicines may need more than ever this kind of cold chain to be reliably stored without risking spoilages.
The history of ULTs
Although ultra-low freezers are a relatively new invention, the innovation in the field of refrigeration that lead to these complex products span for centuries. Although the first recorded use of refrigeration technology in terms of refrigerated coils was for the condensation of vapours to distil essential oils in the 11th century, the first-time artificial refrigeration technology as we know it was first demonstrated was in 1748 by William Cullen from the University of Glasgow. From there, inventors started to create refrigeration products for various purposes: the first refrigeration machine based on vapour was built in 1805, the first ice-making machine in 1851, and the first vapour compression refrigeration unit in 1856. The creation of the fundamental technology that gave birth to the modern refrigeration industry though was not created before 1876, when the German engineer Carl von Linde developed a continuous process of liquefying large volumes of gas. With this new way of creating coolants, new refrigeration solutions were rapidly created. In 1922, Swedish students invented the absorption refrigerator as part of their studies and Electrolux, recognising the potential of such innovation, commercialised it, making it the leading available refrigeration technology for refrigerators and freezers to this day. The company then developed the technology further in 1931, when it created the first air-cooled refrigerator.
Ultra-low freezers though did not appear until the 1980s, when manufacturers started developing devices able to reach temperatures as low as -135°C and perfecting the technology over the following years. The ULT models available around the world from different companies are therefore the product of centuries of research and innovation.
Future innovations are inevitable and will likely target the main issues connected to these complex products. In fact, some of the recent development activities include the use of sustainable refrigerants and the reduction in energy consumption. Until then, it is critical that irrespective of the intended use for a ULT, users choose reliable and energy efficient units for the safe storage of their content.
Ultra-low freezer best practices
When selecting and using an ultra-low freezer, it is of great importance that best practices are taken into consideration to ensure not only the smooth running of the product but also to minimise its environmental impact due to its energy requirements. These factors are also pivotal in ensuring the safety of any biological stored inside the model by avoiding malfunctions that can lead to vaccines, medicines, and samples being spoiled.
Ensuring the ULT is the best available choice for your samples
Ensuring the safe storage of specimens is the most critical features required in a ULT. Some of the major factors driving this, as highlighted by B Medical Systems, are:
Uniform temperature distribution
The ability of ultra-low freezers to maintain a homogeneous air circulation and thereby preserving uniform temperature throughout the cabinet is an important factor when it comes to the integrity of the samples stored as it ensures that they will not be damaged by temperature deviations.
Fast pull down and recovery after door opening
A fast pull down is necessary for the samples to return to their set temperature as soon as possible after installation or defrost, while the ability of the ultra-low freezers to roll back to the set temperature quickly and effectively after every door opening also plays an important part in guaranteeing the sample's safety.
Reliable hold over time
The ability to maintain a safe temperature inside the cabinet for a significant time helps maintain specimen safety in case of breakdown or power failure.
Optimised refrigeration system
Ultra-low freezers should use an advanced refrigeration technology that not only ensures a uniform temperature distribution, but also enables maximum heat exchange and efficient oil management, thereby delivering maximum reliability.
Advanced Alarm Systems and Monitoring Systems
Alarms should be set up in a way that ensures that if the temperature inside the cabinet exceeds certain parameters, someone will be notified either audio-visually or by SMS and email. Remote monitoring systems connected to the ULT are also advised as they can allow the customer to monitor the conditions of the ULT and the biologicals inside remotely.
Ensuring that the chosen ULT is as sustainable as possible
In recent years, the end-users of medical refrigeration products have started focusing on the energy efficiency of laboratories due to the increased costs of electricity, regulations, and awareness related to the environmental impact of such products. As some of the most energy-intense pieces of equipment in a laboratory, ULTs are a prime target for efforts aimed at reducing energy consumption. As highlighted by B Medical Systems in a white paper, energy efficiency with their ultra-low freezers is driven by several technological improvements and factors such as:
Natural gas refrigerants
Natural gas refrigerants are known for their capabilities to achieve low temperatures with lower wattages than with other ones. Moreover, they feature zero Ozone Depletion Potential (ODP) and a very low Global Warming Potential (GWP), thus increasing the overall cooling efficiency while at the same time minimising environmental impact.
Inner Doors
ULTs should be designed with an inner door to reduce cold air loss and heat conduction when the outer door is open. Even better, if the freezer features multiple inner doors, they are also able to close sections of the freezer in a way that cold air does not spill out of the entire ULT when only one shelf needs to be accessed.
Insulation and gaskets
Insulated panels and any other materials used should form a thick insulation layer to minimise any heat conduction through the walls of the ULT, and the gaskets used should provide excellent sealing along with good thermal insulation to both reduce frost build up and increase energy efficiency.
Moreover, technological advances have brought several energy-saving alternatives enabling the introduction of highly energy-efficient ultra-low freezers, including aspects around system technology and compressor improvements.
Extra tips
Changing the set point from -80°C to -70°C
Research articles have shown that several samples (such as proteins, bacteria, and viruses) can be stored at -70°C without impacting their integrity. Adjusting the set point of an ultra-low freezer not only saves energy, but also increases the lifespan of the ULT.
Defrosting freezers frequently
Replacing old ultra-low freezers
Efficient inventory management of samples
More tips can be found here.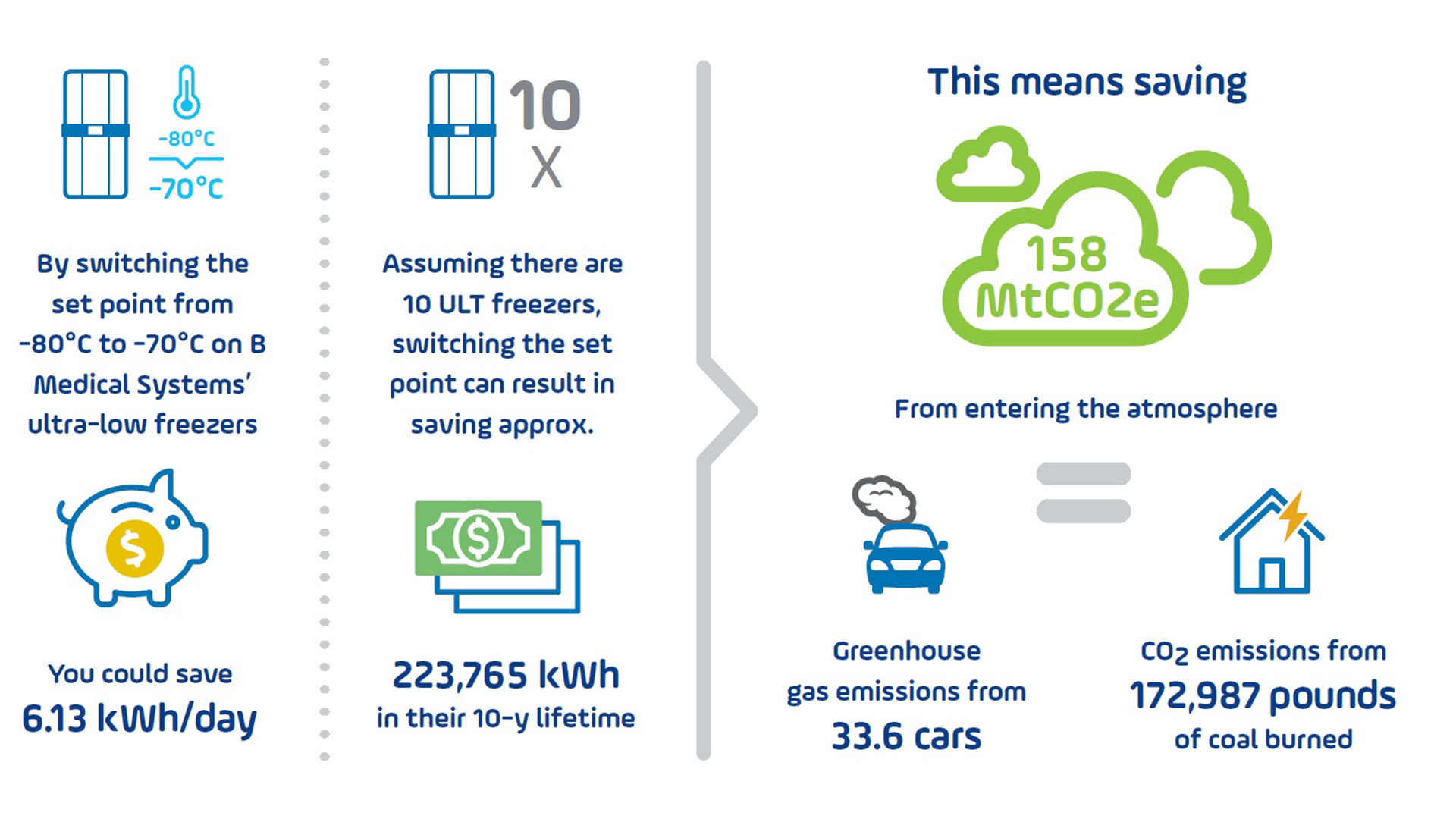 B Medical Systems' ultra-low freezers
B Medical Systems S.a r.l (formely Dometic/Electrolux) is a global manufacturer and distributor of innovative medical refrigeration solutions, including products for the vaccine cold chain and blood management.
Based in Hosingen, Luxembourg, B Medical Systems was founded in 1979, when the World Health Organization (WHO) approached the Swedish manufacturing giant Electrolux to provide a solution to safely store and transport vaccines around the world.
Across the three major business portfolios of vaccine cold chain, medical refrigeration, and blood management solutions, the company currently offers more than 100 products. B Medical Systems' major products include vaccine refrigerators (Ice-Lined Refrigerators and Solar Direct Drive Refrigerators), laboratory refrigerators, laboratory freezers, pharmacy refrigerators, plasma freezers, contact shock freezers, transport boxes, and ultra-low freezers.
The company currently produces five different models of ultra-low freezers across all its business segments, with storage capacities ranging from 206L to 863L. Moreover, these products have the specialty of featuring storage temperatures ranging from -86°C to -20°C, meaning that they can be used also as normal freezers if need may arise for such use. These models are renowned worldwide for their safety, quality, reliability, and energy efficiency.
B Medical Systems' ultra-low freezers use an advanced cooling system to ensure a constant and even temperature distribution across the entire cabinet. The optimised refrigeration system allows the even cooling and maximises the surface area of contact between the tubes containing the refrigerants and the cabinet. This, along with the insulated inner doors, improved gasket seals, frames, insulation, vacuum valves, and the new evaporator enable the uniform temperature distribution required to provide a reliable storage environment and optimal sample safety. Moreover, the models offer impressively fast pull down, recovery, and holdover times due to their structure and design, which maintain the cabinet at the correct temperatures even during adverse events.
These ultra-low freezers also use natural refrigerants to reduce the environmental impact of using such important refrigeration solutions while increasing overall cooling efficiency. This, coupled with the structural advantages, design, and the internal doors ensure that these ULTs can provide superior energy efficiency to their users. All ULT models by B Medical Systems are class II medical devices (FDA and MDR), and the company also offers models with Energy Star certification.
The company's ULTs are also designed with integrated audio-visual alarms that indicate high/low temperatures, open doors, sensor failures and other possible technical failures, and are compatible with °B Connected, a cloud-based remote monitoring software enabling the holistic remote monitoring of the ultra-low freezers including the acquisition, recording, and visualisation of the temperature data. The software also has the ability of alarm forwarding via email or SMS and is compliant with 21 CFR Part 11 (subpart A and B) regulation.
On top of these features, B Medical Systems' ultra-low freezers also come with antibacterial coating, modular interiors for easy access and hygiene control, an access card entry protection that protects the samples against unauthorised access, manual override lock mechanisms in case of power failure, and an optional CO2 backup system.
In summary, these ULTs are built to ensure a reliable environment for any type of biological sample needing storage temperatures between -86°C and -20°C, while ensuring energy efficiency and a low environmental impact.
B Medical Systems' U201
When it comes to the long-term storage of highly temperature-sensitive materials, whether research samples, medicines, or vaccines, ultra-low freezers have been the solution since the time they were first produced.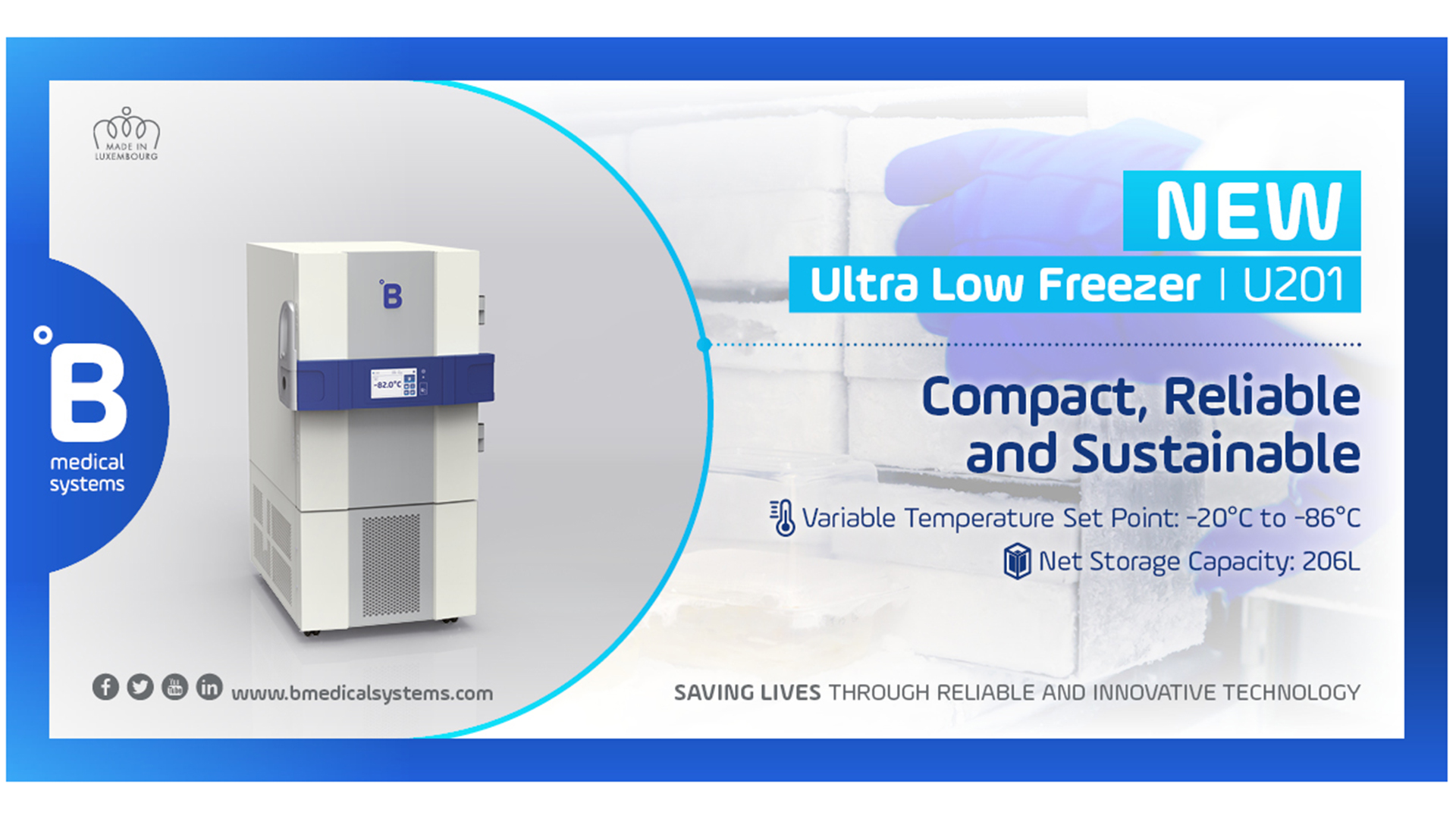 However, the recent developments related to COVID-19 vaccines has shown that the existing solutions were not enough to cater to the growing requirements. Until a short time ago, ultra-low freezers were mainly manufactured to support life sciences researchers in their studies and their use during vaccination campaigns were very rare. Now, vaccines such as the ones produced by Pfizer and BioNTech are requiring long-term storage temperatures of -70°C, driving up the demand for ultra-low freezers worldwide, but existing solutions can often be too big for the requirements of last-mile points of care.
B Medical Systems' Ultra-Low Freezer is designed for reliability and sustainability, offering adjustable temperature set points ranging from -86°C to -20°C and energy efficiency. But the specialty of this model does not only reside in its wide temperature range or the other characteristics shared by the other ultra-low freezers produced by the company, but rather in its compact size.
The product features a storage capacity of 206L, which can be translated into a storage potential of 150 cryoboxes or 15,000 2ml vials. Its small size and reduced weight make it an ideal candidate to store small quantities of vaccines, perfect for small clinics or even pharmacies.
Moreover, antibacterial coating and modular interiors support easy hygiene control as well as easy access to all levels, while high-quality stainless steel and other materials ensure durability and extended life span of the product.
In conclusion, the U201, with its small capacity and its high energy efficiency, is designed to be deployed in the last-mile points of care, pharmacies, clinics, etc., where an Ultra-Low Freezer of such a reduced volume would be the best option to ensure the smooth working of healthcare workers.
Special Report Contact Details
Recommended Related Articles