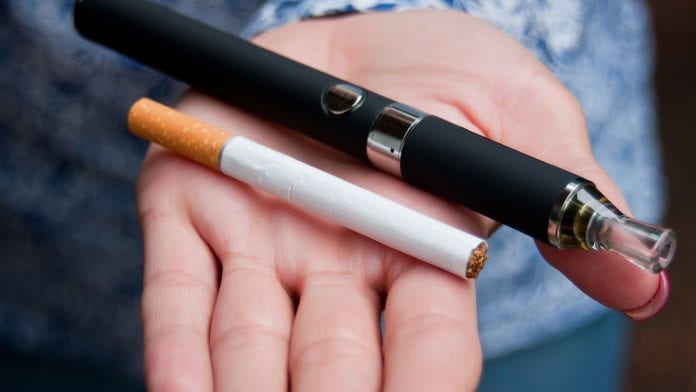 A novel study has indicated that smokers who use both e-cigarettes and tobacco display higher chances of developing respiratory symptoms than those who use either exclusively.
The study, published in the American Journal of Respiratory and Critical Care Medicine, and conducted by researchers at Massachusetts General Hospital (MGH), concluded that people who used e-cigarettes and tobacco in tandem were more likely to develop respiratory problems than those who used one alone.
The boom of e-cigarettes
Over the last decade or so, the e-cigarette phenomenon has transformed the landscape of the smoking industry, with over 40 million people worldwide switching their nicotine allegiance to E-cigarettes in one form or another. The sector is estimated to be worth an astounding $13bn (~€10.77bn) annually in the US.
Although marketed as a safer alternative to help people quit smoking – which it can – a large proportion of people who use e-cigarettes still smoke regular tobacco, which exacerbates respiratory symptoms, according to this study.
Investigating the effects
To analyse the effects of dual-use, the investigators utilised information from the Population Assessment of Tobacco and Health (PATH) Study, a nationally representative longitudinal survey of 20,882 people aged 12 years and older in the US. When initially surveyed in 2015-2016, none of the participants displayed respiratory symptoms, with the investigators now following up to analyse any developments.
They discovered that 10.7% of those who were not e-cigarette or tobacco users reported respiratory symptoms, with symptoms displayed by 11.8% of exclusive e-cigarette users, 17.1% of exclusive tobacco users, and 19.7% for duel users that both vaped and used tobacco.
The study found that dual users expressed 1.9 higher odds of developing respiratory symptoms than e-cigarette users, with a 1.24 times higher chance than exclusive tobacco users. Symptoms of people who vaped but did not smoke tobacco were considerably higher than the people who did neither.
Krishna Reddy, an investigator at MGH Tobacco Research and Treatment Center and the lead author of the study, said: "To help people quit smoking, FDA-approved medications, such as the nicotine patch or the medication varenicline, are preferred.
"People who vape e-cigarettes in an effort to stop smoking tobacco cigarettes should be cautioned against using both and instead should switch over completely from smoking to vaping, with an ultimate goal of stopping vaping as well."
Senior author Nancy Rigotti, director of the Tobacco Research and Treatment Center, adds: "This study helps identify how e-cigarettes can best be used to reduce the harms caused by smoking cigarettes. Exclusive e-cigarette use did not increase the risk of new respiratory symptoms while using both products (e-cigarettes and cigarettes) did."
Recommended Related Articles