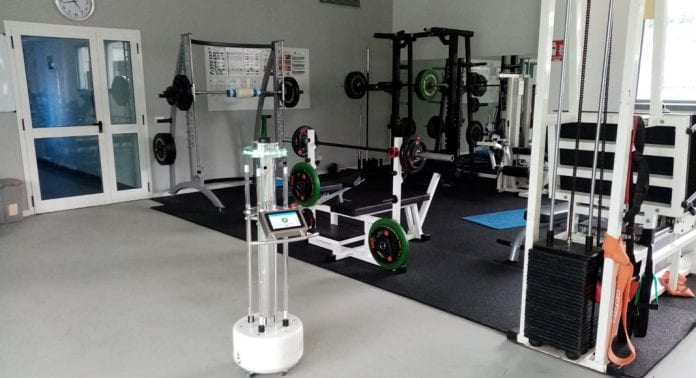 Swansea-based Evolve Raybotix has launched UVC disinfection robots in the UK in response to the increasing focus on keeping spaces safe
Technological innovation is responsible for our ability to lead more convenient and connected lives. Technology presents solutions to enable swift, professional and efficient day-to-day operations and evolves at lightning speed to satisfy a multitude of worldwide demands.
Lighting the way to a safe future
The recent pandemic has highlighted how rapidly we need to respond to health crises; and since COVID-19 hit the headlines, we have seen multiple market entrants to try to overcome the restrictions that this virus has imposed. Making use of existing technology and developing new solutions have both been necessary to ensure we can adapt and flex to accommodate a new way of living and working. Swansea-based Evolve Raybotix is a prime example: the company's suite of cutting-edge robots is now supporting businesses in returning to normality in the wake of the COVID-19 pandemic.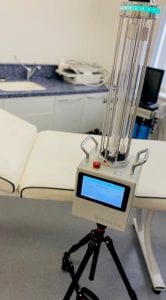 From supercar software to super space sanitisers
Evolve Raybotix secured the licence to distribute UVC ozone disinfection robots from Autognity, an Italian firm of engineers and Artificial Intelligence (AI) experts, as soon as it released the robots in May 2020, having spent two solid months to get the product to market. Autognity delivers innovative solutions for the likes of Maserati and Ferrari, so quality is at the forefront of its work.
Director of Autognity Enzo Catenacci said: "When the pandemic hit, we talked about how we, as a well-resourced organisation, felt obliged to use our skills in engineering – inventing something new to contain the biological risk. Seeing daily infection rates rapidly increase meant bringing this product to market was time-critical. The team worked around the clock to deliver a solution in less than two months despite supply chain challenges and swift onboarding of staff to facilitate speed. There is concern about the confidence and safety of the public and an obligation to do everything possible to support the recovery of our country."
The robots use UVC light supported by ozone gas for maximum sanitisation and peace of mind. These robots come in three sizes which enables application to a wide range of sectors and spaces; with the largest model able to operate completely remotely and autonomously based on technology which allows for thorough mapping and sanitisation of large areas without the need for an operator on site.
A new way of living, working and enjoying
As businesses such as restaurants, hotels, cinemas, sports centres, offices, clinics and schools reopen, there is mounting pressure on maintaining high levels of cleanliness to minimise the spread of the virus. Organisations are having to invest in personal protective equipment (PPE) and take extra steps to guarantee a safe environment for both staff and visitors.
The general public are becoming far more conscious of steps they can, and should, take to stay safe when home, outdoors and when visiting other spaces. Washing hands, wearing facemasks and keeping a safe distance now feel routine and thoughts are that the pandemic has permanently altered the way we will work in the future.
While some businesses have spent years densifying office space and increasing dynamic working to maximise efficiency, these practices do not always satisfy social distancing rules – nor are they conducive to their day-to-day work.
There are sectors and businesses whose employees have no option to work from home, therefore implementation and maintenance of strong safe processes are essential for business continuity. Manufacturing and hospitality, for instance, rely heavily on workers being present – and, in the latter case, a good footfall of customers is also of benefit.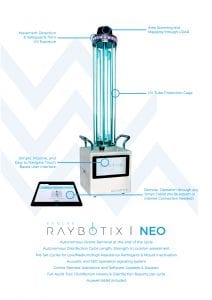 A clean focus
Cleaning has become a far more rigorous regime with greater investment in disinfection equipment, solutions, and routines. The UVC and ozone disinfection cycle of an Evolve Raybotix robot offers an element of consistency to a role where quality can differ dramatically. A cleaning company for a sandwich franchise in Swansea may have varying operating standards in comparison to a cleaning company for the Lyon branch. The use of Evolve's NEO, EOS and SOL robots eliminates ambiguity and reassures the senior management team that all premises are fully and consistently disinfected.
The ability to sanitise, vacate and seal a space is highly desirable in a variety of operations, whether in a pandemic or not.  For example, police interviews and forensic lab testing where contamination of evidence will greatly impact conviction and justice. The confidence that Evolve Raybotix can give to organisations that rely on rigorous cleansing processes far surpasses anything that has gone before them. The robots minimise any risk of contamination as well as maintaining safe spaces for staff and visitors.
The possibilities this presents to sectors such as healthcare, retail, manufacturing and hospitality are tenfold – from minimising downtime of income generating space to low-cost sanitisation solutions which are guaranteed to destroy 99.9% of viruses and other pathogenic organisms without additional manpower.
Sophisticated yet swift and simple sanitisation
The robots have been developed by engineers who are renowned for their attention to detail in creating artificial intelligence systems for high value vehicles. While they are sophisticated in their design and complex scientifically, the operating software is accessible and easy to use. Quick and easy programming of the units either on site or remotely can be done in seconds – with the robot mapping the area to be disinfected and being left to run the cycle which takes between seven and 15 minutes. The robots use light detection and ranging (LiDAR) sensors to assess the surfaces in reach and determine the optimum position in the room. During the cycle, the LiDAR is on alert to sense any movement and if motion is detected, the cycle will automatically abort for complete safety.
The purpose of these robots is to minimise any risk associated with the presence of dangerous microorganisms. Regular disinfection using the UVC robot will keep the bioburden of any room, area, or space as low as can be, thereby maintaining a safe environment for visitors and staff. Bioburden is defined as the number of organisms including bacteria, fungi, moulds and viruses on surfaces and in spaces.
Reassurance through research
As part of its rigorous evaluation processes, Evolve Raybotix undertook its own laboratory testing to determine the efficacy of the robots in both controlled and uncontrolled environments. One experiment used medical grade bacteria in a laboratory-controlled setting, whereas the second involved taking swabs from a company canteen area which is frequented by circa 65 employees per day. Areas such as door and fridge handles, canteen tables and chairs were swabbed before and after the room was disinfected by the NEO model robot, the smallest and least powerful of the range, which is most suited to areas of around 25m2.
The results showed that the disinfection efficiency involved a 98% reduction in bacteria and viruses in the non-controlled environment, and 99.9% reduction in the laboratory-controlled review. Both astoundingly positive outcomes which have been hugely useful in securing contracts and sales. Evolve Raybotix has been keen to share the details of these experiments complete with images, supplier details (medical-grade bacteria) and results with those who require reassurance that the products work, are effective and can be easily deployed in their workspace to protect staff and visitors.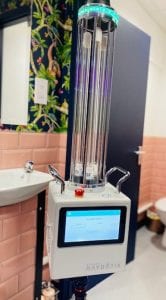 The lights on the horizon
While its robots are available for purchase by any individual or business, Evolve Raybotix has also identified an opportunity to broaden the benefits of the UVC disinfection technology through release of the eRAYS franchise. eRAYS will offer UK wide access to fully serviced sanitisation solutions on an ad hoc or frequent basis. The franchisee will operate under the eRAYS umbrella, using Evolve Raybotix robots to deliver individually booked disinfections as and when clients require. This could be as part of a regular cycle to maintain a low bioburden or in response to infection alerts. eRAYS franchisees will benefit from an incredible startup package which includes full training, access to sophisticated systems and all relevant equipment to undertake the sanitisation services.
These disinfecting robots are being distributed exclusively in the UK via Evolve Raybotix based in the ILS2 at Swansea University. The eRAYS franchise is available now at www.e-rays.co.uk.
Amin Farah
Director
Evolve Raybotix Limited
+44 (0)1792 737618
amin@evolveres.com
www.evolveraybotix.com
This article is from issue 16 of Health Europa. Click here to get your free subscription today.
Recommended Related Articles